The Peppersoup anthology is a twelve-story female protagonist lineup complete with happy endings. Who would have thunk these two things would come together in one place? It's a miracle! Now don't get me wrong. Women deserve to be (and should be) happy. But in a society that strangles their creativity and spirit, I can swear I've heard more sob stories than happy endings.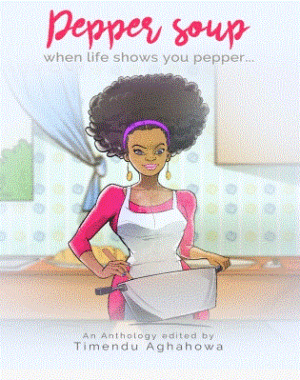 The stories in this book are a gateway into thoughts and emotions through the ages. Adanna Adeleke's Playing Pretend reads from a little girl's perspective. It is a sweet little story that left me reliving my primary school days. For Adetutu some days are sunny, filled with childish endeavors. Other days are knives that leave scars. Her mother is deeply depressed from a miscarriage that has left her folded and tucked into parts of their house that don't see light. Her father's anger comes in drops and floods. As Adetutu's family is served through her eyes, we get a healthy dose of an "Awilo Logomba" singing lesson-teacher, an ebullient grandmother, and the occasional school bully.
A friend once told me about how his father up-and-left one day. Turns out he had another family and his "real" family had no idea. This is the kind of story that leaves you gaping. The kind that makes you examine your "happy family". It's the kind of story Lilian Izuorah tells in The Unravelling. Look, there are things that cannot be understood. One of them is meeting your daughter many years after pulling a disappearing act and pretending like she's a mirage.
Stories like this leave questions in the mouths of those who had gone through these situations. They wonder if they weren't good enough. Were we too noisy? Too needy? Less of a family? It's worse when they were no cracks in the laughter that was shared.
The first of Kiah's stories I ever read was something from The Naked Convo's The Writer competition. Her characters were alive, untainted. She was sublime (and still is) and in two stories titled Trying Faith and A Time to Fall she explores love and the totality (or lack of) that comes with the feeling. Trying Faith travels a woman's journey in a society where the inability to conceive is almost a taboo.
Peppersoup ties together the experiences that come from being woman. It leaves a warm feeling that comes from the exploration of life as I know it. With its many shades of women, the definition of strong has been redefined. Editor Timendu Aghahowa expertly loops stories that are speak of a power more potent than the kind from fat bank accounts and penthouse offices. Who wouldn't want to read this book?
Need a copy now? Get it here on the OkadaBooks app It's selling faster than pizza! Don't read it after others have.
Chiamaka Onu-Okpara is a freelance editor with an absolute love for anything weird. When she isn't wading through punctuation errors, she binge-watches cartoons and writes speculative fiction.
Send her a friend request on Facebook
Email her at [email protected]