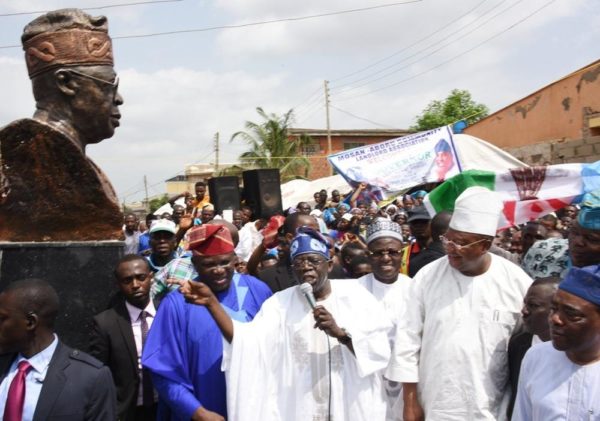 Former Governor of Lagos and National Leader of the All Progressives Congress (APC), Bola Tinubu, has revealed that incumbent governor Akinwunmi Ambode, inherited a huge debt burden that made him worried when he took over the mantle of leadership, TODAY.ng reports.
He said, while commissioning network of roads, link bridge and health centre to mark his 65th birthday, that in the last 22 months, the governor had made him proud with his achievements in Lagos State. He pointed out that Ambode's results are being felt all over Lagos due to his good governance and his foresight abilities. He described the governor as not just a thinker but a doer.
"I want to say thank you because experience is a great teacher and I am experienced. I am on the spot and I have watched things in Lagos since my tenure ended.

I was worried when you (Ambode) took over, not because of your credibility, character or capacity, but because however wise or smart a man is, if there is no resources to back the ideas, production would be zero, progress would be zero.

When you took over, I know you inherited a burden of debt. The debt profile of Lagos was high, I was wondering how you will reengineer and face the challenges to make progress. Today, I can see your report card, you have scored well, and you have shown prudency especially in the judicious use of resources of the state.

You didn't disappoint us. Ambode is silently achieving, meticulously planning, religiously executing and brilliantly giving results for Lagos State.

All over Lagos, we are seeing the results. At Oshodi, on our way down here, you can see what is happening there, that place is a construction site. It used to be a den of robbers but what is going on there now is developmental activities for the benefit of the entire country.

Ambode is very quiet, very peaceful, not a noise maker, but he is delivering on the job. Today, you have given me a good birthday present. This is a great opportunity for me to be very proud again.

Therefore, if we can continue in this direction of infrastructural development in the manner Governor Ambode is moving, Lagos will soon match international states or country anywhere in the world." Tinubu said.
Photo Credit: Twitter – @followlasg