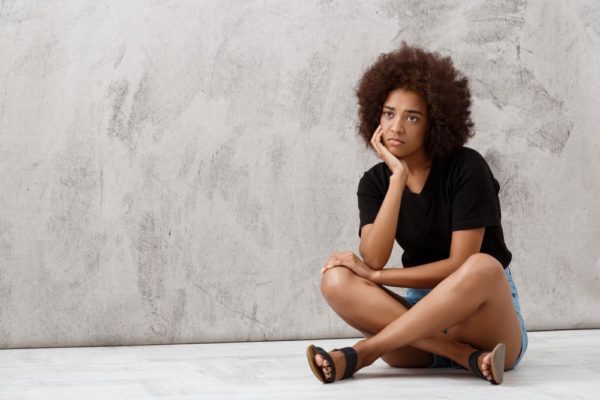 Hi guys, BN Confession Box is a new feature on BellaNaija – curated by Nkem Ndem. The Confession Box is our virtual confessor's box where BellaNaijarians can let loose and say their deepest and rawest fears.
These letters are from you, and we'll ensure that your identity is protected. Everybody needs some form of outlet or the other.
**
Dear BN,
I have just done something so many people may consider really awful, but I have this peaceful feeling inside that I did the right thing. Not necessarily for myself but for the lady in question. Too many men deceiving us girls today and leaving us depressed in our marriages. You must keep in mind that what I did, I did not do out of scorn or malice, but in a bid to protect my fellow woman. We are here for each other. I am not a close-minded person, I don't judge people harshly, but I know when justice should be served.
I met Bassey two years ago. A friend of mine, Donald, who I have just discovered is secretly gay, introduced us. I had seen a snap of Donald and Bassey and had messaged Donald to ask who the handsome baby boy was. Before long, Donald sent me his number and I messaged him. To be honest, it was my first time hitting up a guy. It is always the other way around. Donald had told me that Bassey was shy and not the kind to go after a girl normally, so, I decided to try something new. From the moment we said our "hi"s and "hello"s on Whatsapp, it was magical. The connection was mad! He was 2 years younger but it didn't matter. We fixed a date and met up at LaTarvena 4 days later.
Meeting him got me a little spooked though. I had seen his pictures on Instagram before our date, watched some of his videos of course and talked to him on the phone… but meeting him physically was different. I got this weird vibe from him. I just had the nagging feeling that he was gay. He was tall and light-skinned, very well-built but seemed a little too feminine. I think it was the way he walked and the fact that he maybe wore honey-brown contacts and tight-ass pencil jeans. We had fun though. The way he looked at me, I could see he really liked me. He looked at me the way a hungry pup looks at fried meat, so I shoved the nagging feeling away and enjoyed our meal. On my way home though, I called Donald and queried him to be sure: "Donald, is Bassey gay?" I knew Donald wouldn't lie to me, so when he said "No, Dami, he is not gay. Calm your tits. Why would I introduce you to a gay dude?" I relaxed.
Donald's assurance pacified my doubts about Bassey for a while and we forged on. After 7 weeks of meeting up and all, however, Bassey had still not made any attempt to be with me physically …not even a kiss or anything remotely sexual. His eyes never lingered on my cleavage or my swaying hips. And even one time we went swimming in a private pool, there was no bulge between his legs despite my very revealing bikini. It's not like I am ugly. I would say I am an 8. I have the right curves and I am confident about my beauty. The fears about him being gay started to return, so, I called him out on it. I asked him why he had not tried anything physical with me since we met. He told me that he really liked me and he wanted us to bond very strongly before we introduced sex to what we had. He said he was afraid that introducing sex too soon would ruin everything. He claimed he had had the same issue with his ex, and did not want to fall into the same trap again. He sounded reasonable and genuine, so, I agreed and went with it.
After about 6 months though, it just became absurd. Bassey would sleep over at my apartment sometimes, but nothing. I noticed he preferred feminine products (his body spray and perfumes), he had elaborate facial rituals which he followed, and he moisturized religiously…something I didn't even do as a girl. He loved musicals and was a staunch feminist. He also felt so strongly about gay people, defending them every chance he got and saying that they were born that way, so, it was not something they could help. Several times he told me about men sending him Dms on Instagram asking him out and all and we would laugh about it. In my head, he was just a little "metro" and feminine…some guys were just like that.
One of the nights he slept over though, I decided enough was enough, and in the middle of the night, I reach down and started to give him a head. Bassey woke up alarmed and pushed me away, asking me "What are you doing? I thought we talked about this?"
"It's been 6 months Bassey, 6 months! I have to do something. I am going crazy here."
"But… I thought you understood. We had an agreement."
"Consider the agreement expired!" I shouted. I was livid.
This young man stood up, packed his things and left at 3:15am. I was left with myriad thoughts. There was no way Bassey was gay. His body had reacted to my sexual efforts. I had felt him grow and harden in my mouth. It was a clear erection. I was so confused.
The next two weeks Bassey gave me the silent treatment. He completely shut me out. The two friends I confided in told me to let him go, that they had always suspected he was gay but they didn't want to tell me and break my heart. Frustrated, I sent Bassey a text and gave me an ultimatum to either call me or we end things. Of course, he called. He asked me if I was free for a date that night and I agreed. We met at café Maison in Lekki Phase 1. I guess he wanted somewhere remote and quiet. It was during the dinner that he dropped the bombshell.
"Dami, I have been wanting to tell you this, but have not been sure how you would take it, that is why I have lingered. I love you so much and I do not want to lose you"
"What is it you want to tell me, Bassey?" I said with fear, blood rushing in my ears. I didn't want to hear it, but I also needed to hear it.
"I….I'm asexual" he said and stared at me with trepidation.
"Asexual?" I said slowly. I was relieved and confused at the same time…but most importantly, I had no clue what he meant by the word "asexual". I knew it had some form of negative connotation to it though.
"yeah." He said.
"I don't get, in what way. Is it a kind of gay thing or what?
The word "gay" I think irritated him. "Being asexual means that I do not have any sexual attraction to anyone, not male not female. Sex is just not my thing, It does not mean I do not love you or want to be married to you. I mean…I can have sex, but not necessarily because I feel attracted to your body or anything. It would be more like a sacrifice for me. "
I was even more confused. My heart tingled at the idea of him saying he wanted to be married to me. I mean I was 32 and marriage was on my list. But…it just didn't add up. I stared at him for a long time and then started to pack my bag to leave.
"Dami…please, open-minded" he said… holding my hands with tears in his eyes.
"Bassey, I can't. I don't understand how you can be human and not want sex. All I'm hearing is that you are covertly gay and I feel so stupid right now, because my instincts told me from the start. I don't want to waste my time with you…surely you get that"
"I am not gay. Why would you think that? Listen to me Dami…I need you to please be open minded about this."
I left him at the table and went home. I spent the rest of the day researching "asexual men", but as much as I wanted to be open-minded about it, I couldn't. One: sex is too important to me, I cannot be begging a man to have sex with me for the rest of my life. Two: this could be his cover up story and he is gay for real. Either way, it would be my loss. I blocked him on all my social media channels and sent him a text asking him to never contact me again otherwise I'd report him to authorities and he would have to serve 14 years.
Fast forward to 8 months later, I get a text from Bassey informing me of his wedding. Amazing! brother had already met someone he wanted to marry in just 8 short months after me? After claiming he loved me just a while ago? I was not only shocked, I was also filled with disdain. The contempt was not because I was still single or anything. I just couldn't get over the fact that he had deceived another girl and was roping her in for a lifetime of grief. Quickly, I called Donald and asked him if he was aware of the wedding, and he confirmed that he was even the on the groom's train. I tracked the girl (Bassey's fiancé) down on IG but her account was private. She would not respond to my request either so, there was only one thing left to do. I knew I had to do something to save the girl. I prayed about it and the spirit told me what I need to do.
On the D-day, I set out on my mission. Determined, I took a few shots of whiskey for boldness before entering the church wedding venue. I didn't even wait for the pastor to ask any questions, I just walked straight to the altar, took the mic from him and announced to everyone that Bassey was gay and should not be getting married at all. It all happened so fast no one could have stopped me. I can still see the horrified look on the girl's face, even worse, on her parents face. Bassey just stood there, frozen and somehow bolted to the ground. His eyes were filled with sorrow and asked: "why?" Of course, the whole ceremony ended there. Luckily they had not done any court wedding yet. My timing was impeccable.
Did I feel good ruining the wedding? No. Am I glad I stopped that innocent girl from making a mistake? Yes. But then…do I feel guilty that I may have been wrong about Bassey being gay? Yes. In the end, it is what it is. We girls have to always look out for ourselves. The girl was better off without him. I did her a favour. I have to believe that.
****
Do you have any confession you would like to make or shocking tale you'ld like to tell? Please send your story to features(at)bellanaija(dot)com
Photo Credit: Mykola Kravchenko | Dreamstime.com