Complete the Fusion Puzzle for Unlimited Fun, a Hang out with Your Favourite Celebrities & Full Access to the #StarMusicTheFusion Concert | Saturday, May 6th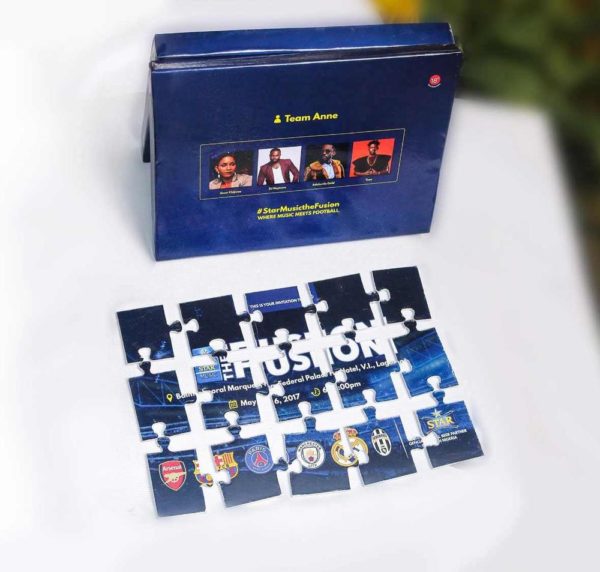 Nigeria's most accomplished and celebrated music artistes, DJs and football stars will battle it out at the first of three #StarMusicTheFusion concerts.
Date: Saturday, May 6th, 2017.
Venue: Balmoral Marquee of the Federal Palace Hotel, Victoria Island, Lagos.
If you don't already know, Star Music The Fusion is Nigeria's first music and football platform brought to you by Star Lager Beer.
Star Music The Fusion is a series of music and football concerts that combines the fun and excitement of Star Music Trek and Star Super fans Show on one platform.
Six (6) teams comprising of two top music artistes, a DJ and a football personality will compete against each other in three (3) music concerts holding across Nigeria.
To participate in the concerts and form their teams, each football star, music artiste, and DJ will get a fun puzzle called "The Fusion". They are required to complete the puzzle as fast as they can and share the video on their social media pages to let others know how fast they solved it. The Fusion contains 15 pieces of cut images which when correctly matched together become a beautiful invitation card with the inscription "The Fusion."
If you're still wondering how this post benefits you, here are a few reasons why you'd thank me later.
The Fusion Puzzle is the official gate-pass to Star Music The Fusion concerts
Without a completed Fusion Puzzle, you cannot gain entry into any Star Music The Fusion concert venues. So unless, you lay your hands on the puzzle, you will not be able to attend the concerts. Sorry.
The Fusion Puzzle is pure fun
The Fusion is not one of those boring, time-consuming Jigsaw puzzles. It is a fun, easy-to-match picture puzzle anyone can complete in a few seconds. So you need not worry about taking extra lessons to solve the puzzle, have fun solving it and of course brag about it to your friends on social media.
The Fusion Puzzle lets you hang out with your favorite stars
If you get a copy of the Fusion puzzle, you automatically get a chance to meet and have fun with your favorite music and football stars without paying a dime. If you look at how much it would cost to attend their shows (especially in this recession), that's a pretty fantastic reason to make sure you get the Fusion puzzle.
———————————————————————————————————————
Sponsored Content