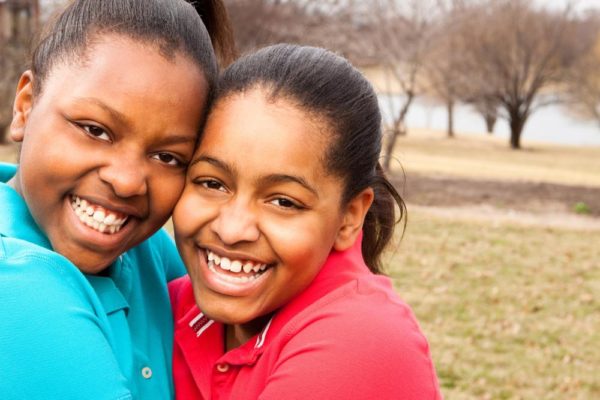 I should call you family now. Sister, we did practically everything together.
We shared secrets of our first crush with each other.
We decided not to have boyfriends unlike the other girls till we were 18.
We shard those long walks home, just to save money for ice cream together.
We ran up the phone bills at home – catching up on gist and who was the new toaster, while we waited for admission into university.
We had our own little clique.
We memorized lyrics from those music magazines together.
We put up shows at parties together, showing off our singing talents: "The boy is mine" Brandy and Monica. You were Brandy, I was Monica.
We ended up in different schools but we still managed to keep the friendship alive when we caught up over the holidays
It was fun. We had made other friends at our separate schools but ours was still special.
When your hubby came along, we made fun of him together, only because you always complained about how much of a pest he was and how you didn't like him.
We even laughed about how he would wait outside your office for hours, just to take you on a date.
Ah how can I forget how we laughed at his funny accent too.
But, my Nigerian best friend, when you started to fall in love with him you did not let me know. The day I found out he was something more. I felt like a fool for the times we made fun of him together. But it's okay, these things happen. I understand that love sometimes just creeps up on you; it hits when you least expect it and in strange places too.
I thought I'd be the first to know you were getting married, but all I heard was: I did my introduction in my hometown last week.
Still I understand: Maybe your mum, who was overly superstitious, told you not to tell anyone: Pastor's instructions maybe?
When you asked me to be maid of Honor. Of course I was overjoyed and I sincerely enjoyed every bit of tending to you on your special day and it was good to see my bestie marry the love of her life.
Marriage came with relocation: the distance wasn't just physical. Somehow I lost my friend too.
I didn't have my partner to go shopping with anymore or for that event with. I couldn't tell you my secrets anymore because you had a new best friend.
Well somehow those gists about the new guy on my case always somehow got swept under with: "don't worry when the one comes along you will just know" / "It will happen so fast" and was replaced with talk about what your sister in-law did the other day.
I understand, it's only because our priorities were different now.
I calmed you down when fears of not getting pregnant came up and I told you to be patient. It was only 6 months into the marriage. Newly wed jitters, I guess.
But, my Nigerian best friend when you got a bun in the oven, you did not care to mention – even when we spoke every other day. You hid it so well.
I only found out when I saw you at your sister's wedding. I wondered why you kept it a secret?
I think I understand.
Maybe you decided to keep this under wraps because of the last miscarriage you had. You were careful to hide it from all your display pictures and on social media. Now I realise you hardly ever put up pictures of you the last few months.
My Nigerian best friend, when I called you that day to tell you about the new business I was planning to start, you did not sound like yourself. When I asked you, said you were a bit under the weather.
Then the next day I found out you had put to bed. You were obviously in labor when we spoke. You didn't tell me my god daughter was being born.
My Nigerian friend, Yes! you reading this now
Why do you have to hide everything? The good, the bad and the ugly?
Why did you wait to share the baby bump pictures after the baby was born?
Why do you hide the fact that you are sick and have cancer?
Maybe I can help or maybe the next person can?
Why do you hide the fact that you are going for a visa interview?
Why do you hide the fact that you are relocating?
Even to people you consider your friends? Some family too?
Why?
I still love you anyway, and will always mean you well.
Photo Credit: Noriko Cooper | Dreamstime.com