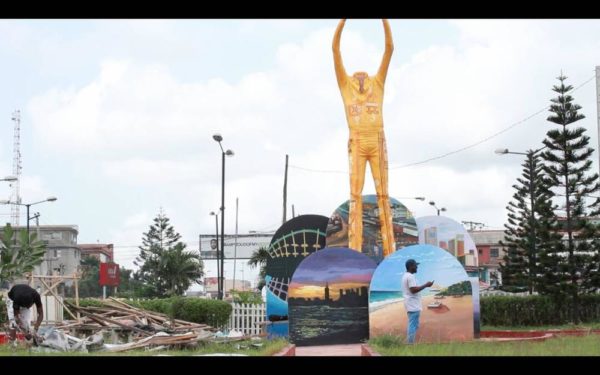 Every artist wants their work to outlive them. And not just outlive them; the serious artist wants to create a piece of work that would keep people talking. How do you keep people talking about your work? Artist Abolore Sobayo asked. Make a statue that personifies the essence of one of the most recognisable musicians to have walked on the face of the earth.
When Sobayo's proposals for "Liberation" and "Community" were approved as installation art pieces to commemorate the 50th anniversary of the creation of Lagos State, little did Lagosians know that they would be getting a statue of Fela albeit with some major artistic justice.
Liberation is a statue reminiscent of Fela Anikulapo-Kuti – rebel, legend, and iconoclast – resplendent in an unmistakable yellow attire with arms raised high in salute without its head. You cannot miss that new 25-foot fibreglass effigy standing in the middle of Ikeja, opposite Obafemi Awolowo's statue at the orita-meta where Allen Avenue meets Aromire and Obafemi Awolowo Way.
Shocking as much as it awes, it is the first headless statue in Nigeria and quite deliberate. It is also the first ever statue inspired by Fela made anywhere in the world. For such a celebrated musician in death, it is a wonder why no one ever thought of making a statue of the Afrobeat creator, despite all the accolades he has been receiving in the past two decades since his passing. Well, finally we get a Fela statue but not exactly as one would expect.
Sobayo, an artist that I have known for more than 10 years, is one of a few that has created artworks about Abami Eda, the one who put death in his pouch. In 2016, the graduate of Yaba College of Technology and former Councillor in Oshodi-Isolo Local Government, created a series of Fela masks titled "Echoes" that were exhibited in Lagos and the United States. Echoes showcased over one hundred Fela and the Queen Mother masks, named Abami Eda and Bere.
Liberation is a continuation of the work from the exhibition as Sobayo believes that it is necessary to do something more on the essence and symbol of Fela and all that he stands for.
This time he is sure to get greater attention with the size of the piece. This new work is not an exhibition that will shut down after a few days. It will stare Lagosians in the face for a good long while, and they will ask questions, of themselves and of the artist.
Is there any limit to artistic freedom? Are some subjects too sacred to be dealt with in such a way? What is Sobayo trying to tell us?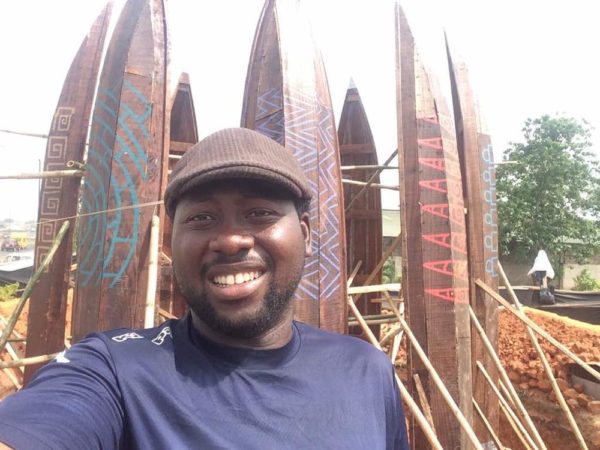 When he sent me a photo of the work, my first question to him was: Are you crazy, man? How could you create a headless Fela? Are you ready for the backlash that would trail your work?
I was shocked because of the meaning of headless sculptures. Human sculptures usually have a head. It is supposedly normal. Except you are Kwame Nkrumah whose statue lost its head in a frenzied chaos after the overthrow of his government in 1966. That headless statue stands inside the park named after him in Accra, a reminder of the political upheaval of a young post-independent Africa.
When Baghdad fell to US invasion in 2003, one of the first casualties as the people revelled in their new-found freedom was the statue of Saddam Hussein. It lost its head after the Americans pulled down the 12-metre sculpture as an angry crowd pummelled the rest of the body with their shoes in a moment reminiscent of the fall of the Berlin Wall.
In 2002, a renegade Paul Kelleher decapitated Margaret Thatcher's statue and claimed it was in exercise of artistic expression during the trial and he was eventually sent to jail for three months.
However, one also remembers that one of the most beautiful statues in the world, the Venus de Milo, is a statue without arms. There surely must be symbolism behind statues with absent body parts.
A headless statue is usually circumstantial not deliberate, but Sobayo, as he usually does, has stepped beyond the confines of the normal and acceptable into the realm of blatant symbolism.
He told me that he is hoping to create an art piece that would stand the test of time, something that many generations of Lagosians would look at and still recognise its essence, a work to make us remember the impact of Fela's struggle.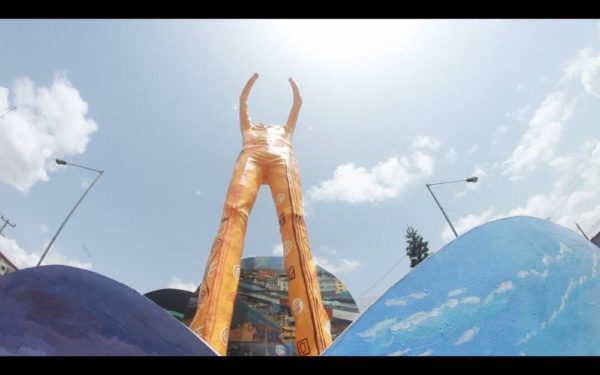 "Freedom is never given or offered, it is always won through hard, gruelling work," Sobayo said. "This striking pose of the iconic Fela Anikulapo-Kuti, who once walked these very streets of Lagos, is a physical representation of the true essence of a legend who led a struggle for the emancipation of his people.
"It is only befitting that such a monument is situated in the heart of the capital of Lagos as a salute to every Lagosian who has at one time or the other, fought for liberation," Sobayo concludes.
How you interpret a work of art is up to you. You can either see Sobayo's headless Fela as artistic expression or question his representation of the spirit of Fela. Whatever you do, he has surely made you think twice about his work while creating a piece of art that would continually inspire and generate discourse.
While this is not the only piece he has made for the Lagos @ 50 projects, the other, Community, quite aesthetically appealing, equally represents another unique spirit – the spirit of Lagos.
Photo Credit: Otori