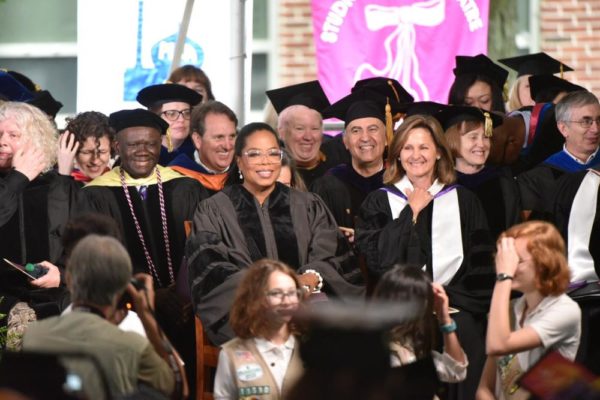 Media Mogul Oprah Winfrey, during the commencement address at Agnes Scott College over the weekend, shared some words of wisdom for the graduates.
"You're nothing if you're not the truth. I've made a living, I've made a life – I've made a fortune, really – all good! – from being true to myself," she told the crowd.
"If I can leave you with any message today: The biggest reward is not financial benefits, though it's really good, you can get a lot of great shoes! Those of you who have a lot of shoes know having a closet full of shoes doesn't fill up your life. Living a life of substance can. Substance through your service.

I want you to work in your own way to change the world in respectful conversations with others.

I want you to enter every situation aware of its context, open to hear the truth of others and most important, open to letting the process of changing the world change you. That is the spirit of constructive engagement.

You will get nowhere without a spiritual practice. That's not necessarily religion. Maybe it's music, or dancing or just time for yourself to feed and nurture your own spirit.

I had to learn to feel with others, which is what it means to be compassionate. I feel with you. It means not only am I able to walk in your shoes, my heart beats with yours. I see myself in you," Oprah said.
Watch the full speech below: