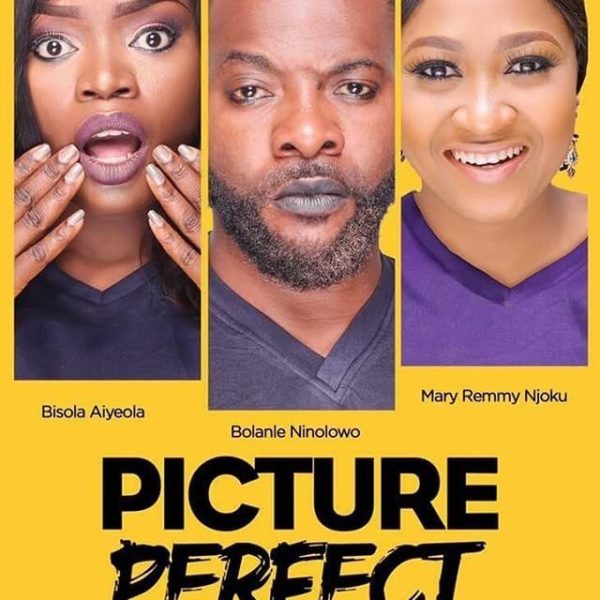 It is romantic comedy season at Nollywood. Put guy and girl in a film, throw in a few laughs, and you might earn enough to make a sequel. For the first half of Picture Perfect, it seems director Tope Alake is aware of the times and is merely trying to see how much he can get away with. We are treated to some laughs and some drudgery. But somewhere around the middle, Picture Perfect figures out what it wants to do.
The film starts formulaic enough. Once again, there is an unmarried woman at the centre, as was the case with Isoken and Wedding Party [Read the reviews here and here]. Unlike the latter, there is no wedding ceremony in sight; unlike the former, it is not all cultured middle-class refinement; unlike both there are no family members here, no old folks urging or heralding any youngster to the aisle or registry. This isn't particularly realistic, but it does make a point few other films have bothered to make: sometimes the pressure is from within; sometimes the find-a-companion gang is one's peers.
Two ladies (played by Bisola Aiyeola and Mary Remmy Njoku) with neither steady boyfriends nor husbands have different approaches to dealing with the single life. While Kiksy is a favourite with the boys, fashion designer Kumbi keeps her nose close to a sewing machine. In a poorly lit early scene, Kunbi escapes from a night out with her friend, thus establishing her character as the non-fun spinster variety. Njoku plays the Kumbi with an uncertain haughtiness. The character's idea of romance is familiar to a lot of millennials: she communicates online with some guy. That he is a wooden bearded creature who seems to be using a slow-motion teleprompter is immaterial. This is the man for her. He isn't. The audience knows—because when has the dullest character in a film ever gotten the girl?
Within a few scenes Kumbi's car breaks down as she runs an errand late in the day. Out come men of the Lagos night. This scene is filmed using the classic night-in-Nollywood trick: the car stops at likely the only illuminated spot for miles, all the better so the audience sees everyone and their moustache. It is a trick that stretches as far back as the Sola Fosudo 1990s vehicle Amin Orun, and possibly farther. As two men harass our leading lady, another tout comes to her rescue. In what struck me as an amateurish filmmaking shtick, the score becomes tender. But it's a clever move. You might be led to think that there is some friendship or romance next. You would be wrong. The two fall out by morning.
A film that appeared to be the examination of female friendship then becomes the story of an acrimonious interaction between a man and a woman from different classes. Much of the film is taken up by the shenanigans of Jobe the tout, including one funny scene involving a flirty hawker of alcohol. He takes up a spot at Kumbi's premises for reasons never explained, and proceeds to torment her with a band of ne'er-do-wells and some loud fuji music—which in one very intelligent scene, switches from non-diegetic to diegetic, surprising the viewer. The story goes on tracing the relationship between the two women and the man, with a few turns along the way including a decisive one that would remind keen followers of Hollywood romantic comedies of Judd Apatow's Knocked Up from 2007.
At first I thought of Picture Perfect as a triangular tale of the love lives of Kumbi, Kiksy and Jobe, but came to see that it is something else: Though the women show up early, Picture Perfect is the coming of age story of a grown man. And does any man truly grow without a woman's hand—be it a mother's, an aunt's or a partner's? (A more literary filmmaker might have toyed with Soyinka's Jero plays and titled the film Jobe's Metamorphosis.)
This focus, of course, means that the filmmakers are in danger of misjudging the motivations of an area boy. What, after all, can a non-tout tell us about those often violent unknowable fellows stalking Lagos bus stops? But screenwriter Biodun Stephen appears to have an empathetic imagination. Even so, as with most Nollywood pictures, she steers clear of the inner life of her characters and, justifiably, she is careful to not show much of the day-to-day hustle of an area boy's life: it is perhaps one reason the film whisks Jobe off the street early, and focuses on his relationship with the fashion designer.
For both Alake and Stephen to bring an area boy to the screen they rely on Bolanle Ninalowo as Jobe. He makes good with it. As the stature of his character grows within the film, the female characters recede—as do the actresses playing them. Aiyeola is over-enthusiastic and gets on, using the spunk viewers of the Big Brother reality show will be familiar with. Nook's acting wavers, but the actress is very good in scenes with the troubling tout. Cast and Stephen's script make way for the actor and his character. A hulking presence, Ninalowo is convincing as a tout; opposite the fancy lead, he is a commanding foil; and when hurt, he is as passive as a chastised slave.
From several humiliations inflicted on Jobe in the third act, Ninalowo extracts a touching monologue of such potency as I can't recall seeing in recent Nollywood, except for Seun Ajayi's brief speech towards the end of Dare Olaitan's Ojukokoro [read review here]. The scene is sentimental, but not sappy, and when the cliche of a single item being worth the price of an entire ticket was conceived it was probably intended for scenes such as the one with this monologue.
Picture Perfect is often funny, sometimes touching, and carries what might be one actor's breakout performance.