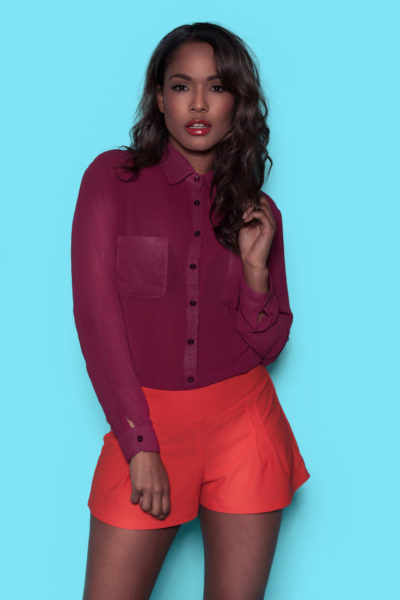 We waited outside. Hundreds of us. Under the scorching sun. Beads of sweat on our foreheads, patches of sweat on our clothes. We were told to stay in a long line but you know, people don't listen. Everyone crowded in front of the narrow door.
The lady coordinating spoke to us curtly like the animals we had become. We were constantly treated like the bottom feeders in the fashion industry, perhaps because there was more supply than demand. Narrowed eyes searched through the horde for those who would walk into the room. Long thin finger pointed at us as she said, "You, you, you and you." Her gaze rested on me. "Come inside." I wasn't at the front of the queue, so I had to squeeze myself through, stepping on shoes and saying sorry over and over. People glared at me for pushing them away when it was their fault for not making way.
Walking into the room, cold breeze from the air conditioner dried my sweat. There were three judges seated behind a long desk. Music began playing. The first girl walked, and the judges were too busy talking; they didn't even give her glimpse. When she was done, they said she can't walk in the show. She was very gorgeous, and I thought she had a great walk but these gods decide what they do not know.
The second girl was a famous model. Always on the runway, year after year. They paid attention to her. She was slender, not as pretty as the first girl, but had that confidence because she knew she would be on the list anyway. And so she was. I was told to walk after her. My heart pounded in my chest, but I tried to stay and look calm. It was really quick. They said I could walk in the show too.
Rehearsals and fittings were on Friday from 10am to 5pm. Some models were late, which is typical as many were coming from school outside Lagos or houses far away. They didn't keep us in a hotel. Some of the designers showed up, a few showed up with half of their clothes.
During rehearsal, we were yelled at, pushed and pulled and beaten shape. With no food or water and a terrible rehearsal stage.
On Saturday, there was a presentation from 5pm to 10pm. All the model were there on time and ready to work, but as usual, lack of communication and 'Nigerian time' we were delayed.
Sunday was the day for the runway show but it didn't start on time; routines were changed over and over again, which made me wonder why we had rehearsals on Friday then.
We were there from 10am – 12pm, yelled at, given twenty versions of instructions, yelled at again when we got the wrong version of instruction, and at times threatened.
The runway show started at 10pm and at almost 12am everything was over. Relief washed over me. I stepped outside and all I could think of was food and water because provisions weren't made for us.
"You were great," said a man. He was light skin with rectangular spectacles and he had on a pale blue blazer that looked normal except for the shredded design at the back. He also had on pale blue pants and a pair of white sneakers.
"Thank you," I said with a fake smile. He could probably see how drained I was.
"Looks like you could use a drink," he said. The show was held at a hotel so we visited the bar.
After some gulps of vodka on my empty stomach, I found myself ranting to this stranger. "It always falls on us, when the designers mess up, bringing ill-fitting clothes, uncomfortable shoes and accessories, we make sure we still model. So why can't they do the same? The make up artist would come with terrible and expired products that gives acne, grumble when you refuse to let them shape your eyebrows, then leave before the show starts. We're walking around with oily made up face. Hair dresser would cover your hair with Gel, overheat it, pull and tug it like it's not attached to a human being. Stylist would ask you to bring all that is required for the show like it isn't their job to get those things."
"Wow," that was what he said.
"I'm so exhausted. Haven't eaten since morning. Models need fuel. We're not solar powered or stressed powered." I paused to drink some more then added, "and when we slouch, or show we are tired, they threaten to take away our jobs. Another thing is dressing room, we are people, respect our bodies. As we are fitting, interns would be molesting us with their eyes and hands all in the name of adjusting. We would be kept in the middle of the show room, being watched by tons of people who have no business there. It's bloody humiliating being a model over here despite how glamorous people assume it is. They always say that because we are models we should be used to changing in the middle of strangers." I covered my face with my palms and tears leak out of my eyes. "I'm so sorry I just had to let it all out." My voice muffled through my fingers.
When I removed my hands I found a plate of spaghetti Bolognese in front of me. I had no idea when he ordered dinner.
"Oh my God," I chirruped with the same enthusiasm one would have if a man proposed to her. Food is bae.
"I would like to photograph you. When I saw you on that stage, I thought to myself. She's incredibly beautiful. I know they loaded your face with makeup backstage but I could still see your natural beauty. Then sitting here right now, you are filled with so much emotions and I want to capture that," he said to me.
Monday afternoon, I met with Bola the photographer at a private beach. The beach had houses without roofs peeking from the ground as if they had been buried by sands. The real sandcastles. I stood there, in my most natural pose while he clicked his camera.
He said to me, "I have to exhibit this in London next weekend. I'll let you know how it goes." As we left the beach, he paid me for the shoot.
That was the last time I saw Bola. Sometimes I look back and wonder if he really existed.
The following weekend, I waited but never heard from him. I was upset because it's typical of these Nigerian photographers to do a shoot with you and you can't even use it for your portfolio.
I was at home one evening and I saw myself on the news. The headline said, "The Aging Girl".
The news channel showed the actual photo of me on the beach and revealed that the image of me has changed since it was hanged in the museum. The photo they showed, I looked five years old. I still had a smile on. They showed another photo, the same photo, but this time I looked ten years older.
The reporter said Bola could not be reached for comment.
Photo Credit: Stryjek | Dreamstime