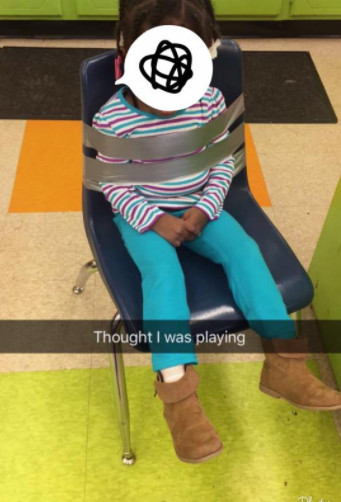 Parents of a 4-year old girl are demanding for prosecution of her teacher at Little Learners in Missouri, who allegedly duct taped her to a chair.
The girl's mother Elysha Brooks posted the photo on Facebook, saying that she was contacted by the Department of Children and Family Services and sent a picture that showed her child duct taped to a chair.
The teacher went ahead to take a photo of the girl and posed it on her SnapChat with the caption: "Thought I was playing".
"One of her teachers Duct taped her to a Chair and posted her on SC. Received a call from a hotline and they sent me this pic of my baby. This incident supposedly happened in March and the daycare still fail to inform us of the situation. Also failed to document a incident of a rock being lodged in my baby ear that almost damaged her eardrum," Brooks wrote.
Speaking to KFVS, the girl's father Christian Evans said:
I won't be happy until that daycare is shut down, for one, and whoever did this to my child, whoever it is, either – it's not an either – she needs to be in jail.

Seeing your child duck taped to a chair, seeing the anxiety, seeing how scared your kid is, knowing for one that you're not there to protect them and knowing for two that you have people around that would stoop to that level to hurt your child puts you in a crazy mind state.
The daycare did not respond when asked for comments on allegations that one of its staff was responsible.
The Department of Children and Family Services is currently investigating the incident and no charges have been filed against anyone.
Photo Credit: Facebook – Elysha Brooks