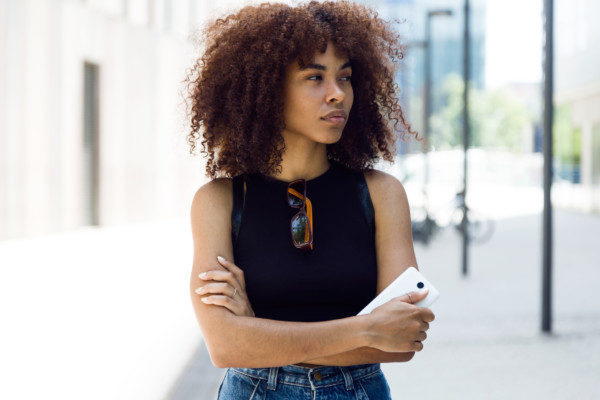 This past weekend, my phone got stolen. I could vividly remember the feelings I had moments befor the phone was stolen. The first one was a nudge inside of me telling me to leave the phone at home, since I would be carrying a much smaller bag which could hardly contain the phone, but I kind of ignored the feeling. It was painful to recollect that when the feeling came to my mind, I yielded it for a second by hiding the phone carefully in the wardrobe. Then, I removed it, after thinking that my sister was likely to call. Worthy of mention also was the fact that almost immediately after I forced the phone inside my bag, a nudge again came for me to go with my smaller phone instead, (being a large social function and considering the fact that I was going to handle a thing or two which would cause me to go up and down at intervals), but I dismissed the idea almost as soon as it came, because no one really called me on the smaller phone.
Also, minutes before the phone was stolen, I felt another nudge to hide my bag – this time around in the car, but again, I dismissed it almost as fast as it came. I thought to myself- who locks a bag in the car at a function? Long story cut short, through my backward time calculation, I realized that my phone was removed barely some minutes after I left the car.
Quite funny I never knew my phone was missing till almost an hour later a friend talked about her phone and I decided to check for mine. Needless to say the first thing that came to my mind were the moments of caution I had before then. There suddenly arose a reason for regret.
Without trying to be a superman, I was unhappy for a while, such that I felt like leaving the party for a much quiet place, preferably- home, but on a second thought, I decided to stay for the party and have fun all I could. Was I crazy?
No.
Yes, I had just lost a phone- an expensive one at that, but then, what would my wailing or moodiness do? If at all I went to sit in a place all by myself, it might lead to a much heavier mood.
People around me, on realizing I just lost my phone and was as happy and lively as ever, felt I was crazy. Some even tried to become moody for me on realizing the worth of the phone and the fact that I carried out almost all of my day to day activities on the phone, but then on seeing me and the way I was happy as though nothing happened, decided to do away with their intended moodiness.
How did I handle the whole situation?
First, I realized that the deed at the moment has been done with little or nothing I could physically do about it.
Secondly, being someone that has literally sworn an oath of no worry, I couldn't bring myself to worry despite the gravity and usefulness of the phone. This was made possible because I made up my mind a long time ago to cast all my cares and seeming worries on God, knowing fully well that He cares for me as he would for any other human being. He would gladly bear my burdens, if I asked Him to. Choosing not to worry was also borne out of the sudden realization that worry brings absolutely no solution, only problems.
Lastly, I realized that hard times brings the best out of us. The situation in some ways has brought about a new me who is wiser first and foremost, and then stronger. Wiser in the sense that given the chance, I would pay more attention to my inner voice and the nudging it brings; and stronger in the sense that in some ways, I have gained more strength holding up in the unpalatable situation.
The situation revealed to me the essence and end result of the books I read to help me live a better life, as well as the audios I listened to. For a moment, it was good to know that all my readings did not go in vain, that it as a matter of fact birthed and built resilience and inner strength in me. Adversities indeed reveals to us who we are.
In all, my formula to handling regret would be
Refuse to allow the incident take control of you. Instead, be in full charge of the situation, especially your emotions bearing in mind that emotions are bad leaders, but good followers. Consciously lead and tell your emotions what to think. The moment you allow your emotions to lead you (especially in bad times) is the moment at which you get overwhelmed and seemingly helpless.
Come to a knowing that the deed has been done. Cry if you must, at the moment, but not for long, because there is nothing your wailing can do to the situation. It is done it is done.
Refuse to worry
Instead of focusing on the things(s) you've lost, choose to focus on the things you have still. In my case, knowing that I have a life and the fact that I am sane enough to use a phone in the first place became reason enough for me than the fact that I just lost a phone. Quite funny how we never know the harm we are being saved from on a daily basis.

If I'd listened to one of the nudges in my heart and kept the phone, I wouldn't have known what loss I was protected from such that would warrant gratitude upon return and seeing my phone where I'd kept it. If only we know, that the things we take for granted are the miracles of the harms prevented, we would learn to be more grateful about everything and in everything.
Reflect on ways you can remedy the situation, if need be. In my own case, someway somehow, I'm trusting for a miracle to see the phone again despite the fact that I do not reside in the place where the phone was stolen (crazy isn't it? But my faith seems to be able to handle it) or as God would have it, expect a much better replacement at a miraculous cost.
Joy, faith, hope and trust are vital keys to handling regret. You need joy to regulate all negative emotions; faith, to see a way in seeming dead-end circumstances; hope, to know that there is so much more in your future than the stuff you just lost that longs to cause you sleepless nights and bouts of pain; and trust, to know without a doubt that all in the end and no matter what, will be well.
Photo Credit: Dreamstime