Michael Afenfia: Nima Elbagir Goes Undercover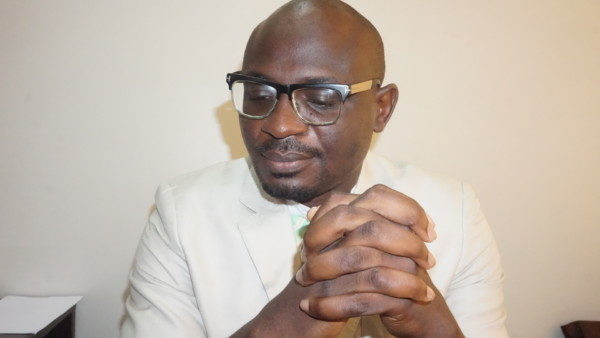 A couple of days ago, in keeping with my morning ritual of catching up with news from around the world, and more specifically to find out what misadventure Donald Trump, the American President had been up to while most of Africa was asleep, I set a reminder to watch CNN when I woke up at six.
CNN Newsroom Live from Los Angeles, usually anchored by Aisha Sesay and John Vause, only had Aisha that morning. Listening to her do a quick rundown of what to expect in the 45 minutes duration of the programme, one item caught my attention. It was a report about a CNN reporter going undercover to uncover a human trafficking ring in Edo state, Nigeria.
Seeing that the report was done by CNN senior international correspondence Nima Elbagir, I was even more intrigued to learn what the cable news giant had discovered about the trade and trafficking in human cargo in Nigeria.
For those who do not follow her reporting, the Sudanese-born investigative journalist, Nima, did an excellent exposé of the Nigerian government's response and the anguish of the victim's parents during the abduction saga of 276 schoolgirls from Chibok, in Borno state by members of the militant Islamist group, Boko Haram. That incident, which took place in the dead of night sometime in 2014, and the coverage of it by CNN, sparked off outrage all over the world and gave oxygen to the call for the return or rescue of the girls, alive and without delay.
Late last year, Ms. Nima Elbagir again, through her fearless and exceptional undercover reporting, sparked off yet another conversation that highlighted an important problem that many didn't even know was alive and thriving right here in Africa in the 21st century. It seemed like most of humanity had been fooled by the obvious advancement in learning, technology and modernisation into thinking that slavery had been abolished for good everywhere humans dwell.  Nima's investigative wizardry however has since exposed the hypocrisy and deception in all that global show of savoir-faire and kumbaya.
The location was Libya and the visuals from her story that went viral in hours was of a buyer and seller haggling and negotiating the sale and purchase of a fully-grown man. It was painful to watch, but even more painful in that video was the realisation that this evil of dehumanisation was being openly perpetrated by one African on a fellow African. Perhaps even more worrisome was seeing some of the victims being interviewed admit to the reporter, that they were better off as slaves in Europe because their countries had nothing to offer them.
Moments after Aisha did the intro, the report proper came 0n and my heart sank. Again, Nima returns to Nigeria to expose to the world something fundamentally broken in Nigeria – an unaddressed cataclysmic immigration problem.  For the right price, the ease with which a deal is struck to embark on this dangerous immigration route that takes people from Kano to Libya and then Europe is baffling. At the right price, the rate at which Nigerian men and women willingly surrender their freedom to "people merchants" is puzzling, yet instructive.
Mind you, most of these immigrants fall within the most productive age bracket any country can boast of. Some hustle to get the money they need for their escape, while others are funded by parents and family members willingly to sell off land and other valuable assets to pay for their passage. The horrid conditions of travel endured by these immigrants, and the risk they are exposed to between Benin and Europe, particularly the women and children, is enough proof that the process cannot be categorised as economic immigration. It is something very sinister.
Nigerians are paying over half a million naira to immigrate, with a clear understanding that along the way they might be raped, assaulted, enslaved, attacked, dehumanised and even killed. It is sad and we shouldn't stop talking about it.  The Ministry of Foreign Affairs, and all elected and appointed public officers charged with the responsibility of putting an end to this abnormality that has gone on for far too long must sit up.
The human trafficking kingpin, the head of the so-called "Pushermen" of Edo state and wherever else they operate from cannot continue living large on the blood and sweat of the gullible and desperate. Not being firm and decisive in the handling of this crisis is an endorsement of slavery.  We don't need Nima Elbagir going undercover to tell us that.