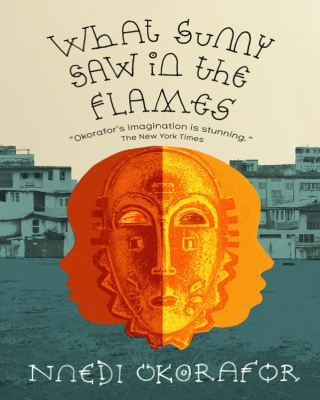 What Sunny Saw in the Flames by Nnedi Okorafor is an adventure fantasy/supernatural fiction story about the protagonist Sunday Nkeiruka Nwazue (Sunny) and the things she used to see, or thought she saw, in candle flames. She was different, not just because she was an albino, but because she'd had some uncanny experiences.
Sunny, being an albino, had difficulty fitting in with her peers at school. Her supernatural experiences, which she didn't understand, made her feel like a misfit.
Sunny makes some new friends who initiate her into their magical world and help her unlock and understand some of her experiences. Her initiation into the 'Leopard People' helps her find her place of comfort and acceptance amongst her friends, who like her, also have supernatural experiences, but unlike her, have come to understand the experiences and gifts that they have.
Sunny and her friends – Orlu, Chichi, and Sasha find that they have been assigned to work together as a team to carry out an important assignment of defending the universe from an onslaught of evil. Can they leave behind their individual differences and prejudices, and successfully carry out their assignment? Can Sunny, being the youngest member of this team and not fully understanding her gifts, pull her weight, or will she be the weakest link in the team? Can she keep her part of the oath of secrecy that binds them together? What really qualifies her for inclusion in this team; being a descendant of a strange maternal grandmother? The outcome of their adventure is the product of teamwork, focus, and unity.
The author, Nnedi Okorafor, is an acclaimed and award-winning writer of African fantasy and science fiction. She has achieved mastery of this genre in which there are few African writers. She is able to discuss topics that Africans might otherwise consider taboo with such wit and humor that it is possible to read the stories without being horrified by the topics we would rather not talk about, even though they are very much a part of our lives.
Teenagers and young people who struggle to be accepted, and to fit in with their peers, will relate to Sunny's struggles. The prevalent problem of bullying in schools is explored subtly in the story. Current global security challenges, to which children are extremely vulnerable, are explored in this book from a supernatural perspective. These evil acts are being carried out as a requirement for an occult or magical transformation. It is a suspenseful read that takes readers on a journey that sharpens their imaginations into lands and places that can only be real in their minds.
I liked the quotation credited to Azar Nafisi, an Iranian writer, at the beginning of the book:
You need imagination in order to imagine a future that doesn't exist.
I also liked the author's witty dedication of the book to her mother who was, and still is, afraid of masquerades. I am a little scared of masquerades so I understand.
The concluding sentence in the acknowledgment was interesting:
And lastly, to Naija for being Naija, one love.
That statement summarizes the Naija (Nigerian) spirit. It is short and succinct, yet laden with meaning. For those of us who have experienced the Naija spirit, we need not say more. It is difficult to explain. It has to be felt. Once you feel it, you will understand it. That spirit is felt in this story and in the characters in it.
The author has a way with words. A lot of subtle humor could be found in the story. These statements stood out for me:
It wasn't hard to find, even in the rain. Trouble is never hard to find.

I would move like a mosquito when I wanted. Not the American ones that buzz in your ear – the Nigerian ones that are silent like the dead.
Though the Sci-Fi/ fantasy genre is not my usual genre, I thoroughly enjoyed reading this book. I loved the wit in it and the apt descriptions of the characters. It was easy to picture them and follow them on their journey. I enjoyed observing how the characters developed and grew as the story progressed and conflicts were resolved. I recommend this book to readers of the fantasy genre and to anyone who desires to develop an active imagination. Writers who want to experiment with this genre can derive inspiration by reading this book and other books written by this author.
You can get a copy of "What Sunny Saw in The Flames" on OkadaBooks. Click here.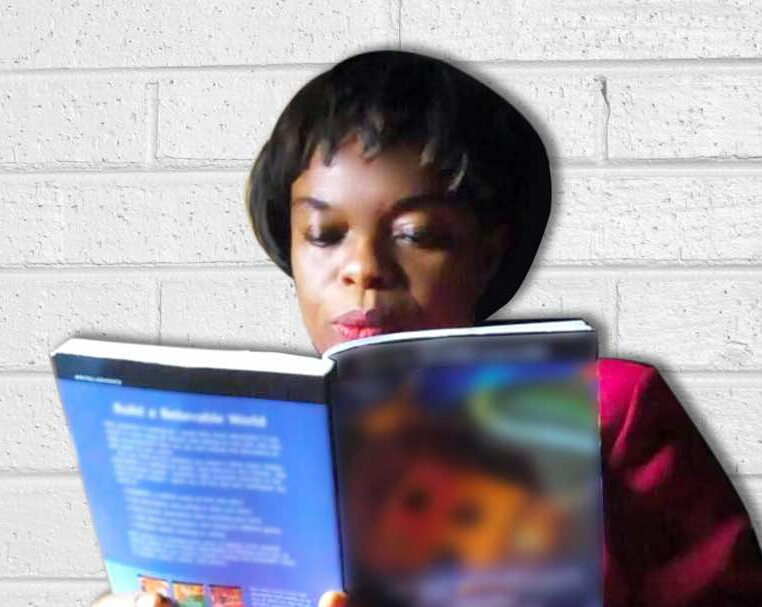 C.A. Mbadugha's debut short story collection "Beyond the Trial" won the 2017 Samuel Ajayi Crowther Award for best Christian Fiction. She tries to balance family, work commitments, book and manuscript proofreading, editing and reviews.
She is presently trying to rouse her muse to write a sequel to "Beyond the Trial".  Her stories in "Beyond The Trial" are published on Okadabooks as these stand-alone novellas: Erased Reproach, Rude Awakening, Shadows from the Past.