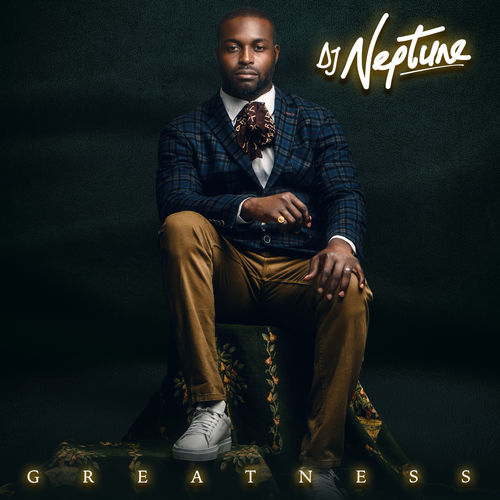 Artiste: DJ Neptune
Album: Greatness
Guests: Jesse Jagz, M.I, Burna Boy, Mayorkun, Niniola, Larry Gaga, Olamide, CDQ, Slimcase, Zoro, Reminisce, Kizz Daniel, Maleek Berry, Skales, Harmonize, Davido, Phyno, Small Doctor, Pasuma, Mr Real, Yemi Alade, Willy Paul, Efya, Patoranking, Runtown, Mr Eazi, C4 Pedro
Label: Neptune Records (2018)
Duration: 53 Minutes
DJ Neptune might be one of your favorite Disc jockeys but it is fascinating to think that the man behind most of the littest parties does not have an extended playlist to his name. To be fair, the man has done a tremendous job so far; the album has top artiste known in their respective genres posing a reputable and ludicrous roll for a collective. The 15-track playlist and its guests makes an offering for longing and lust from listeners considering the collaborations. Surprising, there are still producers that put finishing touches to the playlist in a rather breezy and boastful fashion. At a point, you will yearn for a "Greatness/DJ Neptune-free" version.
……………
Blood & Fire (featuring M.I and Jesse Jagz)
This track recaptures the Abaga brothers' chemistry – laced with a blazing, mid-tempo instrumental. The flow of the song is not evident in the message. It's just the result of the conscious DJ Neptune's ability to tap into an already-existing style of the two.
Shayo (featuring Burna Boy)
Burna Boy does have an expansive list of topics and styles. He sings wittily and speedily about highness and shooting guns (as usual in a light manner) against the norm of pop culture on the pacy and upbeat instrumental.
Tear Rubber (featuring Mayorkun)
The sound of this track is an eye opener to Mayorkun's strength on solos – appealing, edgy percussion, melodic afro pop smarts and unforced vocals are the ingredients that made this flavor. Mayorkun fearlessly took it upon himself to impress without a second lead.
Rolling (featuring Niniola)
It's flawed, but flecked with great moments: the thrills of Niniola's voice, switching notes at the start, when the electronics start to fizz and howl; a little instrumental comes out of nowhere on the second hook. Let's pay homage to Niniola and her Afro House.
Shawa Shawa (featuring Larry Gaga, Olamide, CDQ and Slimcase)
Shawa shawa may be the album's soup on the saucer but it doesn't revive the fact that the four guests kept the ambience – Rhymic syncts, upbeat and 808's clashing. Just the usual excitement shaku shaku brings.
Friday (featuring Zoro and Reminisce)
Reminisce left Zoro to deal with the hook – the easy gripe most rap heads consider 'lyrical' rap. Friday is not your preachy and pontificating tune but it has that texture of a simple rap song. One thing for certain: Reminisce was not screaming 'punchline o jawo mo' on DJ Neptune's track.
Wait (featuring Kizz Daniel)
The eclicism sets up an excellent musical conversation in which melodies that lean toward toward Afro-pop genres whose orthodoxy would not allow a mistake and instrumentally boosted within an inch of perfection to meet Kizz Daniel's standards.
My World (featuring Maleek Berry)
Maleek surfaces as an extra lightheaded individual trading love lines rather than piling up huge lifeless emotions on the radio-friendly track.
Do like I do (featuring Skales and Harmonize)
The record boasts of a great instrumental but those lines you cannot make out the lyrics except for Harmonize vocals could be the reviving factor behind the success of this track.
Secret Agenda (featuring Davido and Phyno)  
In a song in which percussions and strings weren't hidden – hear them scattered all over the verses – this inventive record is heavyweight. Don't judge it less.
Sisi (featuring Small Doctor, Pasuma and Mr Real)
If, like me, your Yoruba extends to a mangled lingua, the language barrier does not matter, and even perhaps heightens the tune – chief strength of this well-constructed is the street credibility of Small Doctor's delivery, all keening verses into Mr Real and Pasuma's huskiness.
No Body (featuring Yemi Alade and Willy Paul)
Makossa definitely came to play on a track that boasts of eternal drum patterns. It evolved and played part in Yemi's changing direction in her last verse, filed by strings.
In a way (featuring Patoranking and Efya)
The shuffle of the reggae/dancehall beat and unchanging across the track is pure bliss, an examaple of mixing genres in a strategic matter to preach love and feelings. Efya skilfully aligns to a lulling rhythm.
Why (featuring Runtown)
While DJ Neptune nicks the melodic ability of Runtown, Runtown in turns nicks the radio power of DJ Neptune. Runtown occasionally stretches out the verses into short stylistic bridges and low-wreathed R&B but cheesy and heartfelt sonics.
Mia Mia (featuring Mr Eazi and C4 Pedro)
Mr Eazi's willingless to blend Afro vibes into party bangers is what makes him special: In a continent of alluring 'pon pon' sounds  and brilliant music.
…………
Disc jockeys are known for recruiting some of the best music heads and so the tendency for their projects to be a success is quite as enormous as the singers on those projects. The A&R effort is evident in the line-up, mixing genres and ensuring the playlist was a lustful one in the ears of fans and listeners.
---
This review is solely the opinion of the contributor and does not reflect BellaNaija's views in any way.