Happy Birthday To Funmilola! Read a BellaNaijarian's Sweet Ode to Her Sister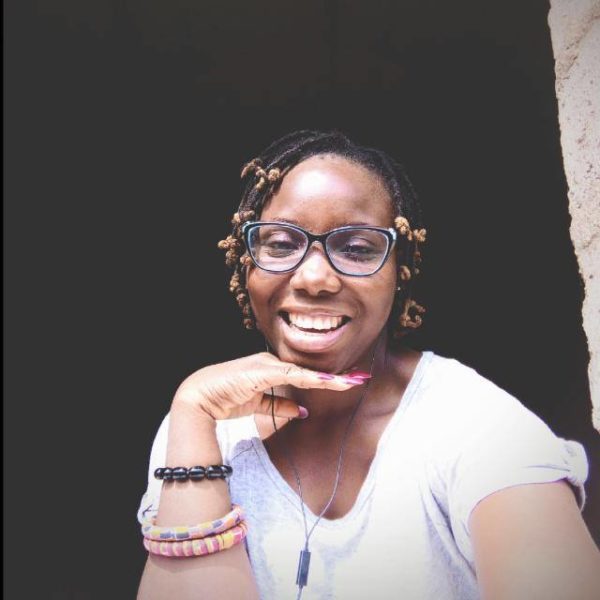 This is one of the days I am propelled to write; days that I think back, nostalgia tickling my heart.
My sister turns 30 today and there is no better time to pen down my silly thoughts. I am so filled with emotions and I am short of what to write, but I will write anyway.
Funmilola, let me tell them how you came to be.
On the 8th of June, somewhere in the Northern part of Nigeria, green leaves were pummelled softly by the morning waters. A particularly beautiful woman was covered in sweat and blood. She shut her eyes and let out howls of agony. You see, she was being delivered of her baby, but the silly little lass would bring out her bald head to check the world and then return into the yelping woman. She did this repeatedly for over 20 hours, until the doctor left the ward and came back with this sharp pointed instrument, with which he used in pulling her head and body out into this world.
This little lass is celebrating her birthday today. I am distracted by butterflies sucking nectar off flowers, but I am still thinking of you Funmilola. I am thinking of who you have grown to be these past few years, this backbone of mine: straight, unbending, supportive.
I am remembering a lot of things; how you never smiled as a kid and Uncle Lay named you Margaret Thatcher. I am remembering our days in Oseni, this guy who used to tease us too much while we walked. Until one day, as we walked by, you asked us to sing insulting songs at him. We had passed the front of his shop while staring at him pointedly and singing 'basket mouth don open mouth again o, elenu apere.' His bleached face had blotches of red and he followed us home, furious, hoping to report to dad. We had used the first staircase and he raced behind us. Abruptly, we turned and followed the inner and hidden stairs and we watched him stare around, befuddled, until he turned back and left. Then we laughed heartily for days and made it a point of duty to laugh impishly whenever we passed by his shop.
I remember you telling me when we were kids that I was an adopted child, and I would cry until mum told me it was a lie. I remember me asking you why blood came out of you every month and why you used pads and you would tell me it was because you cut yourself there with a sharp knife, I had wondered why you always made that mistake every month but I had kept the question to myself.
I will not forget how we polished our nails with pencils and how dad never let you put on makeup as a teen, but you would scratch a sharpened pencil against the window sill and then scoop the black powder and smear it on your lids. I can't forget the many times I visited you as a student and steal some of your clothes. I couldn't steal your shoes because they were smaller, but your lipsticks and gowns were all mine. I remember the day you accused Tosin of taking your novel and not returning it, and I kept smiling because the novel was with me and you's had no idea.
Funmilola, I have watched you grow through the years; I have watched your dreams die while you birthed another. I have watched your spirit droop heavily and then rise again, I have watched your plans fail and I have seen you make others. I have watched your depression; seen you cuddle it, welcome it, bask in it, and other times, I have watched you usher it to the door and hound it out, telling it never to come back. But still, you had left your windows open – forgetting that at times, it slinks in like a thief in the night. I have watched you be happy too. I have heard you say to me, "My new year resolution is to be happy no matter what life throws at me," and you have done just that. You have smiled, you have laughed, you have danced, and I have known the meaning of every smile, every dance step you took. I have seen your passion too, I do not know if you know this, but you are a passionate person.
You are she who holds on to things you love. It is in the way you talk about Chimamanda and Asa, the numerous Frank Peretti novels, well arranged in your room. The way you argue with Raphael and Ben about politics; Ben would raise his eyebrows and purse his lips and Raphael would call you a feminist whenever you started one of those heated arguments. You would argue at the top of your voice, your vein showing a thick vertical line on your neck, and you would point your short index finger downwards while buttressing your points. You took this after dad; the ability to argue well, the ardor with which you both defend your beliefs, the way you both sweat on the corners of your noses and the way you always end up winning most arguments.
It is also in the way you hold on to Christ, the articles you write and deliver in church. It is in the way you told me "D, you need to start going to church" when I told you I was depressed and couldn't fathom why, and then you explained to me the kind of peace that comes along with being in Christ.
Funmilola, you have influenced me in more ways than you know. It might not be in the bluntness and stringency with which you operate, in your ability to make friends so easily, in the happiness that flows out your pores, the laughter that rocks your chest, or the way you go to church and hold firm to Christ. But it definitely is in the realization that everyone matters; in the way we rush out to pick ice cubes when it rains – the many beauties of Jos city; the way we immediately rebut the claims that all northerners are terrorists, enlightening anyone who cares to listen that a group of people does not delineate the whole tribe; the way we both argued against Abba when he said Yoruba people were dirty and I told him he was educated but spoke like he wasn't.
It is in the limpidness of your heart, the striking poetry of your soul. The way you wound your arms around Morenikeji, even though you had never met her, but you had felt her pain in the way she walked with one leg, you had put your hands around her shoulder and told her "all is well." You had circuitously taught me to love everyone, irrespective of differences and diversity.
Funmilola. You are the soothing morning dew, the warm rising sun, the deep brown earth – scent-filled and feeding nations. You are my first fan, making sure you comment on every one of my articles. You are the one who asks me, "Have you finished writing it?" and when I say no, you yell, "What are you waiting for, be fast na." You are a soft rock: consoling, yet strong enough to lean on. You are a big sister to Timi and me, although we all look like triplets. You are stubborn and sometimes annoying, but I sha manage you like that.
So I pray for you today. You shall soar like the eagle. You shall radiate like the evening moon. You shall twinkle like the numerous stars; your glory shall penetrate the darkest of tunnels and your fame shall be known even in the thickest of forests. Your old age shall be fulfilled and your young age shall be fruitful and productive. You shall find love – better than the way Bella found Edward.
I love you. We all love you.
PS – I am now lying on this sitting room floor while writing this, dad is busy editing my errors, Timi is telling me to add a whole lot more, mum is saying, 'Be fast o jare, so you can send it quickly.'
Happy 30th, smallie.