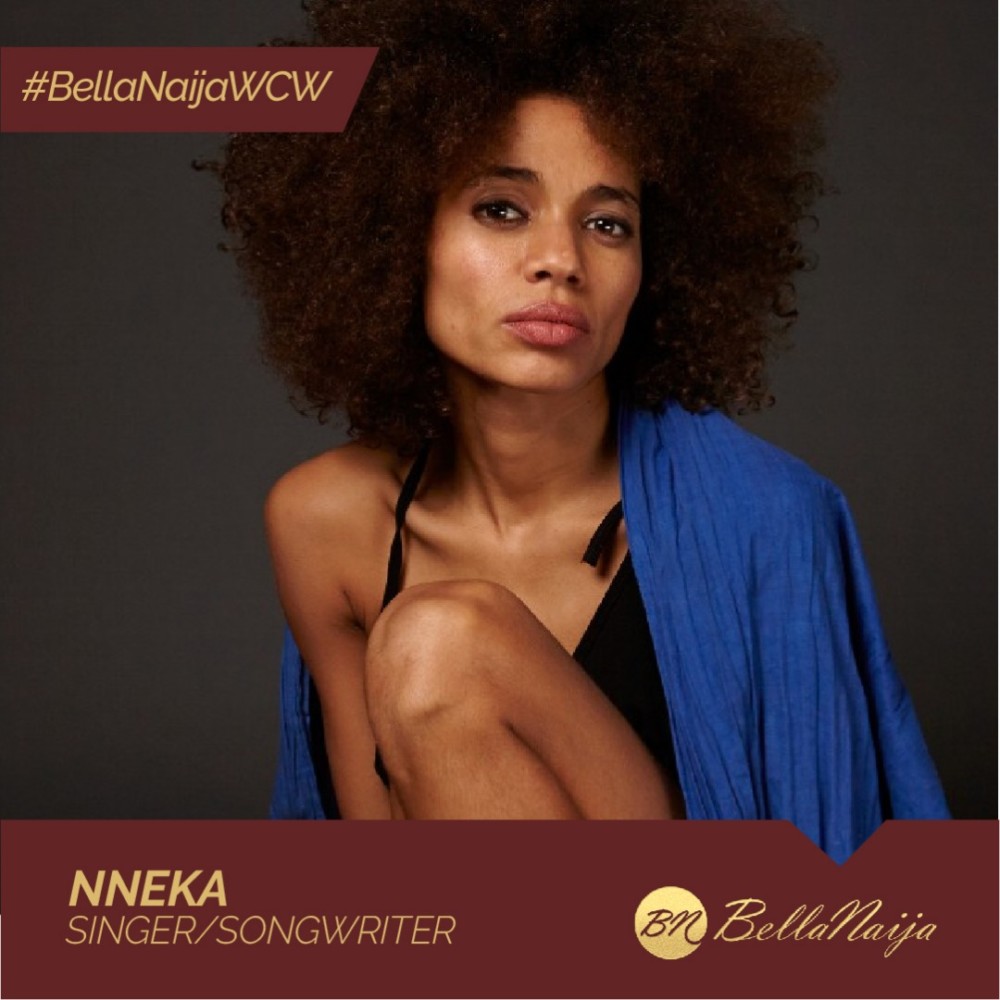 This week, in our #BellaNaijaMCM and #BellaNaijaWCW features, we'll be celebrating Nigerian musicians who are going the way less travelled in the Nigerian music scene.
Nneka's (full name Nneka Egbuna) story and rise to success is an inspiring one, and we'll be shining the spotlight on how far she has come today. From suffering abuse in the hands of her stepmother, to leaving home at the age of 19, living in a camp for asylum seekers, learning a new language and culture, and taking a bold step that changed her life.
Nneka was born in 1980, in Warri, Delta state, one of Nigeria's oil-rich states but plagued with poverty and environmental degradation due to oil exploration and government's lack of care for communities in the region.
Warri is also home to the Itsekiri, Ijaw, and Urhobo/Isoko tribes, who from time to time, engage in inter-tribal wars.
When Nneka was two, her German mother left the family and her dad remarried. This was the beginning of Nneka's challenges. Her and her three siblings were maltreated by their father's wife. She told DW she was tortured and terrorised by her stepmother.
She eventually left Nigeria for Hamburg, Germany, her mother's hometown in 1999, and lived in a residence for asylum seekers. She thereafter, moved into communal housing for youths.
In 18 months, owing to her ambitious nature, Nneka learned German, completed her high school diploma, and was studying ethnology, anthropology and African studies while making music on the side.
She met German-Afghan DJ Farhot and they both synced. He was able to give the right beat to her music, and together, they created a demo.
One day in the early 2000s, while walking the streets of Hamburg in search of a job, Nneka stumbled on the company sign for "Yo Mama Records". She saw the motto of the company which was "Mama is the best" and this struck her as her name meant "Mama is supreme".
She walked in and asked to speak with the lead. The label's manager Martin Schumacher, was impressed by her boldness and work, and offered her a contract.
She continued to make music and gained public attention in 2004 when she opened for Sean Paul at a concert in Hamburg's urban Stadtpark. After that performance, she received the go-ahead to record her debut album.
She went on to release an EP The Uncomfortable Truth and then an album Victim of Truth in 2005 released in Germany, Nigeria, England, France, Netherlands, and Japan.
She began touring cities and countries and have supported artists like Femi Kuti, Bilal, Seeed, and Gnarls Barkley.
In 2009, Nneka got three nominations for the Channel O Music Video Awards, and was also the winner of the Best African Act at the MOBO Awards.
Nneka has gone on tour with Nas and Damian Marley to help them promote their Distant Relatives (2010) album.
Nneka also lays claim to recording a song for the 2010 FIFA World Cup in South Africa titled 'Viva Africa' as a tribute to the premier of the competition in Africa.
Nneka's songs carry politically and socially critical lyrics, bordering on corruption, social injustice, terrorism, and inter-tribal wars. Her sound combines soul, hip hop, reggae, and afro pop.
In February 2008, she released her second album, No Longer at Ease.  Her third album came – Concrete Jungle – came in 2010, her next – Soul is Heavy – in 2012, and her most recent – My Fairy Tales – in 2015.
Nneka lists Fela Anikulapo-Kuti, Bob Marley, Mos Def, Talib Kweli, and Lauryn Hill as some of her influences.
Nneka and Ahmed "Genda" Nyei from Sierra Leone, co-founded  a charity foundation called the "ROPE foundation"