This is the concluding part of Nkem Ndem's Maputo with Google recap. Click HERE to read the first part of the trip.
***
How do you cajole your body to wake up when it is still lazy form the sumptuous and rather heavy meal you had the night before?
It was difficult waking up on my first morning in Maputo.  The weather was cozy, the scent in the room was oddly intoxicating. The sheets were so soft, it almost seemed like a taboo peeling myself away from them.
The Google Team had left the itinerary for our first day on the coffee table the day before, and it seemed quite straightforward: breakfast, training by the Google team, day tour of Maputo, lunch, chill time, then dinner.
It was the thought of missing out on breakfast that had me heading to the shower. I woke up 8.30am and had only about 30 minutes to get to the restaurant before breakfast buffet was closed.
The breakfast was a feast. Everything was delicious.
After breakfast, we proceeded to the training session with the Google team. This training was an important aspect of the trip as it was aimed at educating us on how to use certain Google apps, including the Google App, Voice Search, Google Maps, Google Translate, Google Go and  Google Photos while on the trip to make our journey easy and stress-free.
Here are some of the fact we were given:
The Google app shows the user cards that might be useful, for example – the time at home, or a currency converter, and useful local phrases;
The Voice Search allows the user to ask Google questions and get instant spoken answers, which is perfect for traveling when you don't have enough hands/eyes to type and read answers;
Type or tap the mic on the search bar in Maps and speak your destination to get directions, see current traffic conditions, public transit stations, satellite imagery e.t.c of your destination or places nearby.
Google Go provides you with a lighter, faster way to search. Web pages load quickly, smart word suggestions help you search faster with minimal typing, and failed search requests are retired in the background so that you are notified when the results are ready.
Google photos automatically curate your best photos and videos, and the places you visited, in a beautiful, chronological narrative. You can edit, backup and share photos from within the app. And if you want to look back on your trip days and weeks from now, all you have to do is say: "OK Google, show me my photos from Maputo." All the photos that you took and saved to the cloud in Maputo during this trip (and any other!) will appear.
Google Translate works as an interpreter in your pocket. Speak, type, take a photo or write anything and the app will easily decode it for you.  It speaks 103 languages and learns from you as you use it.
After the training, we went on the day-tour to Maputo. We were all in a long white bus, with a tour guide who seemed to know every single information about Maputo.
First, we headed to FIEMA – Feira de Artesanato, Flores e Gastronomica, a craft market in Maputo where tourists can find a myriad of handmade local crafts to take home from as souvenir. However, on our way, we saw a group of women adorned in the traditional Capulana – a symbol fabric for Mozambican women, usually about 2 metres long, printed with African patterns and contrasting colours, a true work of art and full of meaning.
We also stopped to see some of Maputo's popular landmarks along the way, including the Catholica church, Iglesia de San Antonio de la Polana also known as " the Lemon Squeezer" as it is architecturally structured to look like one; and the Vila Algarve, an old, abandoned, colonial-style  building that served as a centre of repression and torture for the political police of the colonial (Portuguese) government , now rumoured to be haunted.
Once at the FIEMA, we were given 40 minutes to explore the place. From batik paintings, ethnic pieces of jewelry, Makonde sculptures, exotic cloths, wooden handicrafts, straw bags, intricately woven wire objects and ebony boxes with exquisite inlays to the traditional Capulanas, we were overwhelmed with choices.
The Google team had pre-informed us that we could bargain and that SA rand and US dollar brought better deals than the local meticais.
From FIEMA, our next stop was the Museu de História Natural de Maputo, the Natural History Museum. The building on its own is a beautiful architectural site; however, there is no denying that it is a rather small museum. Inside, you will find stuffed wild animals (that creeped me out) including lions, elephants, giraffes, pangolins, hippos etc. Upstairs, there were the fishes, reptiles, and bird strategically placed to mimic their natural environment. Most "captivating", I think, was the unique collection of elephant foetuses representing the animal's 22-month gestation cycle. According to our tour guide, all the animals displayed in the museum were real and not synthetic, however, they were relics of the Portuguese rule. It was such a strange place to visit. I kept wondering: How many animals had to die for this?
After we were done at the Natural History Museum, we were taken to Maputo Waterfront, another excellent restaurant in Maputo, for lunch.  We were offered a two-course meal, so I had the seafood salad and some garlic bread, then the "Combo" – a plate of ¼ grilled chicken, calamari, fish, prawns, rice, and chips- for the main course. I was hoping that with a little bit of peri-peri I would finish what I had on my plate, but it was just too much food! The food was delicious, and the portions were enormous. It was a wonderful experience enjoying the stunning ocean view while savouring fresh seafood.
After lunch, we continued our tour.  This time, we head for Downton Maputo. Our next stop was Maputo's Caminho de Ferro de Mozambique (CFM) which according to the tour guide is one of the three most beautiful train stations in the world. From the attractive pistachio green colour, to the unique architecture boasting of grand wrought-iron latticework lined with intricate Victorian arches/ pillars and charming verandas, the structure is indeed one of the most interesting buildings in the entire city. And it is quite prestigious as well, considering it was designed by an associate of Alexandre Gustav Eiffel of Eiffel Tower fame.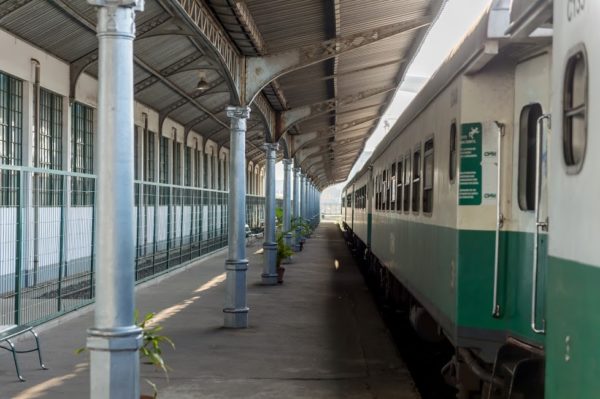 Inside this train station was also the Kulungwana Espaço Artistico, a small art museum with works by local and visiting artists. Unfortunately, we couldn't take pictures at the museum.
Outside the train station was also a local market which we would have explored, if we had the time.
From the train station, we went straight to the Fortaleza da Nossa Senhora de Conceicao, also known as the Fortress. The Fortress is one of Maputo's oldest buildings and a national historical monument related to the history of the Portuguese presence in Mozambique and the resistance given by the locals.
It features ancient guns on the fortress walls as well as art installations portraying scenes from the country's past. We could not spend a lot of time here, as there was an event about to hold at the venue. However, on our way out, the trees in the gardens caught my attention.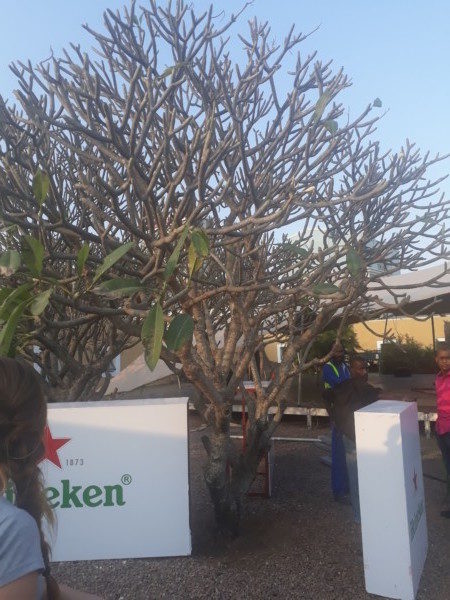 According to the guide, the leaves of the tree were reserved for single women in Mozambique. They adorned themselves with the leaves to show men that they are single and available.
Our next stop was the Praça da Independência (Independence square) where we could see the Edifico do Conselho de Maputo (the Maputo City Hall), a neoclassical building  with a trapezoidal layout situated on a hill, as well as A Estátua de Samora Machel, the bronze statue of Samora Machel, revolutionary, and first President of Mozambique (1975-1986).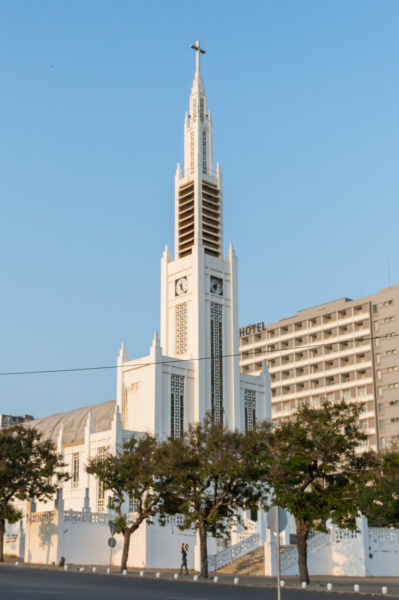 I was surprised we were allowed to take pictures in this area, considering it is the seat of the city's government. At other places we were instructed not to take pictures of certain government structures or state buildings.
Our last stop for the day was the Cassa do Ferro, also known as the Iron House one of Maputo's curious historical vestiges. This house, designed by Gustav Eiffel and made entirely of iron, was built in Portugal and sent down to Maputo for assembling. It was built to stand as the official governor's house in the late 19th Century, but is made of iron. It proved far too hot for residence and never served it purpose. It is now being used as a center for tourism and tourist can purchase several local arts and crafts displayed for sale at the entrance.
By the time we were done with the Iron House, we were all too tired to go anywhere else. We headed back to the hotel to rest a bit and freshen up for dinner.
Dinner time came really quickly, but we didn't mind as we always looked forward to the food. This time, we were taken to a rather fancy restaurant/café/art gallery called DHOW. The DHOW was decorated with a blend of artwork, decoration pieces and furniture from Africa,  India, Indonesia and China. It also offered a breathtaking view of the Indian Ocean, an elegant atmosphere, and delicious Greek-inspired cuisine.
I had a shrimp sauce called Camroes ouzo sganaki with pita bread for starter, then a very succulent Beef fillet with creamy mushroom sauce. I thought to take a break from fish.
After dinner, we all spent some time talking about our adventures for the day and sharing pictures via the Google Photos app. I was especially excited that I had the app as the I had taken too many pictures already and could not have been able to save them on my phone memory. With Google Photos, I could back up pictures on the app and clear them from my phone. Even more, I could easily share loads of pictures with my family at home by creating a share link rather than sending pictures after picture.
Upon getting to my room after dinner, I had another heart-warming gift from the Google Africa team. As you can see, we totally had a blast in Maputo and I'm very happy I got the chance to represent BellaNaija. Special shout out to Google for the entertaining and informative trip.
Google rocks!