Michael Afenfia: Forget the Germans, What About Us? Have We Treated Ourselves Better?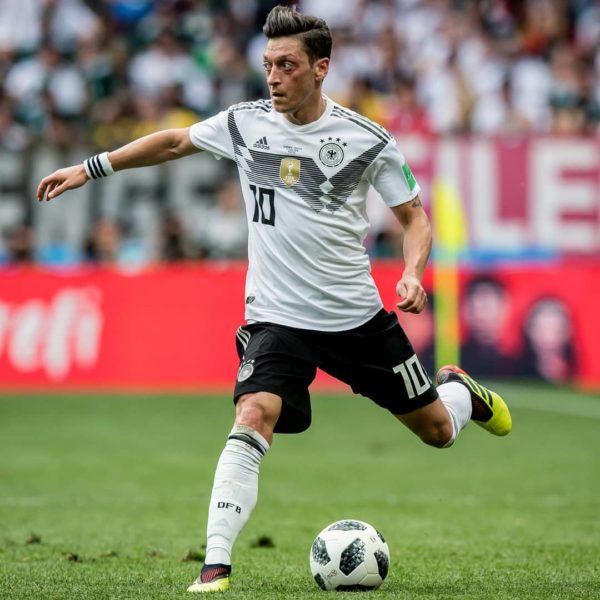 The World Cup is finally over; France has won and the other thirty-one football crazy nations that took part in the competition and didn't do quite as well as France have another four years—starting now—to prepare for Qatar 2022. Hopefully, Nigeria would be one of them.
I started out with Nigeria being my favourite team… Okay, that's not true at all. So, you caught me in a lie there. Don't get me wrong: I am patriotic, very much so, but my patriotism hasn't moved me to the point of believing in the implausible yet.
As much as I cheered and even bought two bootleg jerseys and a tracksuit to prove my support and loyalty to my country, I just knew we wouldn't be going far.  So, let me do that all over again.
I started out with Mexico being my favourite team to win the tournament because I liked how they performed in their first match. Then it became Russia only because they were hosting and they had exceeded all expectations, including those of their fellow Russians. Because Kevin De Bruyne is my all-time favourite footballer and a Manchester City player, and I'm a fan of the club, it became Belgium at some point. But when they were knocked out by France in the semi-finals, I did what most Nigerian fans did; I packed my bus on France's side.
Like most Nigerians, at least those I follow on social media and a number of my football buddies, my reason for supporting France was because of the number of players from African descent they had in their team. From Paul Pogba, to Kylian Adesanmi Mbappe, Samuel Umtiti, Thomas Lamar, to Alphonse Areola and all of the other lads that can trace their ancestry to the motherland, the French team could pass for one of us.
Being behind France in the final, because of the colour of the skin of so many of their players and more so because they are of immigrant descent with roots in Cameroon, Nigeria, Algeria and a number of other African countries, does that make me racist? Hmmmmm, maybe you can help me here.
Because the issue of racism has been brought up, I would say this. I know the game is done and dusted and all the major prizes handed out, so we already know that Luka Modric of Croatia was the best player of Russia 2018, but to me, the real Player of the Tournament and the best player for 2018 emerged after the competition wrapped, and that player is the German and Arsenal winger, Mesut Özil.
Before you come for me, please read on. This week, his bravery in calling out the German football federation for racism caught the attention of the world. His quote, "…I am German when I win, but I am an immigrant when I lose," has to be the quote of the year.
Within hours of the release of his statement announcing his retirement form the German national team, Twitter Nigeria was on fire and that got me thinking. What really is racism?
Without consulting a dictionary, and I hope I am right, it is any act by a member of a particular race intended to claim or suggest supremacy or superiority over a person of another. A victim of racism, whether open or subtle, goes away with a feeling of inferiority and unworthiness.  A victim of racism feels like a second-class citizen. The words and actions of Reinhard Grindel of the German football federation made Mesut Özil, a Turkish-German, feel like a second-class citizen.
But come to think of it, I'm here in my country, and there are days, many of them, that I feel like I am a second-class citizen and that I don't count because of where I am from or who my parents are, who I know or what I'm yet to accomplish in life.
It's not racism, but they are cut from the same cloth – ethnicity, nepotism, favouritism and godfatherism. That's how I feel any time I miss out on an opportunity because of ethnicity, status, lack of connection or not being part of a cabal. That's how I feel every time I hear how much our rich politicians have grabbed for themselves and their families as if they are on a mission to annihilate the poor.
The political class treat people in other parties or anyone that opposes them like common criminals and thugs to be hounded and harassed into submission, not minding the rule of law or civility. Common interest or parity in status is all that counts.
Once someone is opportune to serve as minister or chairman of a board, the next thing: that ministry or agency is flooded with family members and people of the same tribe and ethnicity, and merit is thrown overboard.
So we are quick to call out Germany and condemn the treatment Özil received from his country, but have we here treated ourselves any better?
Recently, Prince Harry married Megan Markle, a black American actress and we were all jubilant in our retelling of those fairy tales we read as kids. But just think, would an Emir allow my son marry his daughter, no matter how in love they are? Would anyone give me a shot at being the governor of Anambra state no matter how long I have lived in Onitsha, knowing that I am from the Niger Delta? Wouldn't people think I'm crazy if I there was a job opening in my current position and I didn't try to get in an Ijaw men and women instead of looking for the best candidates?
I've worked in places where there were all sorts of cliques and cartels, many mornings I woke up not even wanting to be in that space. If you've experienced it, then you must know what it feels like not to ever get what is due you on your job unless you beg and kowtow and generally do 'eye-service.'
This is not intended to shake any Yoruba tables, but I once worked in a corporate establishment in Lagos, where staff meetings were conducted in Yoruba dialect. I don't speak or understand the language, so you can imagine how sidelined and unwelcome I felt at the time.
Like Özil, I felt like I was a staffer when it came do getting the job done, and an outsider when it came to decision-making and privileges. So before we worry too much about Özil and what the Germans did to him, how about we take some time to make the people around us feel like they are Nigerians too? To act any different would be unkind.
Photo Credit: Getty Images