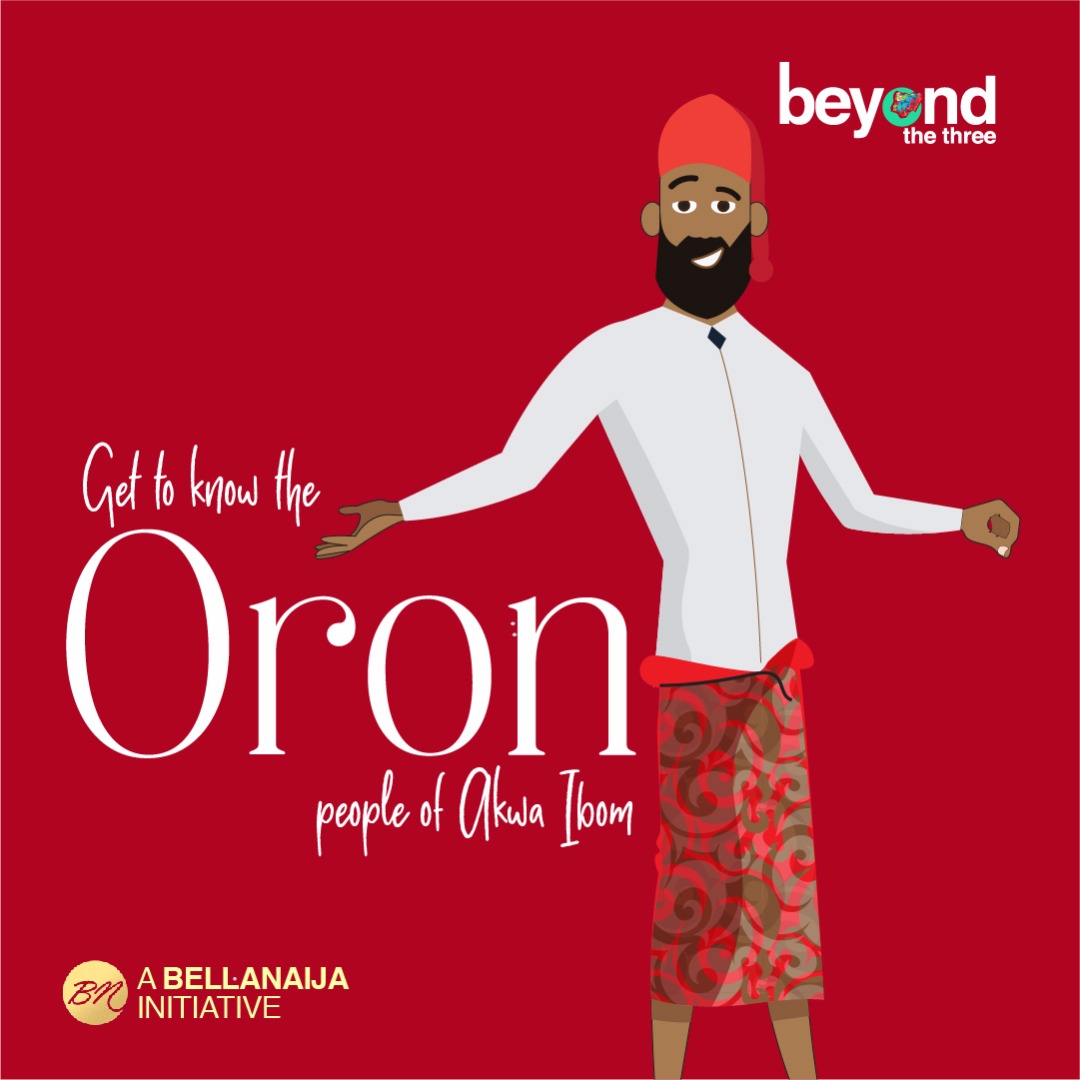 Beyond The Three is a new series on BellaNaija where we celebrate and spotlight every tribe and ethnic group that is NOT Yoruba, Hausa or Igbo. We invite ALL BellaNaijarians to be a part of this initiative. Today, we're off to the south-south part of Nigeria as Effiong Okwong sheds some light on the Oron people. Special shout out to Arit Okpo who wanted to share her people but admitted that she didn't know enough, and so she passed the reins over to her cousin. We love it, since we're all learning and we appreciate all the input possible.
***
Thank you for chatting with us, Effiong. Let's start with language. What is your native language called and do you speak it?
My language is Oron (the correct pronunciation is Örö), and I can speak it fluently. A common greeting in Oro is Alaha (pronounced Alagha), which means good morning.
Where are the Oron people found mainly?
Akwa Ibom State. Oron is the third largest ethnic group in Akwa Ibom State and is made up of 5 Local Government Areas (Urue Offong/Oruko, Oron, Udung Uko, Mbo and Okobo). The Maritime Academy of Nigeria is located in Oron Local Government Area.
Oh cool. Have you ever been to your home town?
Yes, I visit regularly.
That's very admirable. Tell us about some of the distinguishing aspects of Oron culture
Oron has a rich culture and shares some cultural similarities with the Efiks in Cross River state and the Ibibios of Akwa Ibom.
The traditional dress of Oron men consists of a (usually plain) red hat, called an Iyira, which is usually worn with a long white shirt and a wrapper which is tied around the waist. This wrapper similar to that which is worn by the Efik and Ibibio people. The Iyira is unique to Oron people and it is usually the quickest way to spot an Oron person at a traditional event.
Another interesting aspect of our culture which is quite different from some other cultures outside Akwa Ibom (and probably the South-South) is the way that children are named. A child is given his/her own name as a first name (e.g. Maria, Etim, etc.), then the father's first name is the child's middle name, and the family name is the child's surname. So, if you meet someone named John Okung Enyenihi, it's easy to figure out that his name is John, son of Okung, from the Enyenihi family.
Another amazing aspect of our culture is the large variety of tasty dishes, most of which we share with other ethnic groups in Akwa Ibom and Cross River. These include certified hits like Afang, Edikang Ikong, Ekpang Nkukwo (called Ötotö in Oron) and some lesser-known (but still very delicious) dishes like Atama soup and a soup called Otong that is unique to Oron and is regarded as the traditional dish of Oron people.
Otong is very nutritious and is eaten with Iwe Ekpang, which is made of cassava (wrapped in plantain leaves and boiled).
So interesting how food, names and dressing are strong identifying factors. Are there any Oron events worth noting?
Oron people have the Ekpe society, which also exists among the Efiks and the Ibibios, and has traditionally represented authority. There are some other traditional societies/masquerades such as the Ekpo and Ekong.
There is a style of traditional wrestling called Mbok (pronounced differently from 'mbok' which means please) that is practiced by Oron people.
What do you wish more people knew about your people?
I wish people knew more about the different cultures that exist in the South-South region, and the fact that Akwa Ibom and Cross River are two states, with a lot of different cultures and languages. They don't all speak 'Calabar'.
I also wish that more people knew about the huge potential for investment in Oron, especially in agriculture and seafood. Apart from its oil and gas resources, Oron is a major hub for seafood and it currently provides the bulk of dry fish and crayfish that is traded across Nigeria.
So much potential. So, what's that thing you don't really like about your culture?
I can't think of anything right now.
Love it! So, what's that thing that you love the most about your tribe?
Oron people are bold and outspoken.
Thank you so much Effiong for sharing your people with us. Please tell us an Oron proverb before we conclude.
Ufu onyi okpu ofu, ekpan unye o. Translation: The he-goat's frown will not prevent its sale.
BellaNaijarians, find out more about the series HERE. Click HERE to read more entries in the series.