#BN2018Epilogues: Ireju Has Learned to Throw Out All Her Plans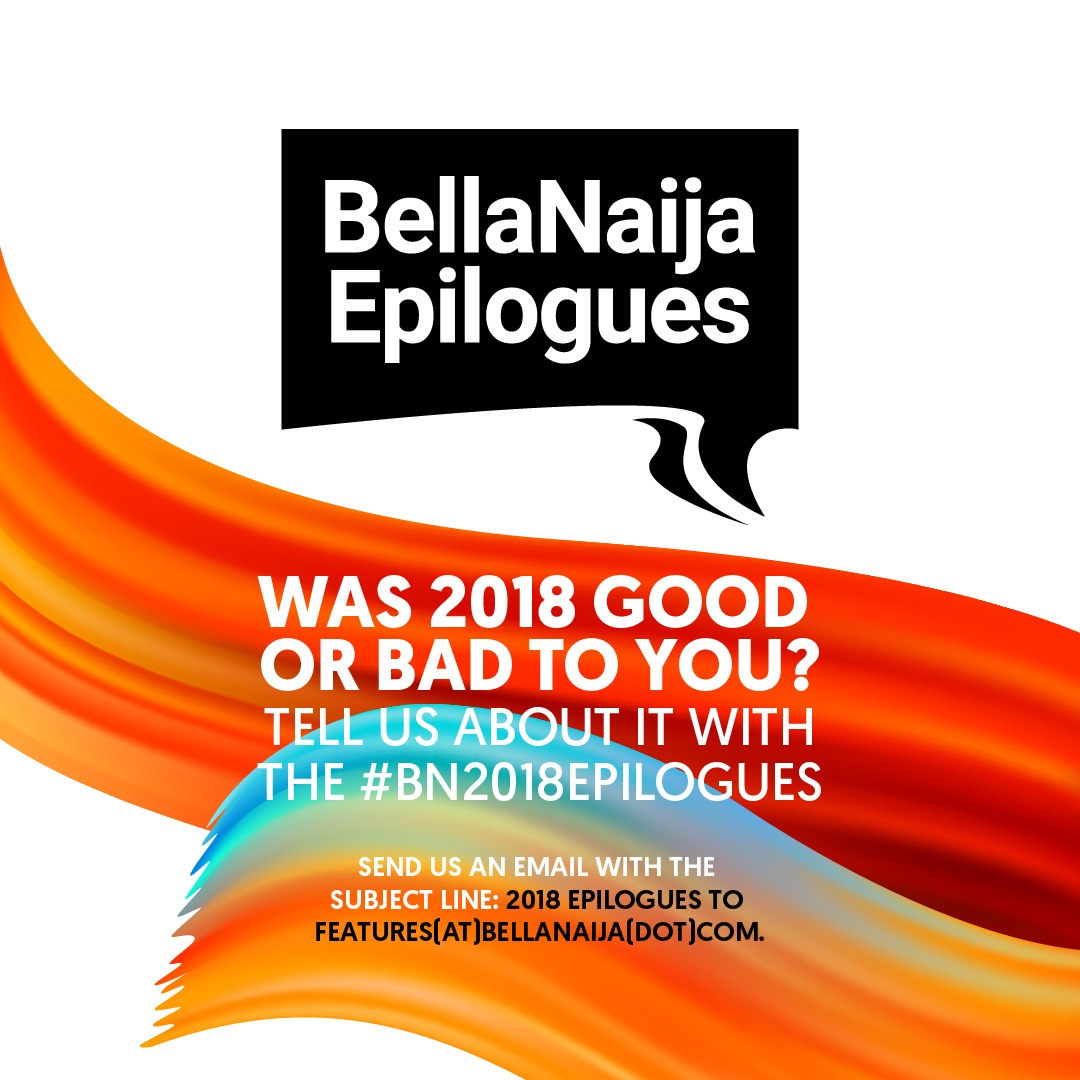 Remember when we asked you to send in essays discussing how 2018 was for you? Because, you know, writing can be the best therapy. And sharing your joy and pain and all the emotions you've felt through the year can only be a good thing.
For Ireju, 2018 was a trying year. She'd be arduously adhering to schedules she made ahead of the year, but a great loss arrived and her plans and goals were thrown out the window. She's only taken out learning points from it all, remaining thankful.
***
2018. I like to think of it as the year God overestimated me. A year of death, stretching, and falling in love with Johnny Drille.
2017 was a hard year, or so I thought, and, surely, this was my year. And it started out so. I wrote down my goals for all areas of my life and proceeded to crush them. I thought the problem with 2017 was I was unprepared. 2018 wouldn't catch me unaware.
In January, I commenced my one-year Bible reading plan and brushed my teeth twice daily. I was determined 2018 would be the year I finished reading my bible for the umpteenth time, my year of adulting. I was finally repairing my relationship with God.
February, Valentine's Day came and passed with me still single. Johnny's music kept me company. I even wrote a post to my future husband on a friend's blog. The year was still young.
In March, I finally got a copy of Arese Ugwu's Smart Money Woman in expectation of my new job in faith. I needed to get a hold of my finances. In April, I revamped my CV and attended back-to-back job interviews.
May 13th, I got a life-changing call. "Your dad is dead."
I remember saying to the caller, "My dad is dead? Thank you for calling," and hanging up, right there and then the world stopped and my carefully orchestrated plans flew out of the window.
Now that I look back I realise that I was numb the entire time. I didn't cry. To everyone else, I was strong. But I was on autopilot. My dad, like every human being, was deeply flawed. But being a father was the one thing he got right in life. The hardest part was dealing with the never-ending stream of calls, visitors and the funeral rites, when all you want to be is alone.
My life began to seem like a poorly produced Nollywood film with the wailing mourners and kinsmen you'd never seen before showing up, all of them with unreasonable demands, insisting on tradition, and the intricacies of inter-tribal marriage beginning to unravel.
In July, we laid my dad to rest and that was when I truly began to grieve. Death is an education that life cannot give. It changes how you view life. When death arrives, grief is the present that it leaves you with, long after the mourners, the funeral, and the condolences are said. Learning to live again means learning to live with grief as a constant companion. Nobody tells you that long after the condolences have been paid, when you hear the Stevie Wonder song play randomly, when the dashboard reads 16/11/17 at work, you remember someone missed his birthday. Nobody listens to the early morning news on the radio; you used to find it annoying, now it just spells loneliness. When you're shopping in the supermarket and you see the Tia Maria drink on the stand, you stop and realize no one will ever bring that drink home to ask for your hand in marriage; that was his favourite drink.
Three days after my dad's death, I got a job offer. I swiftly declined the offer as it required me travelling to a different city for a two-week training. Even the HR person could hear the lack of enthusiasm in my voice. For someone who had been unemployed for a year, it didn't seem so important anymore. But my friends and family thought I needed a distraction. I acquiesced when my mum reminded me it would have made my dad happy. It was one of the hardest things I ever had to do. I realized that there are no days off in life. God will walk with you through the valley of shadows but you actually have to take the first step.
In all of this, my faith was deeply battered and the Christian lingo of God knows best didn't make sense to me. Oh, I went through the motions of church. I was angry. None of it made sense to me. Nobody seemed to get it. I shut my bible and my heart. Until my friend Dee who lost her mum in February told me that I was allowed to be angry at God. That my prayer time shouldn't be a religious exercise. That if I needed to vent, cry and tell him he failed me, that did not invalidate my faith. That was when I truly began to heal and I felt like I could forgive God.
I began my faith walk again and discovered the sweet comfort of the Holy Spirit.
In July, I discovered Sarah Jakes Roberts. I binge-watched all her YouTube sermons and it felt like every message was for me. I finally opened my bible again in September.
Adulthood has a chapter called confusion. When it comes to choosing a career, especially when you haven't found your passion or you aren't entrepreneurial in nature, you can begin to feel like a failure. But it's okay if you haven't figured it out.
In 2018, I learned that my purpose is not in my career. Whether I'm at my 9-5 job resolving an issue with a client whose wedding dress is yet to arrive, writing a blog post that makes someone smile, or listening to a complete stranger who has a terrible day on my way home from work, I'm fulfilling purpose as long as I keep Jesus at the center.
Epic fails for me this year were: not reaching my financial goals; being an absent friend because I was so consumed with my life; not learning how to sew; and letting fear talk me out of opportunities like applying to be a contributor to one of my favorite lifestyle blogs late. Even though I missed the deadline, I got a positive feedback and an offer to submit articles if I had any of interest. But then the voices in my head told me I wasn't Atoke. Nobody needed to read anything I wrote. I agreed with procrastination and shut the laptop and all the content ideas I had went out the window.
If I submit this entry, this will be the first full length post I finish writing since the 13th of May.
In all the craziness of 2018, I  have to say it strengthened the bond I share with my siblings. It was truly us against the world. Also, I have been incredibly blessed with friendships. I have had to redefine family as something not necessarily along bloodlines to include my diverse circle of friends who supported me on this journey. My best friends who sat with me on the ride to the hospital when I got that life changing call, who told me when I got a job offer to take it, and who took turns to visit and prepare meals for my family when I had to leave for two weeks. B who brought me celeb gossip on WhatsApp to take my mind of all the suicidal thoughts. My friends like sisters who were hundreds of miles away and praying for me, setting up a schedule even when I wouldn't take calls. Pee who left her exams and traveled from a different state to come support me on the burial day. G who with all my ex-schoolmates brought a lot of jokes. M and A, my new friends who gave me the beautiful gift of their friendship. If I missed mentioning any friend, forgive me, my hands are tired.
I have been to more funerals and hospitals than I can count this year and I have had to support friends and family who have lost loved ones or are in critical heath conditions. I understand better and let them cry and try not to say, God knows best. They will arrive at that conclusion by themselves. All I do is hold their hand and listen, that's what my loss thought me. So on the days my challenges threaten to overwhelm me, I wake up, show up with a smile, and live not because I want to but because I am reminded that someone somewhere needs me to make it so that they can believe in a God they do not see.
You may not see it, the same way you don't see the seed growing. You don't feel the ground moving until the seed sprouts up.
2019, I have thrown out all my plans. With my life, I feel like I have had to perform with an audience watching, with God flipping the script on me, me having to learn new lines on stage. I'm not scared anymore. He always gives me the right words to say.
***
You can read up on previous editions of BN 2018 Epilogues here and send in your essays to features(at)bellanaija(dot)com. Let us know all the twists and turns and successes 2018 came with. Send your mail with the title "2018 Epilogues."