Oba Rilwan Akiolu commissions New SPAR Outlet in Opebi Lagos 
Oba of Lagos, HRM Oba Rilwan Akiolu and other dignitaries commissioned SPAR Nigeria's new outlet at Adebola House, Opebi. The foremost chain of hypermarket store in Nigeria has consolidated on her business expansion drive in the country.
The new hypermarket store in Opebi is the largest outlet of SPAR in Lagos and it caters for the various needs and aspirations of Nigerians consumers' goods and products such as Food and Grocery, Butchery &Bakery, Wine & Spirit, Fresh Farm Foods, Frozen Foods, Laptops, Mobile phones, electronics products and other household items.
According to  Haresh Keswani, the Managing Director of SPAR Nigeria, Opebi store is the 14th outlet in Nigeria, out of which 8 are in Lagos with Abuja and Port Harcourt having 2 each and one outlet in Enugu and Calabar respectively.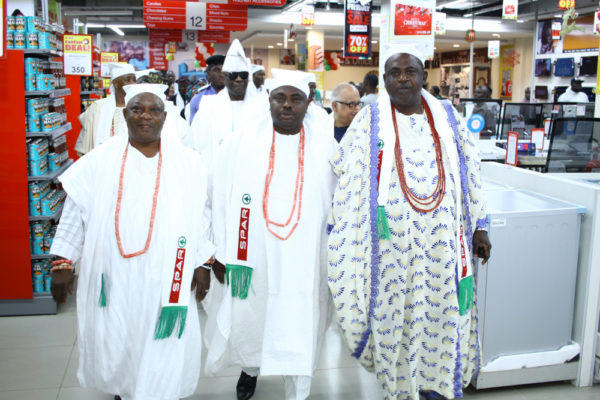 The new outlet was commissioned by Oba of Lagos, His Highness Oba Rilwan Akiolu in the presence of other well-meaning dignitaries such as, the chairman of Artee Industries Ltd, Asiwaju Solomon Kayode Onafowokan, OON, Chief Adegunwa Adebola, OFR, the owner of Adebola House, Gbolahan Toriola, Lagos State Chief  Vehicle Inspection Officer, Haresh Keswani, Managing Director of SPAR Nigeria, Alhaji 'Kunle Hamzat, former Head of Corporate Services, SPAR Nigeria, amongst many others.
Speaking at the launch of the new outlet, the Oba of Lagos, Oba Rilwan Akiolu said with the opening of the new store, SPAR Nigeria has further demonstrated its committed to the economic growth of Nigeria and making consumers' goods and services available to the ever-increasing  residents of Lagos state in particular and in Nigeria in general.
Akiolu said "SPAR is promoting made in Nigerian goods and products which is strategic to the economic development of any country such as ours. They are helping to promote our local contents thereby helping the government in her economic development policy and through that, SPAR helps the government to solve various problems especially the problem of  high unemployment in Nigeria"
He spoke further "SPAR Nigeria remains one of the leading hypermarket stores in Nigeria and with this new outlet in Opebi, the residents of this area will now enjoy varieties of affordable consumer goods and products that SPAR offers to the general public. I will want to thank the company for opening this store here in this strategic location, Opebi."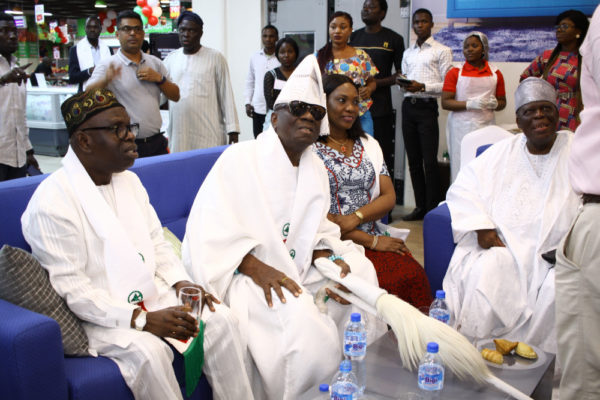 The chairman of Artee Industries Ltd, Asiwaju Solomon Kayode Onafowokan, OON in his remarks said Opebi store remains the largest hypermarket store in Nigeria and it is strategic that it is located at Opebi in Lagos in other to respond to the yawning of the residents of the area.
"We are opening the largest hypermarket here in Opebi because of the cravings of our ever growing customers, especially from this community. The uniqueness of Opebi is that we have all our products here, electronics, food and grocery, wines, perfumes, frozen products just to mention a few. We have free parking space for our customers, most of our products are made in Nigeria, we equally ensure that Nigerians have access to quality products and also have goods and products for non-Nigerians to enjoy," he said.
According to him, "We have ensured that all our food and grocery products are approved by the regulatory authorities in Nigeria and our prices are affordable. Right now we have an unbeatable promo going on due to Black Friday Sales that we are currently offering our dear customers with up to 70% off some of our products, this will last for 8 days and we encourage our customers to take advantage of this window."
The Deputy Managing Director of Artee Group, Prakesh Reswani while speaking said, Opebi outlet is not only the largest hypermarket store that the organization has put the store remains one of the most strategic in terms of its location. He said "this new store is very close to businesses, corporate organizations, residences, and common people and besides, the seat of power, Alausa Secretariat is not too far from here. We have varieties too at affordable prices; we guarantee our customers quality products and services that will give value for their money."
Speaking further, Prakesh added "we know Nigerians want this type of store in such a strategic location like Opebi, we have many of this type of hypermarket stores in South Africa, a country whose population is lesser than Nigeria. So, Nigeria should have more here about 3,000 of this, we will help to bring that to reality. Patronages have been great, people know us with affordability and quality, our competitive edge are our prices, varieties, credibility and guarantee for money spent." he said.
SPAR Nigeria has grown from a very humble beginning to become one of the fastest growing business conglomerates in Nigeria with a wide portfolio of brands such as Park n Shop, SPAR, Port Harcourt Mall, Calabar Mall, Enugu Mall, Artee Group caters to the various needs and aspirations of Nigerians consumers.
—————————————————————————————————————————————–
Sponsored Content