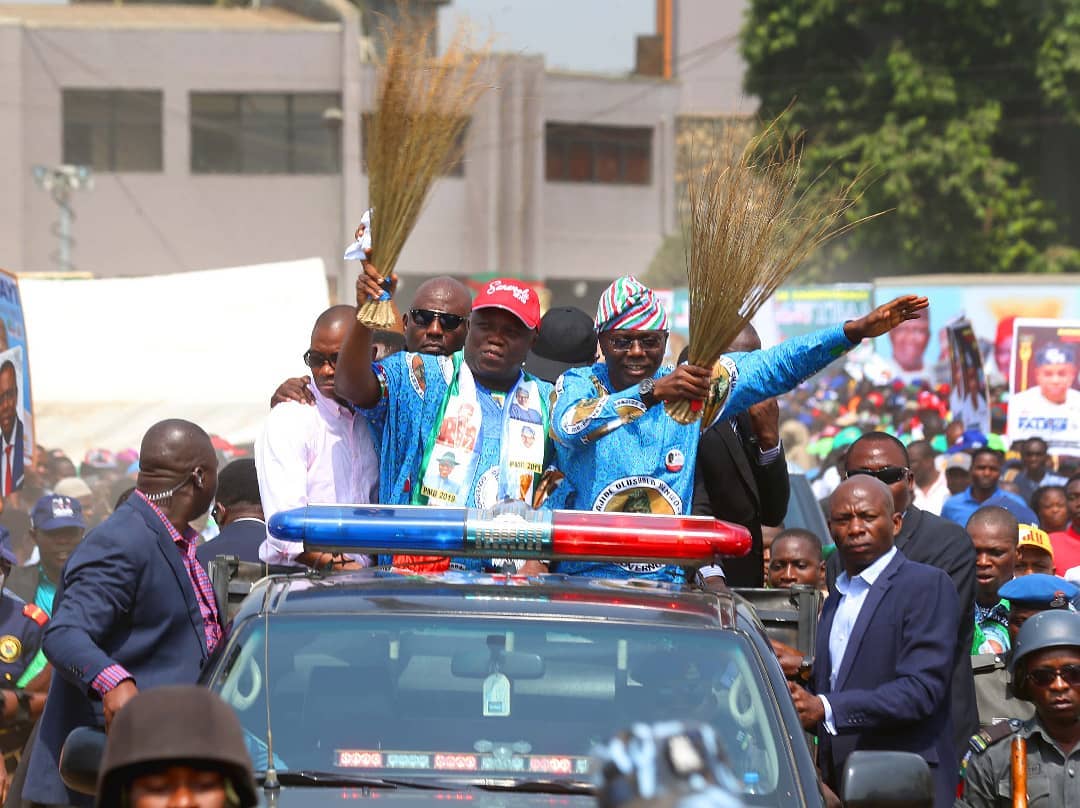 The music video of Michael Jackson's They Don't Care About Us — the Prison Version; the Brazil Version is a lot more sanitized, with its marching band and eager Michael fans — contains scenes of violence that depict the inhumanity of humanity. You see riots and police brutality, humans knocking each other around with batons and their palms.
A scene from Tuesday, 8th of January, in Lagos would have fit right in: the All Progressives Congress (APC) rally at Skypower Field in Ikeja.
In a video shared by Ovation Magazine's publisher, Dele Momodu, we see a crowd suddenly dispersing in different directions. It's typical Nigerian behavior – everyone fleeing at the slightest sign of trouble. Except, this time, the trouble is real: we see a few seconds into the video, two rival groups are in a face-off, pointy weapons clutched.
In another video — and you could just put this as is in the Michael Jackson video — security operatives arrive, decked in their combat helmets and bulging bulletproof vests, carelessly swinging their guns before the sounds of gunshots rent the air.
Two people were reportedly killed in the violence, three reporters suffered gunshot wounds, and the popular National Union of Road Transport Workers (NURTW) leader MC Oluomo was stabbed.
Through all of this, through the hoodlums and the stabbing and the security officials and the shooting, the Lagos State Governor Akinwunmi Ambode doesn't stutter. He delivers his speech calmly, his words flowing one after the other. "Whatever I have done, the credit is for APC and nobody else," he says.
After Ambode is done, he hands the microphone over to Babajide Sanwo-Olu, a man he months ago described as a rehabilitated patient who was caught with fake dollars, to give his vote of thanks. Sanwo-Olu, too, delivers his speech calmly. When, later on his Twitter, he shares photos of the rally and announces that many more will come, the violence is barely alluded to. "Let us shun violence & allow the security officials protect us."
All I wanna say is that they don't really care about us.
It's chilling that both the Executive Governor of Lagos State, Ambode, and the man who will most likely fill his shoes in the coming elections, Sanwo-Olu, fail to even pretend to care for the lives they have been elected (or want to be elected) to cater to. It raises the hair on one's neck the level of indifference that would make them not be bothered enough to just pause their speech and call for order. It unimaginable that these two men did not even break a sweat, that their voices did not even falter, that they just went on as if nothing was happening.
Let's imagine for a second that you're in your home or at the office and you hear gunshots. Instinct demands you lock your doors, some self-preservation for yourself and your family or colleagues. But these men charged or about to be charged with our safety talked on, ignoring us.
This indifference has manifested itself in different ways with the current administration: in the Otodo Gbame forced evictions, in the insistence on not removing the tankers on Eko Bridge despite its fatigue, in the permitting of garbage to line up our expressways and streets.
If the violence at this little rally presages anything, it is that the elections, at least in the most blighted areas in Lagos, like Oshodi and Mushin and Bariga, will be some sort of war. And when, as he most likely will, Sanwo-Olu comes out tops, he will rule the people of the state with the same casual indifference to the value of their lives. Because, really, none of them care about us.