Nkem DenChukwu: A Tribute to My Beloved Obiora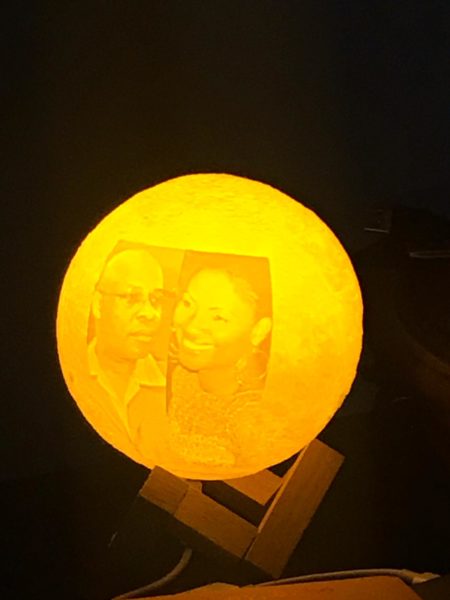 "Feels different with you gone," he texted me at 6:53 PM on Monday, February 25.
It's been known to take without permission, consideration, and discrimination. It's callous and quick. It lurks in the dark, and in the daytime. I didn't see it coming. Death, that is. It came and stole what did not belong to it. Obiora, my love! But, God was in the gaps. He is always in the gaps. Nothing in heaven, and on earth, ever happens without His knowledge.
"Nkee, I wish we can stay like this forever. Thank you for loving me. Thank you for being you and for being my love," he said to me in those six days.
Spending Obiora's last six days with him was the grace of God, just as beautiful and real as the four and half years that we loved each other. On the seventh day, Obiora got his wings. Ah! Sadness overwhelmed me, and joy suddenly left me. The angel of death hovered around us, waiting for me to leave, just to take his breath away and break my heart in a million ways.
Obiora was a good man. Imperfect, yet peaceful and gentle. A breath of fresh air, full of innovating ideas, lover of a healthy lifestyle and an Health Information Technology guru and ambassador.
He was nurturing, funny, humble, loved to dance, brilliant, 360 degrees kinder and tender, soft-spoken, God fearing, patient, brutally honest, great listener, a mentor to the young, counseled the old, my executive chef and best friend. The love of my life! He made me feel like I was the most beautiful girl.
'Beautiful,' he called me for as long as we were.
"Nkee, I first fell in love with your mind, and shortly, with all of you. I am so happy and lucky to have you in my life. Minutes into this New Year, I count my blessings, and thank God for us. I couldn't hope for a more wonderful girl to spend the rest of my life with." – January 1, 2019.
I'm trying not to question God, to find solace in the days and years I spent with him, but comfort and peace constantly leave me. Three days gone, I had to see him, where he laid cold. He still looked handsome, but his smile was gone. I wanted to touch his face, wake him up, hug him, just to warm you up a bit. He was asleep, without his head on my shoulder.
Seeing Obiora gone forever took my breath away, and my already-broken heart almost ran from me. I was instantly surrounded by a dense fog that burdened my body and soul. But my love remained calm and peaceful as always. No funny jokes from Obiora? That was the first. His voice was gone … forever! He never ceased to make me blush, giggle, and laugh out loud.
I desperately needed him to open his eyes, look at me, and say to me, "Hey Mama, everything will be okay," like he always said to me. I called out 'Onochie' as I fondly called him, but he ignored me. For a moment, I was breathless, and could feel my fast-beating heart in my hands.
"I love you," were the last three words we said to each other, just twelve hours before death came and hugged him instead.
Every season has its time and reason. Onochie, your stay here on earth was only for a moment, but it was priceless. You lived and not just existed. Your love and kindness touched many hearts. For these and more, I bless God for the grace to have loved you and be loved by you.
Now, I bask in the imperfectly perfect loving memories we shared. Thankful he fell in love with God with me. The grace of God was sufficient for Obiora. Grateful his faith in God remained unshaken till the end, and he surrendered all to Him. I pray our Father in Heaven grants Obiora eternal rest.
Death takes the body. God takes the soul. Our minds hold the memories. Our hearts keep the love. Our faith lets us believe we will meet again. Je nke oma, my Love. Until we meet again.