Oluwadunsin Deinde-Sanya: The Illusion Of A Superwoman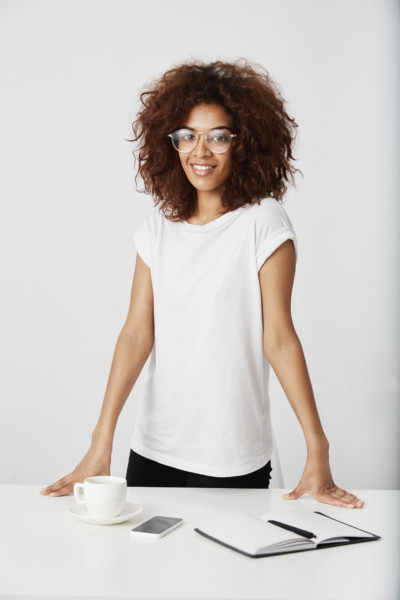 She is She.
The virtuous woman, swaying her waist, beads clanking and clinking, dancing about her as she moves. She carries herself with poise, a dimpled face that has smiles carved into it. She is beautiful – the apple of many village-suitors' eye.
She is the ancient super woman, the one advertised in those cubes – broken, sprinkled into the pot of soup. She wakes up and cleans her home, husband and kids. She pounds the yam while grinding the pepper on the stone, washes the clothes while scrubbing the floors. She whistles as she sells her wares in the market. When it is dusk, she returns home, empties her coins into her husband's palms and repeats the activities of the morning, wobbling slightly on her feet. She lives in the illusion of a superwoman. She thinks superpowers make a woman.
It is later She knows.
When She came into this world, she did not know what the world did to women. She did not know their nights come so swiftly and their hair greys in the morning. She did not know their full breasts slither down slowly and silently at first, and then speedily topples down – as if planning the surprise for a long time.
When She wears the beads round her waist and smile, the world shakes its head and smirks at her, because in the future, the world shall  retch fat into it and it will pump out by the sides and the beads will not fit.
It is in this obliviousness she presses her hands to the floor, sways heavily and giggles when she falls. Then she stands on her feet and takes few steps and giggles when she falls. When, as a kid, she tries to run and hits her head against the hard concrete wall, she giggles as she falls.
Life is so much fun that you can only have enough.
The giggles stopped when she turned 9. Nonso down the road told her she was beautiful and 'huge' for her age. He said he was surprised that her breast had grown so full, her buttocks a sight to behold, he said her waist was formed and unlike the other girls, God had made her perfect from the scratch. He said this while his hands gradually wormed their way up beneath her blouse, circling each bosom tenderly, his breathing getting rasher.
The giggles stopped when mama said, "Sssh, don't let anyone hear it, that boy has a bright future, you cannot ruin it with those accusations. He is a man – a man will always be a man. Next time, don't give him the chance."
The giggles stopped when she turned 13. Baba Jamiu had come visiting and feigning shock at how fast she had grown, had lifted her, twirled her round and round like a little baby and insisted she sat on his laps. He had subtly raised her skirts up, shifted her favorite blue pant to the left, dipped one finger into her and began to grunt beneath his breath.
When he leaves, her mama says, "Hope he didn't hurt you too much?" She stares hard at her, her face turning red in shock, her eyes squinting in accusation. Her mama sees it clearly and says, "He is a man of God, but he is also a man. Next time don't sit on his laps." And for the first time, She feels like a coward as cries, tears meeting with the snort dripping from her nose and then sojourning down to mingle with the spittle pouring down her mouth.
Her giggles stopped when she turned 17. Papa had called her into the room for a heart-to-heart talk. He had loved her from the onset, he had cherished her and tended to her needs, like a farmer watching his plants nurture and grow. She was beautiful and his wish had always been that she marries a man who would love and cherish her, that she has a beautiful home – sons and sons rushing past and meals steaming in pots.
So she finds her feet being washed, more beads adorning her waist, pretty veil covering her pretty face. The village is drums and beats, plates and food, gourds and wine, and she is teeth and smiles, feet and dances.
She soon learns lessons that: 1) A woman belongs to everybody but herself. 2) A woman's dream and life must revolve round her husband and children. 3) A woman is a second fiddle, even in her own home. There's an unspoken hierarchy of importance – husband first, male children second, female children third and then the wife manages to fit in.
So when she wants to go back to school and her husband says no – she stays. When she gets a job as a local teacher and he says no – she stays. She mounts her stall and begins to sell milk and sugar, her childhood dream of being a civil engineer now seeming preposterous. She begins to see it as the sacrifice she has to make to keep her husband and children intact. When she waits on her husband and tends to every of his needs – except wearing him a diaper, she takes it as a mark of being the submissive wife. When he nags and complains all the time, she scampers to do his bidding to please him. And when he beats her, turning her eyes blue, stirring her intestines round and round, she later appeases him by falling on her knees and holding on to his feet.
She is a good wife.
It is later she knows what the world does to women.
It is when Alake says to her, "Mother, I do not envy you." When she pushes her to the mirror and tells her to look at herself. At first she sees her head – sparkly white, little black hair sprinkled parsimoniously on it. Then she looks at her face, lines laying idly, beautifully sculpted – like Aminu's painting of his great grandmother. Her eyes move down her body: her beadless waist, shriveled skin, unhappy clothes. But Alake tells her to look beyond, and then she sees the bigger picture, her smiling husband who just won the major contract, she is happy, they dance and feast. Her first son who just won a scholarship to school abroad, she is happy, they dance and feast. Her children who are all successful, she is happy, they dance and feast.
And then Alake whispers, What about you, mummy?

It is then she understands that void, the one that crawls up her skin, leaving goosebumps dancing on its surface. The one that visits her at night, seizes her throat and holds mercilessly unto it. The one that forms a lump that sticks to her gullet, not up, not down – she cannot swallow, she cannot vomit it out. For the first time, she sees what she has done to herself.
She feels subdued.
She then learns two lessons: no matter how you try to please a patriarchal husband or a patriarchal society, they shall never stop digging your well and fetching all your water – till nothing but sand comes out of it. Even at that, they shall keep digging, until nothing at all comes out. Then they shall accuse you of being empty and bringing nothing to the table. You cannot please a man who doesn't want to be pleased. And even if you decide to dedicate your life and body to your patriarchal husband, he shall sip it slowly and steadily with straws till your life slowly ebbs away and your soul travels through the last straw.
She learns the second lesson. That you should never let yourself go in marriage – for a man, for anyone. A woman's life does not have to revolve around a man or her children. You can hold on to your dream and still hold on to your family.
The world does not ask you to choose – a patriarchal system does.
Never lose you. Be wise.