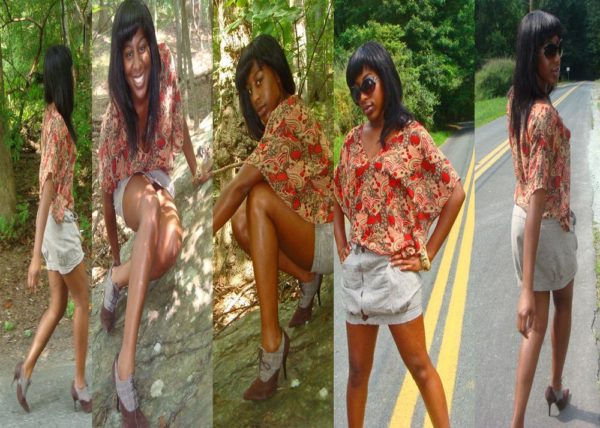 It's your regular dose of the BN feature; My Style! If you are interested in appearing on this page, simply send two pictures of yourself or that of a friend depicting a typical Day and Night Look with a short summary of your style to my mail box: [email protected]
When your entry is approved, you will be required to send in more pictures and personal commentaries on your style or that of your friend as the case may be! Thanks to those who have participated so far, keep the emails coming.
Let's remember that this feature is about appreciating an individual's expression through clothing!
BellaNaija reader, Chika Uwazie is constantly in competition with her stylish mum, who she acknowlegdes has a great influence on her personal style!
CHIKA'S STYLE:
My style has definitely evolved over the years. I choose to wear clothes that fit my shape and highlight the best parts of my body. I look to fashion blogs for some inspiration, but not every trend appeals to me. When I buy clothes, I keep in mind how I what to appear to the world that I am part of. It is important that my style expresses my personality and people get the proper impression that I display. My Mom and Kerry Washington are my style role models because they display elegance and sophistication when they're dressed up. And that is something I strive for! I shop all over the place, from designer ends to forever 21 and to vintage stores. You never know where you are going to find a great buy and a lot of my clothes I buy on sale. My friends always assume that I spend so much on the clothes I wear, but the fact is I am a big bargain shopper!!! I just happen to combine my pieces in a way that I come off looking and feeling l like a million bucks!!!
WHY DO YOU LOVE YOUR STYLE:
I love my style because it is simple. I adapt to any look from weird prints, to bright colors, to floral and I have fun with it. I am also open to difference, so every now and then I explore different styles, and if it works, it ends up being something new I add to my collection. You may not agree with some of my style choices. However, I have a lot of people that respect what I wear. From a young age, my mom always insisted that I dress like a lady. Which to her means, always wearing a belt when needed and making sure my under garments are kept hidden. These principles have made me lady-like in my appearance.
HOW IT EXPRESSES CHIKA'S PERSONALITY:
I am a very bubbly person, always laughing and trying to have a good time. I also am very random and you never know what I am up to. I feel that my personality definitely comes across with my style because I wear a wide variety of colours, cuts, and looks. I am comfortable in my own skin and I never want to look like I am forcing myself in a certain type of outfit because it is a trend. If the outfit doesn't make me feel happy or good then I simply will not wear it.
HAIR:
When it comes to my hair, I pretty much keep to certain styles because I believe they frame the shape of my face the best. In the past, I wore single braids or micro braids in the front and attached a weave at the back, but I am tired of braids and have moved on to weaves and lace front wigs. I usually keep my hair a little bit past shoulder length with either loose curl, wet and wavy and every now and then straight. Dark brown was my choice of colour, but now I have seen that black suits me the best. Occasionally I have done my hair is short curls which gained complements from my friends, but it makes me look too young so I rarely have that hair style. My natural hair was just cut super short back in June because I am going on a natural hair journey using only natural hair products and I have seen great results, hit me up if you want to know what products I use!!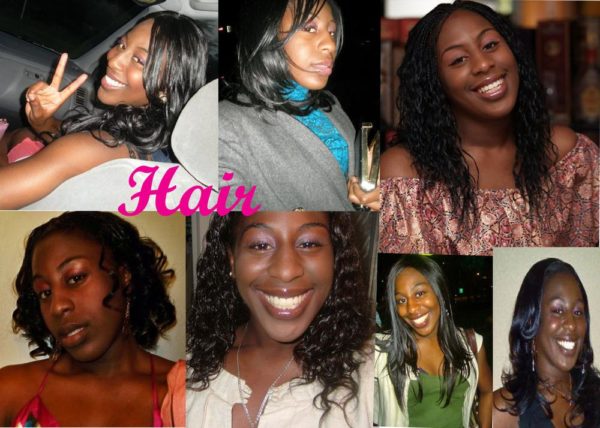 MAKE-UP:
I love make up and I acquired that love from my mom. Also, when I was an all-star cheerleader it was required that we wear make up for performances so I am use to it. I really only buy MAC products, but occasionally if I do see an eye shadow that catches my attention from another brand, I will buy it. On my face I just use MAC's powder blot and it does a good job in keeping my face from getting oily. On my eyes I tend to use a lot of purples and golds as my staple because I believe those colours highlight my eyes best. I try not to be so dramatic with my eyes because I want make up to enhance my facial features and not over dramatize it. Quite often, I mix the shadows together to create my own colours and I have seen that it really works for me, and doesn't come off as over bearing. Also, I sometimes apply blush to make my cheeks warmer and apply a tinted lip gloss. I never wear lipstick; I think my lips are too big and that lipstick will only draw more attention. As far as my mascara I have naturally long eyelashes so I look for mascara that can separate my eyelashes. During the day I don't really put too much on my face just possibly a sweep of gold just to bring out my eyes and my blot powder. At night, that is when I play with colours to go with the outfit that I am wearing.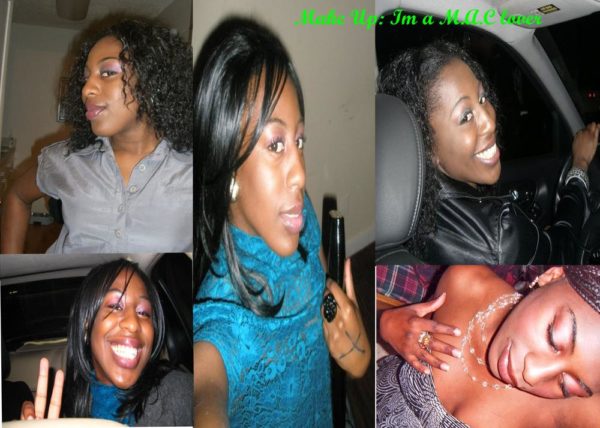 CHIKA'S WARDROBE STAPLES: I have a few items that continue to stay with me over the seasons.
– Leggings:  I think they are very versatile. I can dress it up for a night look or just throw it on for a day look. Especially because I live in Florida, sometimes a pair of jeans becomes too hot so leggings allow my skin a bit of a breathing space.
– Vests: I also love vests because it is great to use all year round and can make you look edgy, classy, quirky; whatever look you are going for it is a great addition!
– The colour Gray: I love the colour gray, I feel that grey is my neutral. It looks good with a lot of colours and to me is the new black. 
– Skirts: Skirts are another staple of mine. I like skirts because once again you can use them all season long. In the fall and winter just put some tights under them when it is cooler. Also if the skirt is a bold colour, it becomes a  a great way to incorporate colour to your outfit. During the spring and summer I wear skirts with sandals for a day look and at night I add heels.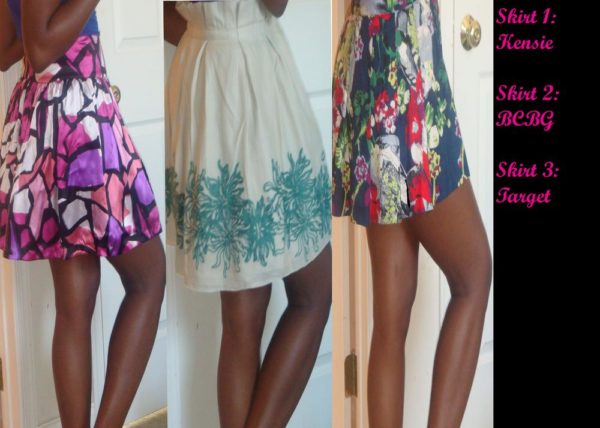 – Rings: I think I have more rings than earrings. I love big rings that jut pop such as my flower ring or my green and gold ring. My friends are always taking my rings so I am constantly buying new ones, but I just love the way it highlights your hand and just adds another dimension to an outfit.
 
DAY LOOK:
My day look really just depends on where I am going to be located for that day. Most of the year I am at school and it pretty much stays hot all year round so I try to stay cool but still showcase my own unique style. I like to wear a lot of prints and mix patterns up. If I wear a neutral like gray then I like to add a pop of color whether it is in my shoes or accessories.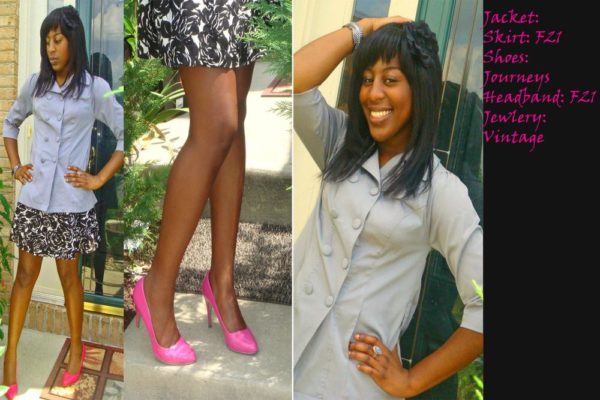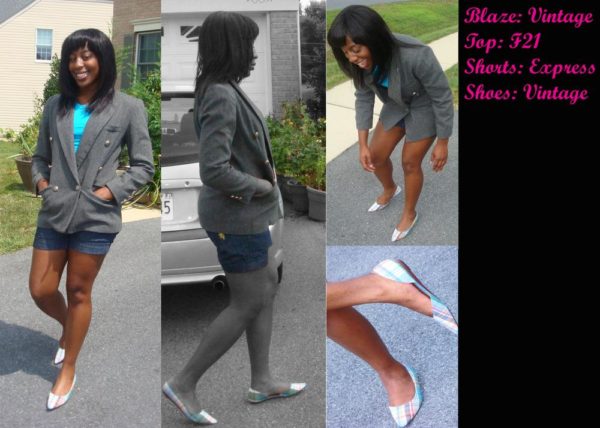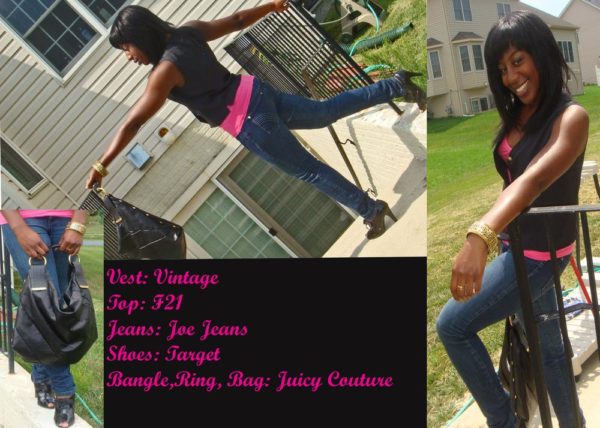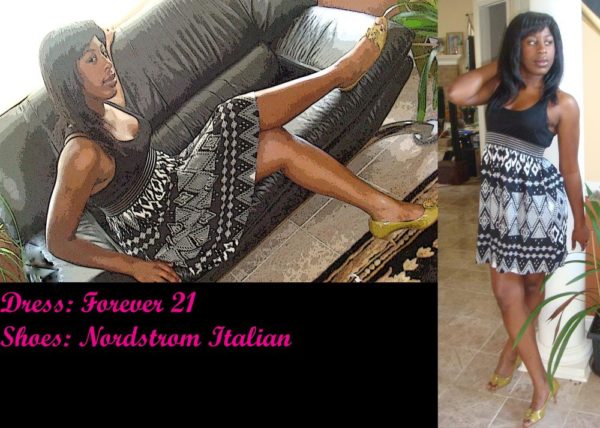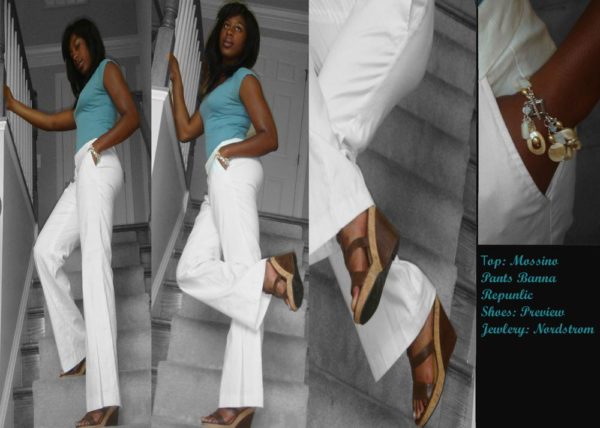 BAGS:
I have a weird taste in bags and I have them in all shapes, colours and sizes. I like my bags to make a statement and a lot of times I want my bag to be the focal point of an outfit. Usually there is one bag that I splurge on, and that becomes the bag that I carry around daily. I love getting unique clutches to make my outfits pop; The bags below are a few of my favorite bags for this year:
JEWELRY:
I see jewelry as the finishing piece to any outfit. I also believe that jewelry can dress up certain items such as a plain tee or a simple tank. I love rings and bangles, but especially pearls. I feel that pearls is the definition of a woman and I have all types, from simple strands to intricate embellishment on them. For some reason I do not wear a lot of earrings, most of the time I stick to studs or simple clip earrings. I rather concentrate on my neckline or hands.
SHOES:
I have a lot of shoes due to the fact that I am in competition with my mom. She has so many shoes that it is ridiculous and lot of them she does not wear. I want to have a colourful collection like her so I am always looking for new shoes to add to my collection. Since I school in Florida, I have a lot of sandals that I wear but I make sure they are dressy sandals that I can wear to play up an outfit or dress down a dress but still make my outfit look classy. I love heels but I rarely buy heels that are too high because I am always about comfort. A lot of my shoes are from Nordstrom rack and DSW I love these stores because you can find unique designer shoes at bargain prices.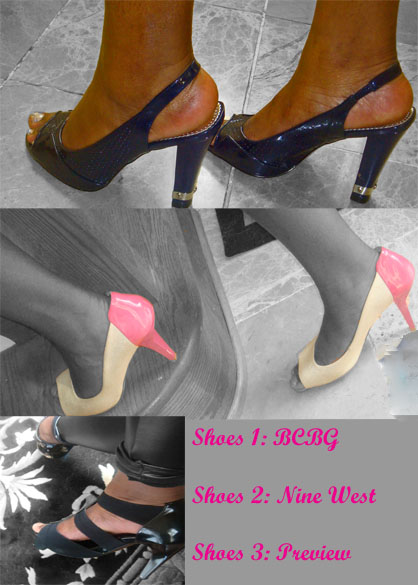 NIGHT LOOK:
My Night look varies and I can be wearing a dress, skirt, leggings, or jumper. My night look just depends on what look I am going for. I really don't like a simple dress I look for dresses that have a special print, embroidery, or embellishment. I also don't do the Little Black Dress; I prefer the Little Bright Dress. This consists of a dress that has colour that accentuates your skin tone with minimal jewelry.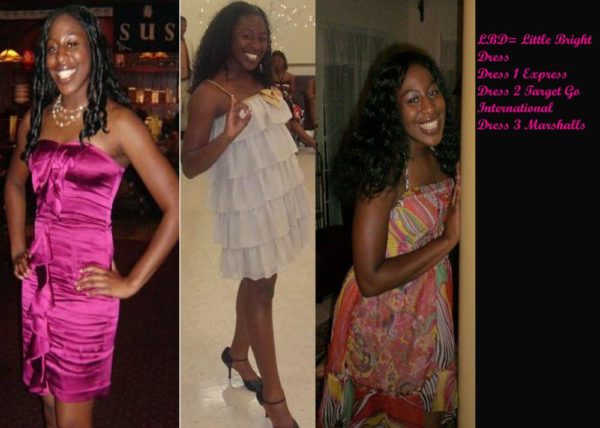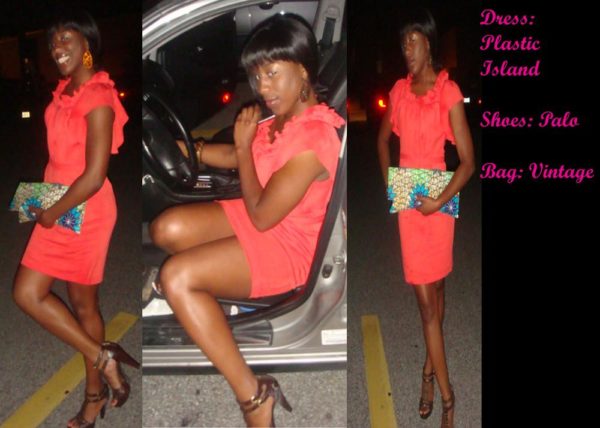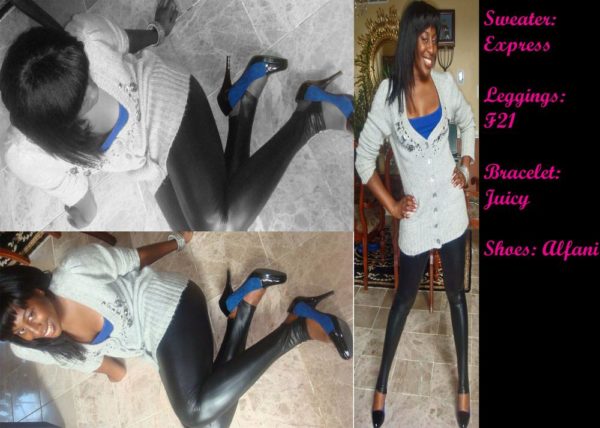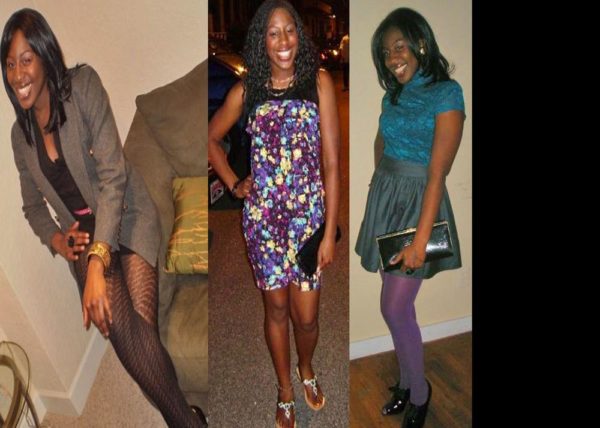 TRADITIONAL:
I do not get to wear traditional a lot because being in Florida there aren't many Nigerian functions to attend, but I did get a few dresses made when I went back to Nigeria last summer. They all have a gold tone to the print that makes the dress shine. The first dress I designed myself and I got the seamstress to make the dress for me. It has a band across the hip which allows a person to add a brooch to it and then there is a split in the front of the dress. The second dress , I also designed and I just wanted a pretty long flowing dress. I told the seamstress to make a band in the middle to create the illusion of a smaller waist and then on the top part of the dress I wanted my shoulders to be exposed a bit. The last dress was made by my aunt and she made a cute party dress for me that has a ruffled skirt and then a tube top to match the skirt. The last dress was made specifically for my birthday party and I wanted a short dress that was elegant. The top has an elastic in it so I can make the dress fall off one shoulder, both shoulders, or none at all. Sometimes when I wear this dress I use a belt in the middle.