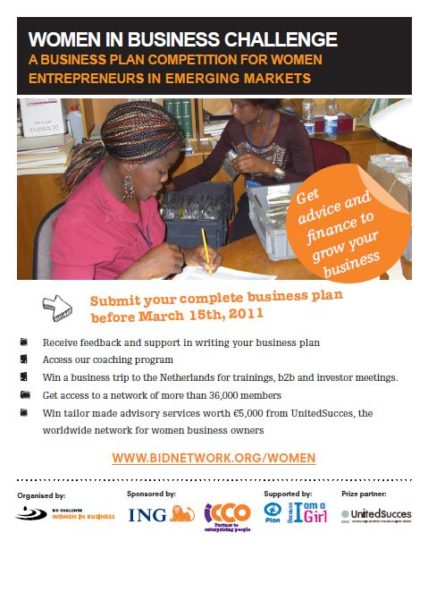 The BiD Network has announced the 2010-2011 edition of their annual Business Plan Competition for women entrepreneurs in emerging markets.
Are you a female entrepreneur who wants to:
* Receive feedback and support in writing your business plan?
* Access a coaching program?
* Win a business trip to The Netherlands for trainings, b2b and investor meetings?
* Get access to a network of more than 36,000 like-minded entrepreneurs, coaches and investors?
* Win tailor-made advisory services worth €5,000 from UnitedSucces, the worldwide network for business women owners?
If Yes, then, Participate!
Participation Criteria for this competition
You must be a woman and your country of business must be a developing country.
Check the general participation criteria here:
How to Submit your Business Plan?
1. Become a member of the BiD Network. Register and Make sure to click the corresponding gender field.
2. Create a profile in the BiD Network. Log in with your email and password.
3. Fill in and submit an online business summary by clicking "+Add a business plan" and answering the 15 questions about your business idea. You will find this button under "New contributions" when you are logged in. Make sure to click the box Women in Business at the bottom of the application.
Submit your application before the 15th of December 2010 and access quality coaching services.
4. Submit a complete business plan. If you already have a complete business plan you can attach it to your application directly. You can also submit it once your application is accepted. The Bid Network offers business plan templates and coaching. For a more detailed instruction click on the grey box 'How to present your plan' on the right.
Make sure to submit your complete business plan before the competition deadline on the 15th of March 2011.
After you submit your plan:
Your plan will enter the assessment process. You will receive extensive feedback in each stage.
In April 2011, the finalists will be selected. 5 women entrepreneurs will be invited for a business trip to the Netherlands.
Whether or not you become a finalist, all high quality business plans are eligible for the BiD Network Investor Matchmaking Services.
For more details, click here!