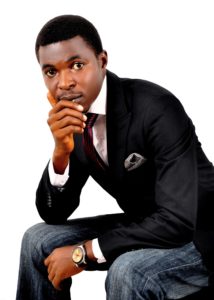 He is a writer, but it doesn't stop there! He is also a social entrepreneur, social strategist and a motivational coach. He has been involved, at different levels and with diverse kinds of organizations, in coaching individuals to discover how they can be confident enough to be of great economic relevance across the nation. He believes greatly in the future that we can create on our own in order to further assist the government of the day and that a country's economic and social state is a mere reflection of the confidence and esteem of the majority of its population. In this interview, Temitayo Ilori, a.k.a. Tylor, the author of the ground-breaking Doom's Wing: The Legend of Tellam, a fantasy novel that has been arguably compared to the works of J.K. Rowling, speaks with BN Editorial Assistant, Gbenga Awomodu on his writing career, his debut novel, the publishing industry, his hopes for Nigeria and plans for the future.
Please tell us a bit about yourself.
My name is Temitayo Ilori, I am a Nigerian. Friends and fans call me Tylor. I studied Environmental Biology at the Ladoke Akintola University of Technology, Ogbomoso. I have a great passion for social and economic development both on a national and global platform and this I have decided to achieve in many different ways and my novel "Doom's Wing: The Legend of Tellam" is one of those ways.
Since when have you been writing stories?
I started writing stories since I was a kid, but with 3 of my friends, I made my first attempt at writing a novel when I was in Junior Secondary School at St. Thomas Aquinas College in Akure, Ondo State. It was fun at that time as I wanted to make history. After school, we would set out to write a story and I would go home to typeset it on my father's typewriter, but he must not catch me. Unfortunately for me, I was caught on a few occasions and received the beating of my life! Also, on many occasions I spoilt his King Sunny Ade and Boney M. cassettes while trying to record my stories and this act did not pass without punishment that could last through the night at times. But did I give up? No I did not. I was acting like a possessed child. Of course I was possessed by my gift and till now, the possession grows stronger. As for those first attempts, they did not make it to publishing because we were young, inexperienced and lacked support.
Which writers have influenced your writing the most? Which is your favourite?
I grew up with the bible and I will say I fell in love with the works of King Solomon or any of his contemporaries. But growing up, I started reading James Hardley Chase's series and some other books. I grew up really searching for tales and some of the Greek tales and heroic stories caught my attention as well. Few of African authors like Cyprian Ekwensi and Wole Soyinka inspired me. My favourite author is the greatest author whose stories never end and books never boring. He is God.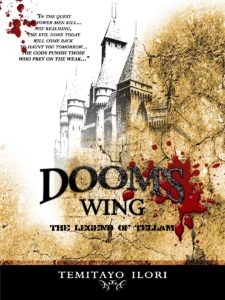 I got wrapped up in the story from the beginning till the end because the plots were finely woven. What inspired you to write your debut novel 'Doom's Wing'?
Nothing is extraordinary about me or my writing skills, except what drives me. At times I wonder at what God chose to create through me and it humbles me. Doom's Wing is a mystery to me as it is to those who have read it. The whole story started with the two boys and it grew until it became what it is. It has been called a political statement for the future by many people. The revered Bishop Bolanle Gbonigi has declared it to be "divinely inspired". Doom's Wing was inspired by love and justice. And to God, it will achieve its purpose.
I would say the story has a lot of metaphor embedded in it. Were you thinking of Nigeria when writing the book?
No situation is peculiar to my Nigeria. War or peace, justice or injustice, love or hatred, whatever it is, it is not peculiar to my Nigeria. It is just the human nature. I wrote Doom's Wing with the entire mankind in mind and that is why I chose the path of writing I chose. I need to correct an opinion that now runs like a virus in the world system; that our problems are peculiar to us in Nigeria. When the world talks about bad leadership, they make it seem like it is our problem alone, but we easily forget or pardon bad leadership in other nations of the world. When it is war or corruption in Nigeria, it becomes a problem with us, especially the way the westerners portray it, but we also forget that many nations of the world still combat these demons. The metaphors in Doom's Wing are applicable to any political or social situation. But because I am a Nigerian, I am sure we can employ it as a tool in secondary and tertiary academic institutions to campaign against injustice, power abuse and social oppression that has eaten deep into the system. Reading the book would reveal a whole lot to the reader. As you would agree, it is fun to read and a great piece at that.
Doom's Wing belongs to the Fantasy genre which is not so popular in Nigeria. How has your book fared in terms of sales and reception?
Reception has been wonderful. This book has been greatly applauded by its readers both within and outside Nigeria. The 234NEXT, a widely read newspaper in Nigeria, says The Legend of Tellam is arguably the first of its kind by a Nigerian author resident in Nigeria in the epic/fantasy fiction genre, and it induces a literary appetite which is sustained from the first to the last page of the book. This has been the comment of everybody that has come across the book. Sales have been good in terms of our reach, but the reach is limited due to self-publishing and this is the power a big publishing firm has. I am sure that Legend of Tellam will become a world acclaimed book if any publishing company could see its prospect. In a review published by 234NEXT, written by Sylva Nze Ifedigbo, the book was also ranked alongside the work of J.K. Rowling, the British literary giantess who wrote the Harry Potter series. These indicators are good enough for any publisher.
You self-published your book; what is your take on the pros and cons of self-publishing?
This is fun but not easy. But who says it will be easy any way? Self-publishing is far better than having your manuscript gather dust on your shelf. You must be sure of what you want and be ready to have it no matter what because you will be working with a whole lot of people from the graphic artist to the printer. Each of them will present their own opinion and you must have enough wisdom to know which to take and which to reject. Choosing the people to work with is what self-publishing is. You must be ready to sell your books to the most unimaginable set of people. I have a saying, "Sell it to them anyway, they might not be the people that will read it, but will buy it and give to the people who will." You must employ all tactics to sell your book and have faith that you will succeed. Success is not what we have as we planned, it grows out of what we planned and it becomes a miracle.
Do you think the several typos and few structural errors in the book could have been further minimized if you had chosen the traditional publishing route?
Yes it could. But that is not a certainty.
What good habits have you imbibed in writing to keep you going even when you experience the writer's block?
When I wrote 'Doom's Wing: The Legend of Tellam' to chapter 3, I lost the file on my computer and I did not have the scribbles anywhere as I hardly pen down my writings. But I started all over again and in the next 14 months, I wrote every day and most nights. I learnt to finish whatever is important that I have started. I learnt to listen to God and believe in myself as many people will tell you different things. I learnt to be my own friend as on the road to success, especially as a writer, you will be on your own a lot of the time. I learnt to take personal responsibility. I learned to greet despair with more grace and confidence. I learned to fight myself to stand up when I am becoming lazy. I need to tell you here that I wrote Doom's Wing alongside two other books. I learnt to become a leader. To succeed, you must be able to judge between what is important to your destiny and what is not. I wanted to tell the world a story of love and justice and 'Doom's Wing: The Legend of Tellam' became that avenue. One of my leading principles is "Nobody will follow you unless they see how far you can go alone". Therefore pushing Doom's Wing to this level has been fun and I am sure that the world will soon see this literary light shining from Nigeria.
If you were to publish your next work, which would you prefer, self-publishing or traditional publishing, and why?
Self-publishing or traditional publishing, making impact is the uttermost element in all I do. Traditional publishing can spread your impact and make it available to many and that is great. But if no publishing firm would publish my work, I will consider self-publishing over and over again. And when I have the resources, I will establish my own world-class publishing firm and use it as an avenue to impact the world by publishing my work and others. Better to have your impact felt by a few than to keep your books in your shelf and wrap yourself in self-pity. If you have a story to tell the world, you will tell it well by how you present it to the world. To your question, I would prefer traditional publishing if they will print my work with the highest level of literary integrity. By this I mean, graphical quality, design, arrangement and print quality; if not, I would prefer to publish the book myself over and over again. But above all that, I will prefer traditional publishing for the widespread publicity it can give the book.
What other things do you engage in apart from writing?
Apart from writing, I am also a social entrepreneur and a motivational coach. I have been involved in different levels and kinds of organizations, in coaching individuals to discover how they can be confident enough to be a great economic tool across the nation. I am a social strategist who believes greatly in the future that we can create on our own as a help for the government. In history, sitting kings hardly carve the road map or the vision for the future, but ordinary citizens have been found to be laden with such messianic responsibility. History is filled with many examples. If this is it then, I choose to be amongst the ordinary people who dare enough to carve the vision for our dear nation. A country's economic and social state is a mere reflection of the confidence and esteem of the majority of its population. What we need to do to change our dear nation is to help people feel more confident and to have healthy self-esteem. With these, they will stand to fight oppression, create enduring enterprise and lead responsible lives.
What are your plans for the near future? Any books coming soon?
In the coming years, I am just going to work with more people and organizations to increase their economic performance and whatever this involves, I would give. I am working on the Next Edition of Doom's Wing and it promises to be a better story than The Legend of Tellam. Apart from novels, expect a self/national building book from me by the second quarter of 2011.
How do you unwind and relax?
I spend enough time with my family and my fiancée. I enjoy her company especially as she is my only close friend. We see movies together and discuss ideas. I like strolling and sightseeing a lot especially with her. Nature has a lot to teach and we have a lot to learn from it. Also, I use writing to unwind and relax, so writing is just fun to me.
Any other thing you want to tell our highly-esteemed readers?
You can only change the world to what you have become. You might not be gifted to write a good novel or a good book, but you have a choice to write an indelible history with your life and each act and attitude you express in your daily life is your only pen. Some succeed just because they decide they will write a great story with their lives and some don't because they are indecisive. Reading a great book is good, but making history with your life is great. To lead others, you must first lead yourself. Nobody will follow you unless they know how far you can go alone. It will be tough on the road to success, but meet despair with grace and uncertainty with confidence. Faithlessness is a great evil; it won't just debar you, but the entire humanity. You must have faith while keeping hope alive. I am looking forward to reading your success stories in future.
You can meet me on Facebook or follow me on twitter; let us enjoy a beneficial and mutual relationship. You can also go to my personal portal on www.temitayoilori.blogspot.com to read a chapter of the book. I appreciate BellaNaija.com for this interview and the great work you are doing at inspiring the world.
Thank you!
___________________________________________________________________________________________
Gbenga Awomodu is a freelance writer and editor. He blogs at Gbenga's Notebook!, a repository of his thoughts and other works.