"The Debaters", a TV reality show produced by Inspire Africa recently returned to TV after a successful debut in 2009 in partnership with GTBank.
14 Talkmates, a unique blend of 7 Ladies and 7 Gentlemen talk their way to fame and fortune in a bid to be crowned "The Debater of the year 2011".
Week after week, you will be able to view the debating prowess and follow the fortunes of these young, talented and motivated adults and future leaders as they discuss the pros and cons of important societal issues in Nigeria.
More than just a reality show, The Debaters allows viewers the unique opportunity to follow, week by week, the behind the scenes progress of the chosen Talkmates as they are groomed for success.
The new season of The Debaters has been running for several weeks and so far, Abiola, Ikenna and Ene have been eliminated from the competition. Abiodun, Kutu and Omo are on probation this week.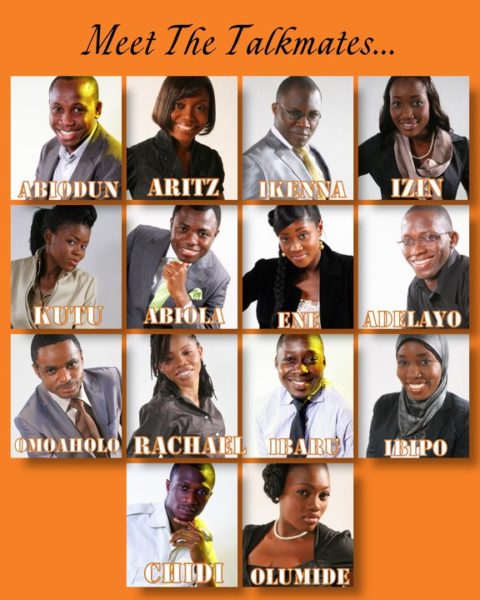 BellaNaija.com has compiled the Talkmates' profiles, photos and videos from their recent debates. View below.
___________________________________________________________________________________________

ABIODUN OKUNRIBOYE
Debater's Status: On Probation
31 year old Abiodun is from Ondo State and he describes himself as a thinker – caring, resilient, understanding, objective, resourceful, result oriented, confident and an easy going person. He believes the Africa of the future should be driven by great thinkers, visionary leaders, philosophers and researchers.

___________________________________________________________________________________________

ABIOLA SALAMI
Debater's Status: Eliminated
28 year old Abiola is from Oyo State and he sees himself as a proactive and a highly driven self-starter. According to Abiola, Africa is a land blessed with immense human and natural resources but lacks the requisite leadership needed to maximize the human and natural resources for development.
He enjoys reading, listening to music and travelling.

___________________________________________________________________________________________

ARIT OKPO
28 year old Arit is from Akwa Ibom and she sees herself as one with a strong ability to assess people's problems and identify not only areas of conflict but a path to resolution. According to Arit, she has a great sense of humour and she says she can almost always find something to smile about in everyday things. Arit loves to read, cook, read news journals online & learn about unusual events & people around the world.
Arit believes Africa has a strong cultural and historical heritage that echoes through many centuries.

___________________________________________________________________________________________

OLUFEMI ADELAYO
31 yrs old Olufemi is from Oyo State and he sees himself as warm, highly motivated, humorous, and determined. He enjoys singing, writing, lawn tennis, jogging, and meeting people.
He believes that the time has come for Africa to rise out of its despondence and despair and to be transformed through good leadership, good governance for the welfare of its people, development of its resources and growth of its economies.

___________________________________________________________________________________________

IBIPO ABDURRAHEEM-SALAMI
27 year old Ibipo is from Lagos. She sees herself as a lady who is strong with prudence. Ibipo is married and enjoys cooking. Her goal is to bring health advocacy to the consciousness of all Nigerians and improve health care security through, but not limited to health insurance at all socio-economic levels.
Ibipo believes Africa is largely still filled with the wrong type of leadership, with the wrong motive and ultimately poor results.

___________________________________________________________________________________________

CHINEDU CHIDI
25 year old Chidi is from Abia State. He sees himself as a principled, hardworking & disciplined team-player. Chidi enjoys the company of cheerful people, socially committed books and discussions of social importance.
Chidi believes that Africa is a continent of possibilities which though has unfortunately been majorly defined by bad leadership and its consequences, can still emerge as a success story.

___________________________________________________________________________________________

IZIN AKIOYA
24 year old Izin is from Edo State. She sees herself as a highly curious and teachable, versatile, hardworking and self driven lady.
Izin enjoys comedy, travel and listening music especially Nigerian high life. Her views on Africa "I am positive that as Africa continues to shift its focus from natural resources to harnessing the potential and strength of its human resource, African countries will achieve economic development and stability".

___________________________________________________________________________________________

IKENNA QWEKUMALHI ONYEKWENA
Debater's Status: Eliminated
Ikenna is a legal practitioner who enjoys writing, watching movies, karate, cooking and eating. He describes himself as determined, sensitive, strong willed and principled.
His views on Africa – "Africa Is A Reversible Tragedy".

___________________________________________________________________________________________

RACHAEL AZUBUIKE
30 year old Rachael is from Imo State. She describes herself as a practical person who believes in the power of positive thinking. She enjoys playing chess, cracking lovely jokes, singing and meeting nice people.
She sees Africa as a continent with vast natural mineral resources. According to Rachel, "all we need are credible leaders and patriotic followers who will work together to use these resources and build a great Africa."

___________________________________________________________________________________________

KUTU AMEJI
Debater's Status: On Probation
27 year old Kutu is from Kogi State. She describes herself as persistent with excellent communication skills, an in-depth researcher and a very passionate person.
She enjoys reading and listening to the news. Her views on Africa " Africa will rise again on the wheel of fortune"

___________________________________________________________________________________________

OMOAHOLO OMOAKHALEN
Debater's Status: On Probation
30 year old Omo is from Edo State. He describes himself as man with a passion for knowledge and learning; an innovative approach to problem solving; a passion for nation building and social development strengthened by a character of service and integrity; honesty, compassion, trustworthiness, respect for others.
He enjoys reading, writing, singing and public speaking. He believes Africa is a potentially great continent considering the abundance of resources inherent in her.

___________________________________________________________________________________________

OLUMIDE ADETORO GBADEBO
26 year old Olumide is from Osun State. She describes herself as one with a love for beauty and orderliness, forthrightness, a passion for fairness and equality. She enjoys reading, singing, listening to music, dancing, talking, clothing design, hair styling, personal styling, interior decorating.
Olumide believes Africa is a beautiful continent, blessed with an abundance of human and natural resources, with a great amount of potential that is achievable with the right mindset.

___________________________________________________________________________________________

AJIBOLA IBARU OLUWASEUN
26 year old Ajibola is from Lagos State. He describes himself as "given to thought", God-fearing and practical.
He enjoys studying, thinking, running marathons and "coming up with ways of producing wealth". He believes Africa is blessed and he feels blessed to be born in Africa and at this time, be part of the task of development of Africa.

___________________________________________________________________________________________

ENE ANANU
Debater's Status: Eliminated
25 year old Ene is from Benue state and she sees herself as one with "a tireless hand on pen" and a soul that never stops to search depths for knowledge. She believes Africa is an "ENIGMA", A continent with unbelievable potential, a people with a story and life its author.

___________________________________________________________________________________________
Showing On:
Africa Magic: Saturdays 8pm
Silverbird Television: Sundays 8pm
Channels Television: Monday 7pm
For Video Clips, Please visit our YouTube Channel:
http://www.youtube.com/user/Thedebatersng
Become a fan on Facebook:
http://www.facebook.com/TheDebaters
Follow on Twitter:
http://twitter.com/TheDebaters
For more information on The Debaters please visit the Debaters website:
http://www.thedebaters-ng.com/