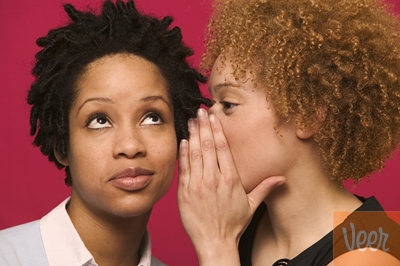 I love my girlfriends! I love hanging with them! There are very few problems on this earth, that a quick drink or dinner date with the girls cannot solve. My girls have laughed with me, they have cried with me and they have fought my enemies with me! I will say it anywhere, anytime, I love my girls!
So you can imagine why I relish my regular drinks and dinner dates with my babes! No subject is off limits, work, religion, bosses, parents, boyfriends, husbands, kids, you name it we've discussed it. Usually at the beginning of our regular meets, conversation may start off a bit reserved. We are all bugged down with our own little worries but as soon as we've had a few cocktails all inhibitions vanish and conversation turns raucous!
It was on one such 'meets' with the girls that we began discussing the merits of honesty. We realized that almost every woman, perhaps African women in particular, have an 'official' number of guys she has been with, which she tells her husband or significant other. While she keeps the 'more accurate number' closely bound to her chest between herself and her Maker! According to a few of my friends, honesty is really never the best policy especially where an African man is on the receiving end of the truth. I, as usual, remained the idealist of the bunch. I protested that honesty was always the best policy, African or not. I don't know what you guys think, but I want to be with someone who is my friend. Someone I can tell my deepest darkest secrets too. I don't really see the point in having a life partner if you can't lay it all bare for them to see you and accept you for who you are, past mistakes, achievements and all. As usual my girls laughed at me, they shook their heads at what the have fondly dubbed 'Glory's naïve nature'.
To illustrate her point, one of my friend's reminded me about her ex. They'd been dating since we'd graduated from university (about 5years) and we had all pretty much assumed that they'd get married. Unfortunately, homeboy had other plans! He broke up with her two days before Valentine's Day and was married to another chic barely a year later. His reason? A simple one, he claimed my friend had too much 'baggage'. Apparently during their period of courtship they'd play this game called '10 questions' where they'd ask each other every type of intimate question under the sun. It was during these game sessions that my friend spilled her guts about her less than 'good girl' days at university. She told him everything! What she did, what her friends did and what she wished she didn't do!
So when marriage time came, homeboy pulled his ace! He told my friend's relatives that he thought my friend was a 'bad girl' who had spent most of her university days sleeping around. When asked why he waited 5 whole years to break the relationship, he said it was more of a trust issue. That while he loved my friend as a girlfriend, he couldn't love or trust her as a wife! Those who attended the wedding said he spoke of his wife's virtuous characters during his vote of thanks. He compared her to the Proverbs 31 woman and went on about how difficult it was to find a woman of trust worthy repute in this day and age.
So you can understand why this particular friend of mine and others with similar experience are less than likely to be going to any 'husband confession session' anytime soon! But come to think of it, I am sure we all know some girl, from way back, who was rumored to have a less than reputable character, who is now happily married with 3 kids and a dotting hubby. How did they do it? Do we really believe that they were honest about their past? Or did they throw away every memory of their less than scrupulous ways? How else can we explain why good girls seemingly finish last? Maybe 'good girls' are out there being honest and truthful and the 'not so good girls' are wisely pocketing their honesty.
To be honest guys I am stuck on this one. Usually, I'd like to believe that being honest is always the best way to go. Karma as we all know is no friend to the wicked and always finds a way to come back and bite us in the derrière. But when I remember the experience of my friend and others I am a bit more cautious. Is there a way to be less economical with the truth or is that still considered lying? Personally, I am more inclined to take the honesty route but I have this nagging feeling that my girlfriends may just be right about this one! What do you guys think?
Note from Glory: Thanks a million guys for all the advice on 'Mr Trainer'. I am happy to report that I didn't have to relocate to Ghana after all, but I did send him a friendly email and he has replied :). Who knows where it might all lead! Thanks again guys!