The celebrity calendar market is a lucrative business niche internationally. However, in Nigeria and across Africa, it has not been fully explored by our celebrities.
Nigerian supermodel Oluchi released a stunning calendar some years ago and in 2010, Nollywood actress, Chika Ike released her first ever calendar.
For 2011, Chika decided to push things up a few notches.
Check out her 2011 Calendar and her notes outlining the inspiration for each month's look.
Cover
My 2011 Calendar Cover Picture – My theme for this cover was a fierce look. I'm really excited it came out as planned. Hope you like it.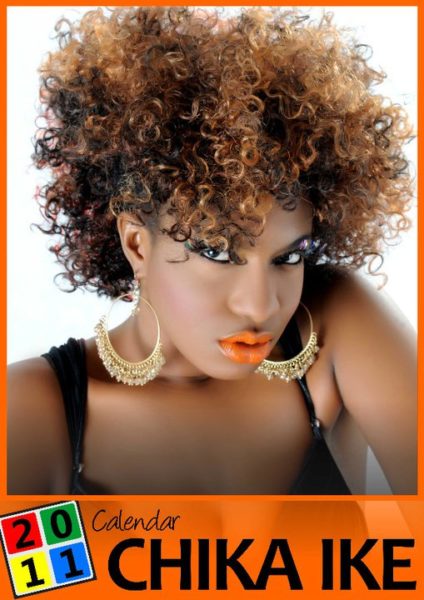 January 2011
The theme for this shoot is "Living Your Dream". My inspiration was Beyonce's "Ego". This shoot was fun. I had to psych myself to be that character.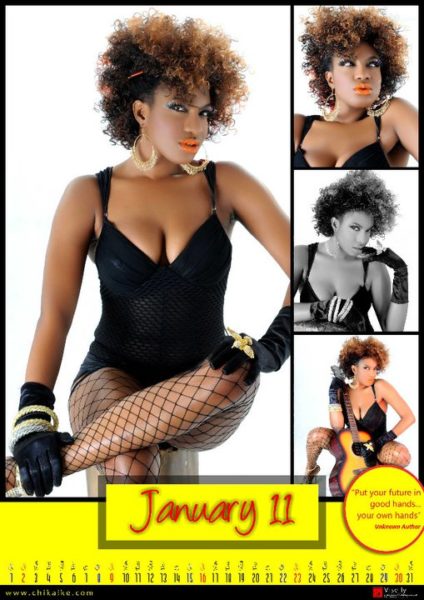 February 2011
The theme of this shoot was Valentine. (I) wanted to do something that speaks (expresses) love and whatever valentine stands for. Loved the teddy bear. Hope you like.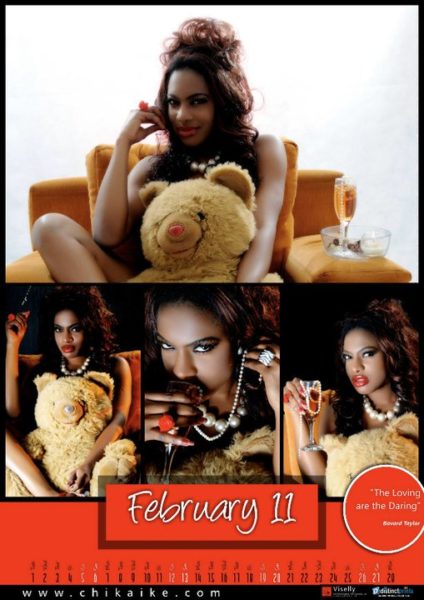 March 2011
Oh my…this shoot was the most difficult. The theme is gangster – Hope I pulled off the gangster look? Don't be too critical, It's a character and hope the quote passed the message? lol!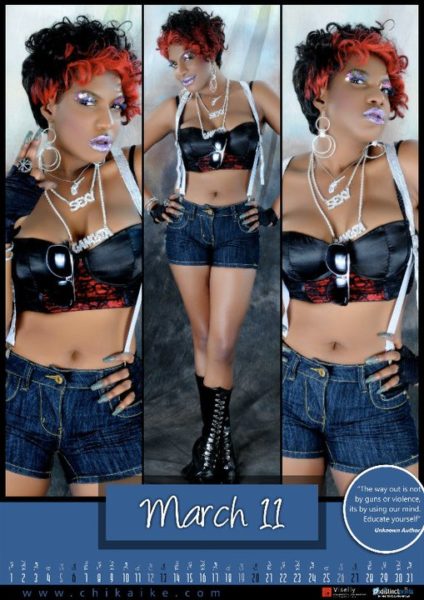 April 2011
The theme of this shoot is… Guess? My Life as an Actress – I'm sure the camera in the pics explains it all… One of my best shoots. I just sat still and smiled… lol Hope y'all like it?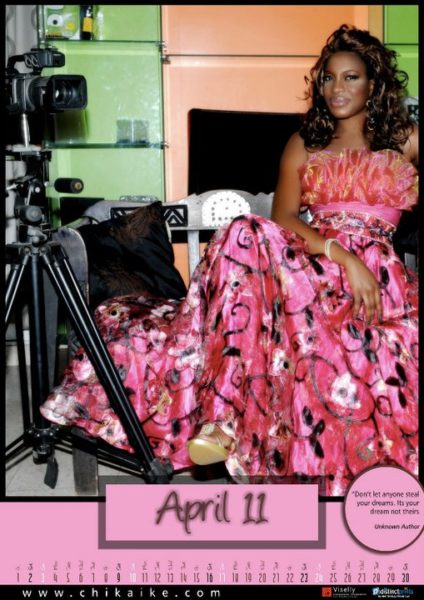 May 2011
I saw this costume at a costume store and fell in love with it. The theme is a sexy home maker. (It) was quite a stressful shoot.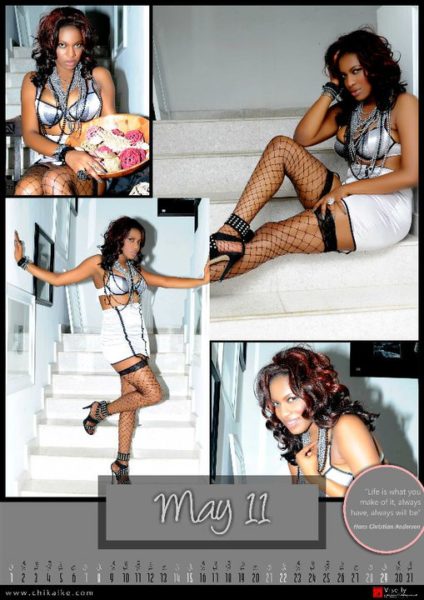 June 2011
Oh my God…This shoot was so physically demanding of me, was really scared shooting at this location in the woods. I saw all kinds of monkeys, birds, insects etc…I'm really excited it came out as I hoped.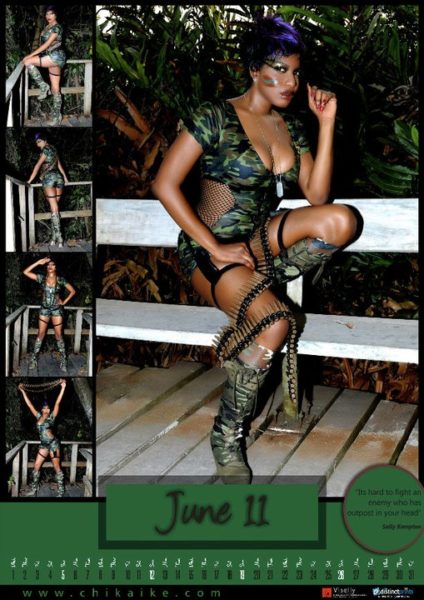 July 2011
The theme of this shoot is "Living the Life". Shot this at the beach. I had 20 minutes to get ready because we were loosing day. I was so scared of the storms…I ran off so many times. Thank God we got the shot… lol!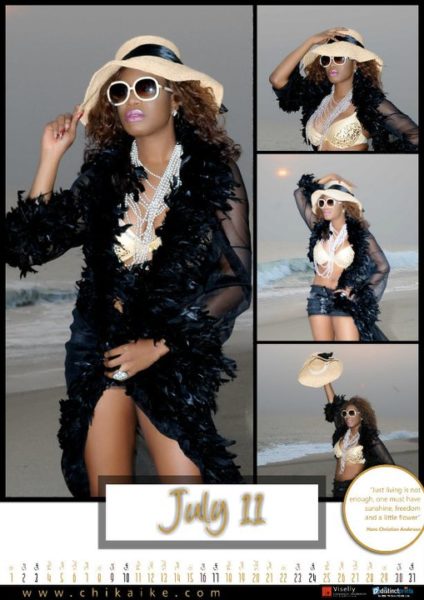 August 2011
The theme of this shoot is "Party Girl". I had so much fun at the studio shooting this – I was dancing to music while the photographer was snapping away… lol!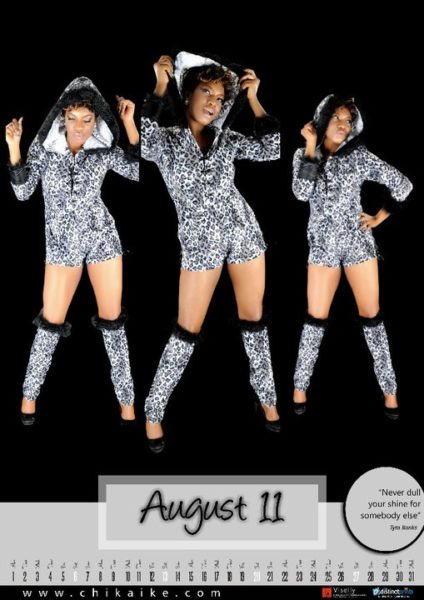 September 2011
The theme is "Casino Girl". I just thought I should use the umbrella because it complemented the outfit – Hope it worked?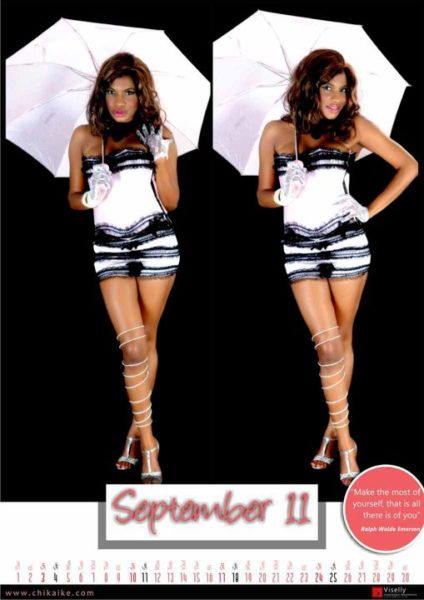 October 2011
The theme of this shoot is "Believe in Yourself"… lol!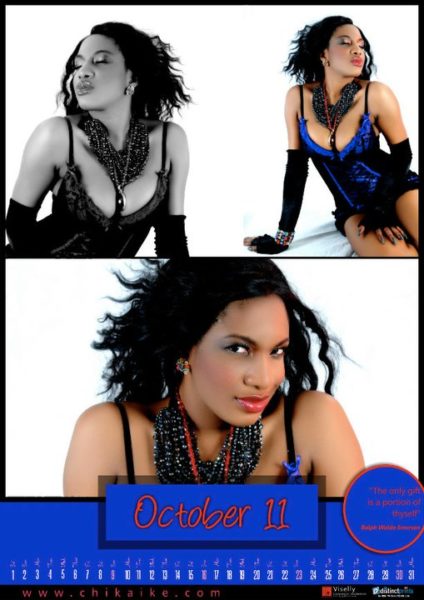 November 2011
I saw this gypsy costume and totally fell in love with it – The feather I like… lol!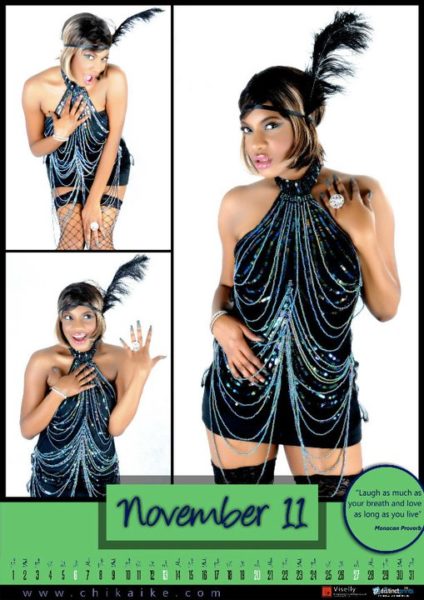 December 2011
Of course you know the theme – "Christmas"… lol!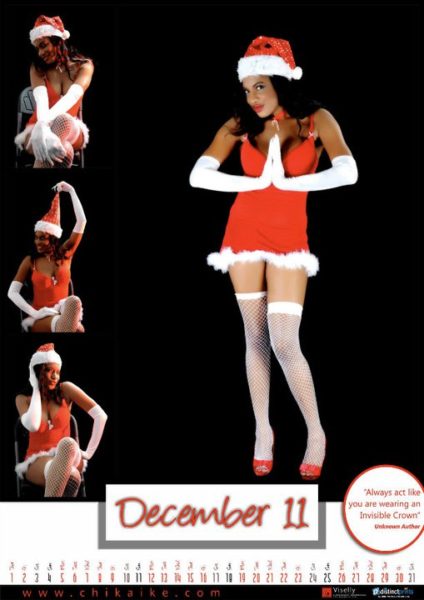 Source: Chika Ike Facebook Fanpage
___________________________________________________________________________________________
BN Bytes
Little nuggets of news specially whipped up by the BellaNaija Team.