There are a lot of great African fashion bloggers out there, and in acknowledgment of how instrumental they can be in promoting African Fashion and our love for fashion, we at BN Style decided to do a mini-series profiling 5 amazing blogs. WE Blog Fashion provides an insight into African fashion bloggers as we look into their blogs, their fashion, and the individuals behind them.
We started this mini-series with a blog created by two admirable Nigerian ladies, however, this time around, we decided to explore how well the  Zimbabweans were fairing in spreading the gospel of fashion in cyberspace.
Mo Handahu is a Zimbabwean born Designer and a Curvy Fashion blogger. Her blog- Curvy Geekery shares her style, displays mini curvy girl photo shoots, her love for thrift and vintage shopping, photography and natural hair.
Read on for more on Mo Handahu and Curvy Geekery
Ijeoma Ndekwu: What made you decide to start Curvy Geekery?
Mo Handahu: Prior to Curvy Geekery, I had dedicated my time to my collection of clutches – Clutch Culture, which I launched a year ago. I began to feel that I was putting time into it and doing all these mini photo shoots to showcase my product and somehow neglected myself in the process. So I decided to do something for myself and that's where the idea of the blog came from.
IJ: What was your idea for "Curvy Geekery" when you conceived it?
MH: Initially Curvy Geekery was something that I needed to do for myself but as I thought about it, I realized there was way more that I could do and the idea easily grew into an idea bigger than myself. Primarily showcasing my curvy style the blog also covers my love of photography, thrift and vintage shopping, D.I.Y projects and styling and doing photo shoots with other curvy girls.
IJ:  How long has it been running?
MH: It's been running now for 5 months.
IJ: What does fashion mean to you?
MH: Fashion is just creation that one is able to wear. It's one of the many, but probably one of the most important ways we use to express our individuality.
IJ: And style?
MH: Style is simply custom made fashion. Style is knowing what to wear for my body without compromising myself, it's the perfect representation of who I am.
IJ: Who are your style icons?
MH: My style icons are Solange, Tracee Ellis Ross, Shingai Shoniwa and the late Nina Simone. I love how these women have managed to be assertive with their personal style. I'm inspired by how their sense of style is limitless and love that there's almost a sense or exploration when I see what they have put together to create a complete look.
IJ: What are your most favourite stores and why?
MH: I'm a HUGE lover of thrift and vintage stores. Pretty much most of the stores that I have visited end up having a special place in my heart because of finding a gem that's now dear to me. Occasionally I shop from some of the mainstream stores, I do love H&M, Asos, Forever 21 and Torrid, the last three have trendy plus size collections which make me a happy shopper.
IJ: What are your favourite designer brands and why?
MH: I appreciate the artistry of Oscar de la Renta, Vivienne Westwood and David Dixon. All these designers are my faves because they continue to wow me. I love Oscar de la Renta and David Dixon for having some of the most beautiful dresses. I love the electric personality of Vivienne Westwood and her work is just pure art to me, I love the awkward shapes and how she re-invents past iconic styles. Within the family of African Designers I love Chichia London, Lalesso, Gloria WavaMunno, Jewel by Lisa and Deola Sagoe. They inspire me the most with the work they have produced so far.
IJ: What's the fashion accessory you can't do without?
MH: I can't do without earrings. I can't even begin to explain the love I have for earrings. I have this collection of unique vintage and thrifted earrings that keeps on growing. Finding a pair of vintage earrings can turn my day around!
IJ: Is Curvy Geekery something you see doing long-term?
MH: Definitely, I think it's important to share life and positivity with others. Being a curvy girl wasn't the easiest thing to come to terms with, so I know that I have to keep this blog going to help those that are still working on loving themselves despite their size and to keep myself on this positive point I'm in now.
IJ: What is your take on the African Fashion Industry?
MH: The African Fashion Industry is completely bananas right now. It's great to see more and more African designers getting the recognition that they so deserve. I do feel like we are still babies on a global perspective, we still have so many boundaries to push. The potential, though, is truly unfathomable.
IJ: Any future plans for the blog?
MH: I hope to do more to help women in the community that I live in. The blog helped my self esteem grow immensely and I would like to do the same for other women: perhaps team up with causes that empower women to start events that focus on helping us rediscover our beauty and learning to take care of ourselves.
___________________________________________________________
Mo put together a look for our fabulous BN readers based on this season's trend of wearing new lengths. "I love prints so I decided to go with a printed Maxi skirt and went for a colourful tank to give a pop of colour. I chose the vintage elephant belt and the vintage orange earrings because they are statement pieces and have so much character. I chose the airy wedges for comfort during the summer and a vintage inspired caramel purse to complete the look".
I love the vintage elements in this look. A bold color paired with a vibrant print is definitely the way to go for a lovely summer look.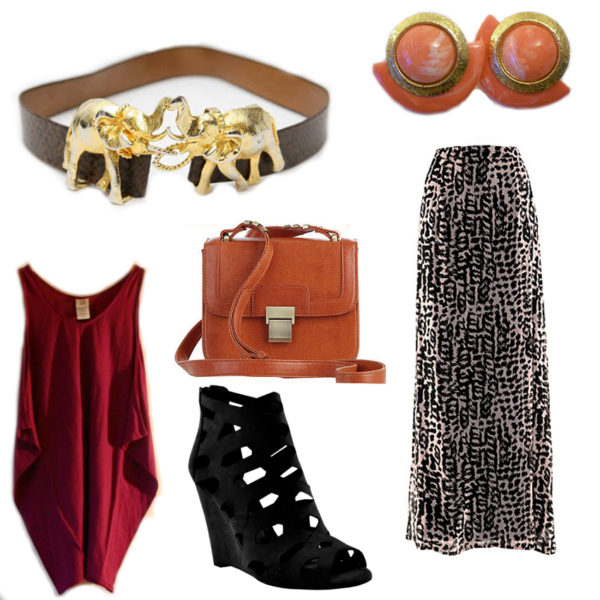 Click to visit Curvy Geekery
Click to visit Clutch Culture
All bloggers featured during this mini-series, will be asked to put together at least one look. BN readers are encouraged to recreate these looks and send in photos of their recreations to [email protected] These photos will be featured at the end of the series. I look forward to receiving your emails. So get inspired, get recreating! xx
_______________________________________________________________________________
Follow me on twitter: @ijeomandekwu