There are a lot of great African fashion bloggers out there, and in acknowledgment of how instrumental they can be in promoting African Fashion and our love for fashion, we at BN Style decided to do a mini-series profiling 5 amazing blogs. WE Blog Fashion provides an insight into African fashion bloggers as we look into their blogs, their fashion, and the individuals behind them.
So far, we've featured blogs from a few African countries, for the final blog, we decided to come back home. Adaku Ufere is a lawyer and currently a Post-Graduate student studying for a Masters in Oil & Gas Law. She describes herself as an academic, an intellectual, fashion obsessed and literary all in one and her blog, Third World Profashional is the medium through which she express all these different facets.
'It represents my opinion on popular culture and everyday events, and is also an online diary where I share everything from my activities to my thoughts to what I wear. It initially started as a minor hobby but over the past three years its grown tremendously and gets on average over 20,000 hits a month'-Adaku
Ijeoma Ndekwu: What made you decide to start Third World Profashional?
Adaku Ufere: I started Third World Profashional because I moved to a new city to attend Law School and I wanted to keep my friends and family updated on what I got up to there and my experiences. I never intended to start a "fashion blog" but more and more people seemed to love what I had on in my posts and I started to get a steady influx of emails seeking advice on everything from where I shopped to how to wear a particular outfit, it somehow just stumbled into fashion territory.
IJ: What was your idea behind "Third World Profashional" when you conceived it?
AU: It was initially supposed to be sort of an online diary/scrapbook because I not only post pictures of myself and chronicle my activities, I post my poetry on the blog and my opinions on particular topics. Fortunately or unfortunately (whichever way you choose to look at it) Third World Profashional grew far beyond my expectations meaning I could no longer be as personal as I initially intended, I now had sort of a responsibility to cater to the audience it drew. So its more about the fashion now and less literary.
IJ: How long has it been running?
AU: Its been running for three years.
IJ: What does fashion mean to you?
AU: Fashion is a form of self-expression, its like taking your insides and wearing them on your outsides. It has gone beyond the mere clothing of nudity to inspiring cultural revolutions and defining era's. When you get dressed you can convey your emotions without saying a word, you can become anything from a goth chick to a glamorous siren to a perfect minimalist lady. Its, in my opinion, one of the strongest art forms. One of the best things about fashion is that it is constantly evolving, if the shapeless jazz baby styles of the Twenties didn't work for you, maybe the nipped in waists and fitted suits of the Forties would. There's so much room for every person to find their own personal niche.
IJ: And style?
AU: Style is when the vast array of fashion becomes narrowed down and individualistic, I live by a quote by Giorgo Armani, where he said "the difference between fashion and style is quality". Because fashion is so dynamic there is the pressure to flow with the current and dress in whatever is deemed "in style" but true style is wearing what suits you as well as what you're passionate about.
IJ: Who are your style icons?
AU: I don't really have a particular style I adhere to so my icons are extremely varied. I love the minimalism and chic of Jackie Onassis and Audrey Hepburn, their wardrobe staples of large sunglasses, kitten heels, male work-shirts, flats and tailored pants remain as stylish today as they did in the Fifties and Sixties. I also absolutely adore the extreme glamour and over the top styling of Marisa Berenson, Bianca Jagger, Anna Dello Russo, Anjelica Huston and Cher. Currently I'm a massive Victoria Beckham fan, not the perma tan Victoria circa 2007 but the 2010/2011 fashion powerhouse Victoria. Nigerian women whom I totally crush on their style would be Zara Okpara and Nike Osinowo.
IJ: What are your most favourite stores and why?
AU: I totally heart Zara, I call it "High-End High Street", every piece could totally be a designer label. The quality of the clothes and accessories are above par and are very classic, they could be worn for years and years. Another store I love is H&M, its like a candy store, there's so much variety to choose from and they're always on trend. I'm also a big fan of Miss Selfridge and Topshop but mainly for their jewellery, they always carry unique items. Finally for its mélange of absolutely anything under the sun at great prices, the department store Macy's is another solid favourite.
IJ: What are your favourite designer brands and why?
AU: Lanvin is my favorite brand, initially I wasn't really a fan, the label retained too much of its original Jeanne Lanvin staidness but when Alber Elbaz took over, it was revolutionized. Lanvin is the very epitome of classic with a twist. I also really like Elie Saab, in my most outrageous wedding fantasy, I'm wearing an Elie Saab dress, they make women look like goddesses. I'm also a big Tom Ford fan, I think he does modern glamour exceptionally and I'm currently starting to get into Tory Burch, her accessories are very chic and understated.
IJ:  What are your favourite pieces in your closet?
AU: My favourite pieces right now would be a snake print dress from Zara with a thigh high slit, a Ralph Lauren tote in the most gorgeous brown Epi leather and Gladiator inspired wooden heels by Guess. My all time favourites however are a vintage inspired lace dress by Lanre Da Silva, a Gucci bag from the 1970's (obtained from my mother), my collection of Topshop jeans in different colours (because they're the only jeans long enough to fit me) and my Deena and Ozzy perspex and suede brogues from Urban Outfitters.
IJ: If I raid your handbag, what am I likely to find in it?
AU: My bag staples are Vaseline, a camera, note-pad and pen, phone, gum, hand sanitizer, manicure set, mini make-up bag, a book or a magazine, sunglasses and if I'm wearing tights that day, I usually carry a spare pair in case the ones I have on get a run in them.
IJ: Is Third World Profashional something you see doing long-term?
AU: That's not something I can comment on for certain. At present I'm enjoying the process and the feedback is immensely positive so there might be a future for ThirdWorldProfashional still. Emphasis on might though.
IJ: What is your take on the African Fashion Industry?
AU: The African fashion industry is amazing, in the early days of Labanella and Kosibah I really didn't envision it reaching these current heights. We have designers that are not only worn both locally and internationally, but also revered. The future is definitely bright.
IJ: In your opinion, what do you think are the major challenges experienced in the African Fashion Industry?
AU: Right now I think most designers are checking all the boxes but one aspect that concerns me is that the clothes tend to be extremely expensive and I'm not entirely sure what demographic of the Nigerian buying public these clothes are aimed at. I could concede and say the Deola Sagoes, Lanre Da Silva's and Tiffany Ambers are the haute-cotoure of the Nigerian fashion industry and so deserve to retail at outlandish prices but there are some designers who just rack up a foreign inspired Ankara piece and dare to price it at ridiculous amounts, that aspect needs to be worked on. There should be a clear intention as to whom the designer is designing for because I'm pretty sure the average fashion obsessed Nigerian woman cannot afford to spend N50,000 and above on a single dress. There are a few reasonably priced labels like Grey, Jini, Babushka, Wana Sambo etc, but the majority are way out my, and I'm sure a lot of people's price range.
The above segues into another challenge, the reluctance of Nigerians or even Africans in general to buy African clothes, that should probably be the biggest challenge. I've noticed a lot of people, myself included will only spend money on a piece by an African designer that looks…..well, African. If a designer made a European style dress that looks like I can pick it up at H&M, I'm definitely not buying it because more often than not, the H&M version will be cheaper than the African version. Perhaps if the prices were more reasonable, people will be inspired to shop in Nigeria more, instead of waiting till they go abroad to stock up on fashion.
IJ: Any future plans for the blog?
AU: For now, I'm just taking it a day at a time and continuing in the style that my readers have become accustomed to.
_______________________________________________________________________________
Adaku Ufere on the look she put together: The look I put together highlights my year-round favourite palettes of animal print and neutrals. I paired it with a pair pf blue platform pumps for a pop of colour while the ombre stilletto heel of the pumps is a perfect foil for the outfit. Aviator sunglasses complete the look.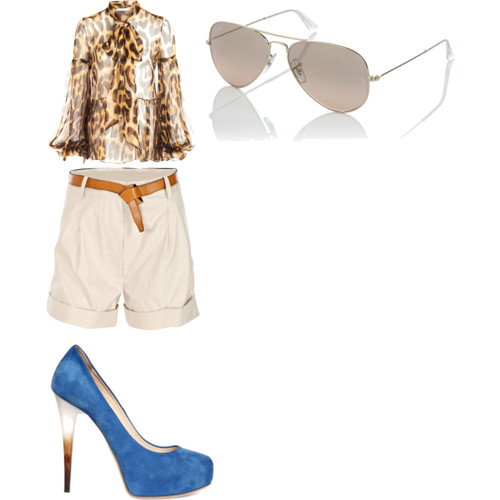 Click to visit Third World Profashional
Click to follow Adaku on twitter
All bloggers featured during this mini-series, will be asked to put together at least one look. BN readers are encouraged to recreate these looks and send in photos of their recreations to [email protected]. These photos will be featured at the end of the series. I look forward to receiving your emails. So get inspired, get recreating! xx
_______________________________________________________________________________
Follow me on twitter: @ijeomandekwu