There are a lot of great African fashion bloggers out there, and in acknowledgment of how instrumental they can be in promoting African Fashion and our love for fashion, we at BN Style decided to do a mini-series profiling 5 amazing blogs. WE Blog Fashion provides an insight into African fashion bloggers as we look into their blogs, their fashion, and the individuals behind them.
Joan Erakit is the founder of TheBrownGirlFiles. She is a Kenyan born Canada-based Style Writer. "I'm in love with Art and Fashion, and I spend countless hours immersed in both. TheBrownGirFiles is a warm, cozy space on the Internet to follow this inquisitive Brown girl as she explores what the world has to offer. Never a dull moment. Promise."-Joan
Ijeoma Ndekwu: What was your idea for 'TheBrownGirlFiles' when you conceived it?
Joan Erakit: The idea came about in late 2007, but I actually didn't start doing legitimate work for it until early 2009. I wanted an outlet where I could share some of my ideas, my style, and interview really interesting people. When I was getting ready to move to Paris, I started jotting down ideas more frequently, and conceptualizing where I wanted it to go—so far so good I think.
IJ: Why did you start TheBrownGirlFiles?
JE: As I mentioned, I really just wanted to have an outlet, a place to share ideas, and connected with readers. Writing is also my first and true love—so having a place to do it everyday is pretty stellar.
IJ: How long has it been running?
JE: About 3 years now.
IJ: What does fashion mean to you?
JE: Fashion is what we see when we take a look at one another for the first time. It's the next best trend, to the reinvention of an old one. It's a booming industry with many facets, one that we both love to love, and love to hate.
IJ: And style?
JE: Style is personal, individualized, and influenced by a persons background, surroundings and interaction with others. It's the way a guy wears the same hat 6 years straight, to the signature red glasses I have, or the red lipstick Gwen Stefani wears in all her photos. I believe that style is more signature than trendy.
IJ: Who are your style icons?
JE: I've always been fascinated by Deborah Harry (Blondie), and Grace Jones. I really appreciate strong, sexy women with bold looks. Being able to marry sensuality and masculinity has always been exciting to me…both do it exceptionally well.
IJ: What trend would you love to see come back again?
JE: This is a tricky one, only because I tend to feel that we all can bring a certain trend back. We really don't need for industry to "bring" it back per say…in reality the fashion industry looks to us for ideas. I'd like to think that I wear whatever I want, so there really isn't anything I want to come back—that's not already in my closet.
IJ: What are your most favorite stores and why?
JE: I've been getting into the Gap a lot lately. Clean lines, simple silhouettes, and muted tones. I think it's a spring thing. I buy a lot of things online too because I'm a bit unimpressed by retailers these days. Asos is great, Shopstyle, and Top Shop.
IJ: What are your favorite designers & brands?
JE: Designers, Calvin Klein, Roland Mourat, and Etro. Brands, American Apparel, Gap, H&M, Zara
IJ: What do you consider as the difference between an Art Critic, a Fashion Writer and a Style Writer?
JE: Well an Art Critic is someone who specializes in deciphering the meaning of certain pieces, comparing and contrasting an artists work—someone who is very knowledgeable in the field and feels a strong calling to go beyond just frame. A Fashion Writer is someone who discusses clothes, trends, designers, high and low style and the projection of future fashions to the world. They are usually people who can make a connection between what is being produced, what will sell, and how it will affect the consumer. A Style Writer is someone who fuses together many aspects of fashion and art to bring together a perspective that is diverse in ideas as it is in presentation. I'd like to think of a Style Writer as someone who goes beyond what's topically presented, to dig deep and talk more about the "when", the "why" or the "how".
IJ: Is TheBrownGirlFiles something you see doing long-term?
JE: Absolutely. I've been working really hard to keep it growing. Many different projects are ahead, but the most important thing is that I enjoy TheBrownGirlFiles, and people seem to respond really well to that…so I'm going to keep it going.
IJ: What is your take on the African Fashion Industry?
JE: It's been steadily making a name for itself! Who could have imagined such success? It's so refreshing and so inspiring to see fellow Africans doing incredibly creative things, as we have been doing so for years!
IJ: Any future plans for the blog?
JE: I definitely have some ideas brewing…you'll have to keep it locked to see!
_______________________________________________________________________________
Joan Erakit on the look she put together: I'm really into palazzo pants this spring/summer. Black, sleek, and very comfortable. I wear mine with just a simple black tube bra, and platform heels. Chic, fresh, yet still classic.
This look is daring and I love it!  However, if it is too much for you, take some tips from the Asos model or pair it with a chic vest.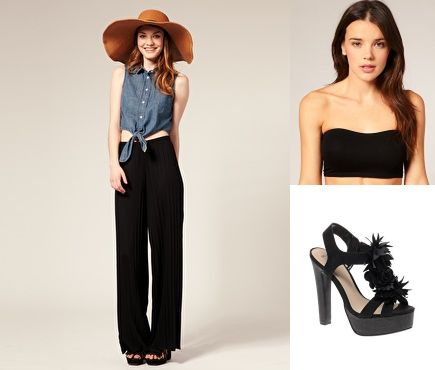 Click to visit TheBrownGirlFiles
All Images of Joan Erakit by Ryan Paul for Ryan Paul Photography (www.ryanpaulphotography.com)

All bloggers featured during this mini-series, will be asked to put together at least one look. BN readers are encouraged to recreate these looks and send in photos of their recreations to ijeoma.ndekwu@bellanaija.com. These photos will be featured at the end of the series. I look forward to receiving your emails. So get inspired, get recreating! xx
_______________________________________________________________________________
Follow me on twitter: @ijeomandekwu