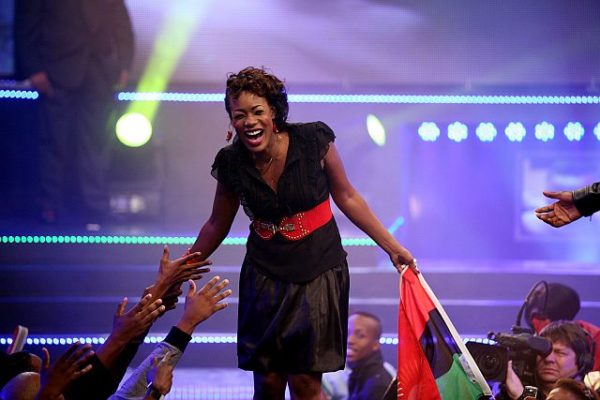 Eight Heads Housemates were up for eviction on M-Net's Big Brother Amplified last night (26 June 2011) – Millicent and Felicia left the Heads House, but while Millicent lives to fight on in the Tails House, Felicia heads home.
After Tanzanian Music Award nominee Shaa kicked off the show with her pulsating hit "Crazy" (and revealed that her favourite Housemate is Karen), IK was all business. After reviewing the week that was in the two Houses, he took viewers into the Heads House for what he described as "the most obvious Head of House decision since the show started". Vina explained her decision to her Housemates: "It's been really difficult for me to do this. I chose the person I wish to swap because I thought that person deserved one more chance to show people what he or she was all about," she said. "So I swapped myself, so sorry Felicia. I thought Africa deserved a break from me for once. This is not done in spite or anything – it's just something I had to do, as much as you and me get on and I hope you don't take it to heart," said the Nigerian.
After giving the Housemates some time to digest the decision, it was time to go back into the House to reveal the result of the viewer vote. IK asked Millicent, Zeus and Sharon O to stand. "Zeus… you're safe," said IK. "Millicent, please leave the House now." As the Housemates crowded around the Kenyan to wish her well, IK chimed in again. "Sharon O…." he said, leaving a long pause. "I hear you, I hear you just go!" shouted Sharon O, anxious to learn her fate. "You're safe," said IK with a smile as she crumpled to the couch.
Millicent emerged onto stage and just as IK was about to start quizzing her, he received a message from Big Brother. "Millicent, Big Brother has asked me to tell you to leave the stage – I have no idea what that's about," he said. Moments later, Millicent arrived in the Tails House, to an excited reception – particularly from former beau Alex, as her new Housemates chanted "kiss, kiss!".
The night's business was not done yet though, as IK took viewers back into the House and asked Lomwe, Felicia and Vimbai to stand. He put Lomwe and Vimbai out of their misery before asking Felicia to leave the House as Vina broke down, sobbing desperately.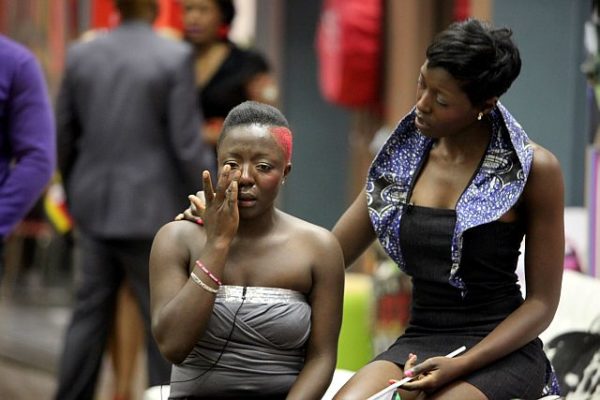 After the Amplified Dancers had taken to the stage, Felicia joined IK. "You were amazing in the House, you were one of those people who were always laughing. How'd you keep your spirits up in there?" asked IK. "I was just trying to be myself," was her simple response. After checking out her highlights, IK asked her who her favourite and least favourite Housemates were. The Malawian said that Millicent was definitely her favourite, before laughing as she revealed that Vina had been her least favourite. When IK asked her why that was, she was at a loss, simply saying that she hadn't gotten along well with the Nigerian – who had ultimately been responsible for her departure after her save and replace decision. "Now, that thing with you and Zeus – what was going on exactly?" quizzed IK. "I'm a Zeus fan. I love his music and love the way he thinks," said Felicia with a smile. "Just a fan?" asked IK. "I am a fan!" "And you don't want to be a friend too?" he goaded. "A friend as well!" said Felicia with a shy smile.
As she departed, IK made a return to the House to scare the Housemates once more. He asked Hanni and Wendall to stand, before revealing that they were both safe.
After Shaa took to the stage once more with the sultry "Pambazuka", IK warned viewers to tune in on Monday evening. "Big Brother has a huge surprise for our housemates tomorrow evening – don't miss nominations!" he said.
Earlier in the show, viewers had the chance to catch up with last week's evicted Housemates, Danny and Nic. Danny revealed that he would always treasure his time on Big Brother Amplified and that the experience had allowed him to grow as a person and made him stronger than ever before. He said his highlight was entering the House on the first night – being called to the stage by IK and representing his country, which he hoped he had done well.
Nic felt that he had really gotten to know himself and what he really wanted out of life. "The thing you get to learn in the House is patience," he said. He'd like to see Karen or Millicent win Big Brother Amplified – the former because "she deserves it – she had a hard upbringing" and the latter "because I hear she's been manipulating and conniving – that's entertainment!"
Four viewers picked up fantastic prizes for voting and interacting with Big Brother during the past week: Florence Frad (Nigeria) won a DStv HD PVR, Lilian Namaato (Uganda) won a Samsung Laptop, Seth Aje Asante (Ghana) won a Samsung Galaxy S and Meshack Shakemba (Zambia) won a Samsung Camcorder.
Two Big Brother Amplified Housemates will walk away with massive prizes of USD200 000 each on 31 July – there's still a lot of action to come on Big Brother Amplified!
Big Brother Amplified is headline sponsored by Coca-Cola. Fans can catch all the latest news, video – and all-important voting information – at www.mnetafrica.com/bigbrother. Tweet Big Brother @BigBroAfrica, send SMS messages to the on-screen strap, visit the Big Brother Africa Facebook Group to get the low-down on the continent's favourite reality show and get updated news and two video streams – by pressing the "OK" button on your DStv remote when on DStv Channel 198.
The Big Brother Action gets AMPLIFIED as the Two Houses Merge!
M-Net's Big Brother Amplified delivered yet another phenomenal twist last night (Monday 27 June) as the Heads and Tails Houses merged! The Heads Housemates were called into the Chat Room one by one, blindfolded, and lead into the Tails House, sparking wild scenes of celebration as the 16 remaining Housemates were reunited for the first time since the end of their first week in the game.
The Tails Housemates had spent the day wondering what Big Brother was up to, since they hadn't been called for nominations. Then, at dinner time, the Heads Housemates were surprised when Hanni was called to the Chat Room. Unbeknown to them, she was then blindfolded and led to the Glass House. After standing in the Glass House for a while, she took tentative steps towards the Tails door – and when the Tails Housemates spotted her, pandemonium broke out.
With Hanni gone for several minutes, the Heads House started wondering what was going on, with Vina guessing that a twist in the game was afoot. One by one, the Heads Housemates were led into various spots around the Tails House, with each surprise 'delivery' sparking enthusiastic greetings, hugs and tears.
After the merge, the excited Housemates scrambled to fill each other in on what had been happening in both Houses over the past couple of weeks. Vina was one who immediately saw the curveball for what it was, mumbling under her breath about how much tougher the game will be going forward. Karen, Bernadina, Mumba and Kim set about filling everyone in on what had happened in the Tails House: from Lotus slapping Luclay and subsequently being disqualified to revealing the relationships that had grown.
In the midst of all the excitement, the Housemates have yet to consider what the merge – and lack of nominations – will mean for them come Sunday's eviction show. Stay tuned to Big Brother Amplified to catch all the drama throughout the week, 24/7, on DStv Channel 198!
The winner of Big Brother Amplified, headline sponsored by Coca-Cola, will be named on 31 July – and the power to award two prizes of USD200 000 each, to two winners, rests in the hands of the viewers.
____________________________________________________________________________________________
Sponsored Content