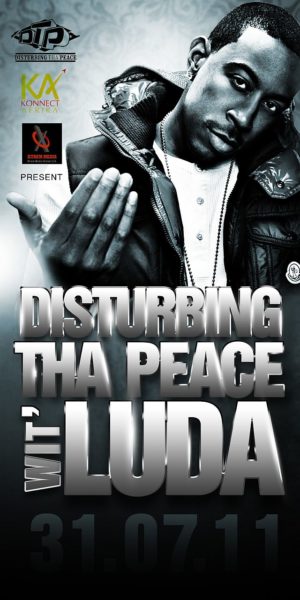 Rap superstar Ludacris and his business partner, Chaka Zulu are currently in Dar Es Salaam, Tanzania where Luda is performing at a concert on Saturday night. Preparations are in top gear to receive the Ludacris-led Disturbing Tha Peace Records in Lagos this Sunday.
According to the special media invite attached to the press release, the party will be hosted by the muti-platinum selling American rapper, Ludacris.
Sources close to Konnect Afrika, who are championing this event which is rumored to unveil details a collaborative Africa-wide project between Ludacris' record label Disturbing Tha Peace and Konnect Africa. This project is rumoured to be a rap-focused Pan African reality show.
After the concert on Saturday, Ludacris and some crew from Disturbing Tha Peace would be accompanied back to Lagos for the Sunday exclusive "unveil" party. Ludacris is actually enthusiastic about the project he's coming to unveil on Sunday at the exclusive party slated to go down at Volar Nite Club in Victoria Island.
According to the publicist for the project, "the party is actually an exclusive one, organised just as a platform for Disturbing Tha Peace and Konnect Afrika to unveil something special to the African music industry"
He also revealed that pictures and video from this party will be posted in real-time via designated social media platforms on Facebook, Twitter, and Youtube – "it's going to be like one massive online party where everyone is absolutely welcome"
So, it's official. We will be Disturbing Tha Peace in Lagos this Sunday…with Ludacris. We can't wait to see what's being unveiled. You read it here, first.