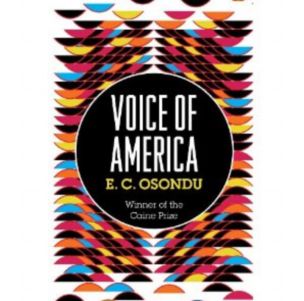 We are back with another edition of the BN Book Review Section. This month we are reviewing E.C Osondu's recent book, "Voice of America". In, this book, Osondu, uses a collection of 18 short stories, to explore the condition of the Nigerian people. The book which includes a story that won the Caine prize for African writing and another which was short listed for the same award contains imaginative and engaging stories which depict everyday issues faced by Nigerians. Myne Whitman, a member of the BN Book review Panel, has given her candid and thoughtful review of the book. Have a read through and let us know your thoughts!
About the Book
Set in Nigeria and America, "Voice of America" moves from boys and girls in villages and refugee camps to the disillusionment and confusion of young married couples living in America, and back to bustling Lagos. It is the story of two countries and the frayed bonds between them. In 'Waiting', two young refugees make their way through another day, fighting for meals and hoping for a miracle that will carry them out of the camp; in 'A Simple Case', the boyfriend of a prostitute gets rounded up by the local police and must charm his fellow prisoners for protection and survival; and in 'Miracle Baby', the trials of pregnancy and mothers-in-law are laid bare in a woman's return to her homeland. Written with exhilarating energy and warmth, the stories in Voice of America are full of humour, pathos and wisdom, marking the debut of an immensely talented new voice
Myne's Review
In July 2009, E.C. Osondu won the prestigious Caine Prize for African Writing for 'Waiting', the first short story in this collection. And with it, Osondu starts this collection of short stories that span some universal human themes, and some not so universal. Issues of deprivation, hope, belonging, marriage, loss, family, acceptance and love, are all tackled, better in some stories than in others. 'Waiting' is a supposed-to-be-a stirring tale about a young boy who lives in a refugee camp run by the Red Cross and who hopes to be adopted by new parents from America. I found it not so stirring and a bit contrived; maybe it is because I have not seen that many T-shirts that have place names on them.
'Our First American' and 'A Simple Case' are cityscapes, telling of the not so obvious parts of Lagos and how the people in them survive or die. 'Going Back West' tells about deported Uncle Dele whose activities in his desperation to return to America does not end well. There's one word for 'Miracle Baby', stupefying! You have to read it to believe it. While these stories are not so remarkable in themselves, some of the settings and scenarios used in the narrative are quite engaging and at times, informative. 'Jimmy Carter's Eyes' is the fascinating tale of a young girl who goes blind and becomes her village oracle, whereby elders prevent her from taking advantage of eye treatment courtesy of the former American president.
'Letter from Home' is a plea from an aging mother to her America-based son, asking for money, houses, cars, or his return. While it's perplexing that some Nigerian parents think like this, what I found very engaging was the use of an anecdote, a story within a story, to buttress the message. Two girls are saved from the refugee camp when their widowed mother marries again in 'Janjaweed Wife' but in the truncated ending, Osondu bears out my impatience with short stories. 'Welcome to America' is a more straightforward tale of an immigrant's early years in America, and his family's ironically carefree experience of living in a seedy side of town, and 'Teeth' is a humorous story with echoes of 'The Curious Case of Benjamin Button'.
In 'The Men they Married' and a few other stories, a bright light is shone on marriages contracted under the shadow of the almighty green card, or laboring with the burden of the immigrant experience. Separate lives, distrust, abandonment, and unfaithfulness are some of the skeletons found in that closet, with 'Stars in my mother's eyes, Stripes on my back' and 'Nigerians in America' being told from the perspective of the children caught in such marriages. The last paragraph of the latter story, where an untrustworthy character we had just read about returned to Nigeria to run for chairman in his LG elections, saddened me.
What Myne really liked.
There were a number of very good stories out of the 18 that make up Voice of America. EC Osondu has a graceful narrative voice and it echoes across all stories, making the book a smooth read. In 'Bar Beach Show', we are served up a slice of history with some superstition thrown in. I liked this story and it is the one I think that has the most local flavor. I found out that Bar Beach, formerly known as Victoria Beach, not only hosts a wish-granting mermaid every seventh month of the year but also that a strange animal lands on the beach and soon disappears as mysteriously as it came. Does anyone remember the mysterious fish/whale from last year? Curiosity has had me browsing to see if there are reports on how it was finished by butchers or perhaps washed out back to sea. Anybody have an idea?
Moving on, I also liked 'Pilgrimage', where Osondu gently explores the connection between African-Americans and Africa through the prism of religious tourism. A visitor to TB Joshua is not healed by him but by a coven of traditionalist sisterhood in the market. It was also a pleasant surprise that the recent rash of expatriate kidnappings in the Niger Delta was tackled over a tapestry of the local club girl culture in 'An incidence in Pat's Bar'. The bar owner asks, "Who is going to help the cow with no tail to drive away flies?" when an unemployed American is kidnapped. My overall favorite however, is the title story and the last in the book, where Osondu employs simplicity to poignantly tell the story of a young man in need of a pen pal.
What Myne could have done without
I have to confess before I go on that I'm not the biggest fan of short stories as a narrative form. I find them too short, and I think most are unable to fully tell a story while maintaining the integrity of the characters or sustaining the emotional depth for me as a reader. So, while the immigrant experience seams the stories in the book together and strings the reader along, it equally detracts from the individuality of each story. There are times when the overarching themes infuse some of the stories with a confusing similarity, like in 'Waiting' and 'Janjaweed Wife', which pay an inordinate amount of attention to T-shirt inscriptions.
Having all the characters either desiring America, or already there and with no wish to leave became boring at some points. Also, in the conclusion of 'The Men they Married', Osondu sheds the cloak of prose, and is openly didactic. In the voice of the disillusioned women in the story, he asks, "how could we have known that the underbelly of the black snake is white, and that the land of big dreams is also the land of huge nightmares?" I can do without such open preaching in the books I read. Unfortunately too, a lot of Nigerians still see America as the savior and as El Dorado, and will not heed the warning that EC Osondu tries so hard to pass across.
Now, that we've finished our own review of "Voices of America", what do you think? Did you read the book? Do you agree with our review or do you have completely different thoughts? Did find our review helpful? What are your own thoughts on the issues explored in the book?
 __________________________________________________________________________________________________________
Issue 5 of the BN Book Review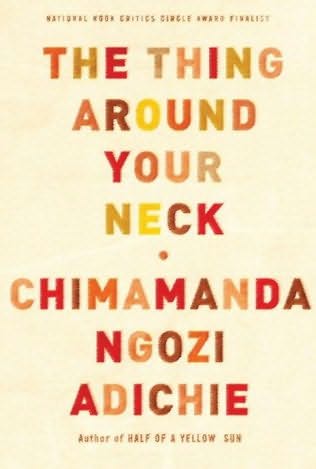 We can hardly believe that we are in our 5th Edition of the BN Book Review! The aim of the BN Book Review section has always been to get us excited about reading again. To do this we have sought to review books which explore various themes that are uniquely African. In previous editions we have tackled various sub themes that affect out society from morality to polygamy. We have even featured the biography of the celebrated Afro Beats king, Fela Anikulapo Kuti. In our next edition we will be reviewing Chimamanda Adiche's short story collection "The Thing around your Neck". We can't wait!
As usual BellaNaija.com, in conjunction with the publishers of this book, Farafina, will be giving away two copies of "The Thing around your Neck" by Chimamanda Adiche to two lucky readers. To stand a chance of winning a copy, answer the following questions;
1. What are the titles of Chimamanda's first two novels?
2. Chimamanda is from Abba, in Anambra State but where did she grow up?
Send your name, address and telephone number along with the answers to the above questions to [email protected] Please make sure the subject of your email is BN BOOK REVIEW COMPETITION. Only successful entrants will be contacted. Winners MUST be able to pick up their prize (or arrange for their prize to be collected on their behalf) from Bella Naija office in Lagos. Employees of BainStone & Bella Naija and Farafina may not apply.
The winners of our last BN Book Review competition are Yoma Onosemuode and Georgina Mtsweni  Congratulations! You will be contacted shortly by a member of our Contest team.