Now, if someone told me last month, that I would be whisked over to the UK to be part of the launch of BlackBerry's latest devices, I would have laughed my socks off. If they then went further  to tell me that I would have the chance to chit-chat with RIM's international representatives, talking about Nollywoods "BlackBerry Babes" and how they have connections in Ikeja's Computer Village, I would have laughed even harder. But as life has its own way of doing things, all these  things actually came to pass. So here I am to fill you in on all I saw, learned and did at the BlackBerry UK Conference 2011. (Oh and just picture me sitting across a table from a RIM VP trying to explain what "forming" is…. Good times)
*****
On Wednesday the 3rd of August, RIM (Research in Motion), the Canadian smartphone giant held a conference at the glamorous Soho Hotel in the heart of metropolitan London. With this conference they not only unleashed a suite of New BlackBerry Phones but they also, for the 1st time ever, launched their devices globally.
At around 9:30 in the morning, the light breakfast and mingling session was over. We were ushered into the auditorium where a video was shown. The video gave us some insight into the mindset of the brand, through the words of its users. It showed how BlackBerry affects the lives of users around the world, from a hip-hop star keeping in touch with his fans to a housewife starting a business. Everyone has their own story to tell, be it fun, business or community-oriented, BlackBerry is there to keep people together.
As the show reel ended, it then dawned on me that the conference was full of writers from around the globe and yours truly was representing Nigeria. So when the representatives of RIM, Patrick Spence, (Managing Director, Global Sales & Regional Marketing) and Rob Orr (VP, EMEA Project Management) came on stage, they both took us through the intricacies behind the shiny new devices and gave us a run down on the company's numbers.
At present there are 67 million users worldwide and they recently had a record 1 million users join the fold in just 3 weeks. This speaks volumes as the competition for the smartphone market grows ever-stronger daily. In Africa, they currently occupy the top spot in the smartphone race. They went on further to explain how BBs helped transform emails into instant communication, how they became the first outlet to the internet for many around the world, and the way they work with regional networks; BlackBerry works with outlets like MTN, Airtel, etc to create data caps and other methods to ease the transition for users who had no internet access to their first foray into handheld browsing.
It was great seeing the video showcasing many of the great things people have achieved with their BlackBerrys making it fair to say, "BlackBerry gives you the tools to help create your own story".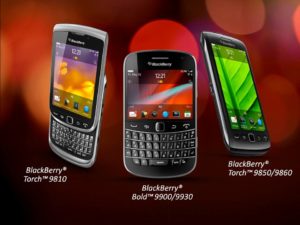 At around 10 am, it was time for the launch of the 5 new OS7 devices and Rob Orr donned the stage and regaled us on their new and exciting features. The new devices; the BlackBerry Torch 9810, the Bold 9900/9930 and the Torch 9850/9860 were showcased on the projector. Then it was announced that they would be found on store shelves, globally, very soon.
Looking at the devices on the screen and listening to Rob Orr, I just have the feeling that with the popularity of the BlackBerry Torch in Nigeria, I am almost certain the upgraded BlackBerry 9810 will be a huge success over here. It will come with a powerful 1.2-GHz processor, 768 Megabytes of RAM plus 8 GB of on-board memory for all types of media, a 3.2-inch capacitive touch screen, and RIM's signature slide-out QWERTY keyboard. With the many upgrades both in OS and hardware, they worked hard to continue their trend of amazing security measures.
Then with the Bold 9900/9930, RIM boasts that it's "thinnest smartphone ever," and works hard to impress with a 2.8-inch touchscreen and QWERTY keyboard. They went back to the original Bold's figure with juicy buttons crafted for the type focused and with their new fluid graphics the touch screen whips back and forth effortlessly as one plays around with it.
They also previewed the awesome NFC support that we can soon expect to see everywhere. I'm going to have to talk about this little about this gem, though I must admit the NFC technology may take a little while to get over here. NFC will surely make a huge improvement on life as we know it. NFC support is basically scanning bar codes without the scanner or barcode. The back of the BB is placed on an NFC tag, which is encoded with certain information (web address, wifi information, download address, pricing information, etc) so when utilized properly you can basically walk down a street, see a concert poster with an NFC tag, swipe your phone on the tag and buy tickets for the show right there and then. So yeah, it's all pretty cool stuff. No need for long pairing antics when connecting devices anymore, just swipe both NFC tags together and voila! All done.
The BB Storm was a fan favorite at first then grew to be somewhat of a black sheep in the BlackBerry device family. So with the success of the Torch and its amazing operating system upgrades, the Storm has become Torch 9850/9860 and comes with the largest touchscreen ever seen on a BlackBerry at 3.7 inches. It's sexily curvy for horizontal use, has wifi, GPS, accelerometer, digital compass and is pre-loaded with Docs to Go software. As always, has no physical keyboard. And now, the screen doesn't press down when touched. This new onscreen keyboard has been improved to the max. With all this, the Torch 9850/9860 is also great for sharing the good times as it comes with vivid 720p HD video recording so no one misses a thing.
All the devices are set to run on the Research In Motion's (RIM) new BlackBerry OS 7 platform, which is an updated version of the smartphone software bringing a user friendly speed boost to the BlackBerry WebKit browser, enhanced HTML5 performance and hardware accelerated graphics. These all work together giving fluid animation and a browser, which is 40% faster than that of OS 6 (2.84 seconds on the SunSpider Java Script performance test, faster than all other smartphones).
So now, these devices are just ushering in the new age of BlackBerry magic, the new BBM6's improvements spreads across the entire device and into almost all the apps, so you can now chat, share and recommend within other applications. This just "utilizes the viral nature of BBM" helping developers and brands share their work through trusted friends and colleagues. Then there is the augmented reality bonus as with these the new devices you can view 150M+ points of Interest in 175+ countries, journey into 700 content worlds in 32 languages or just create your own worlds for everyone to see. With the use of the devices GPS and apps like Wikitude you can do all that and meet other users in real-time/real-life and literally showcase pics, information and contacts for others to see.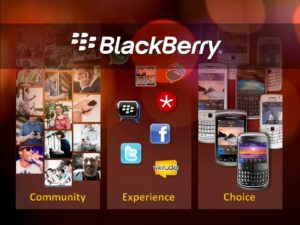 It's also obvious that the big boys of social networking kept a close watch on BB OS 7 and have upgraded their apps (many of which now come pre-loaded on the devices), so Facebook now has inbuilt FB Chat and Twitter tweaked their app as well.
After the presentations, we got a chance to play with the devices. I also took the chance to grill the new BlackBerry handlers on the new phones. I had a chance to chat with the RIM representatives and get some more details answers on BB and Africa. Patrick Spence told me how happy they were I was there representing Nigeria, as BlackBerry recognizes Nigeria as a very important market to them. He said they would love to learn more about our market and improve the user experience here, because "BlackBerrys are for Builders" and Nigerians are industrious and very entrepreneurial. He stated their interest in Nigeria was one of their major reasons for having a Global launch in the UK, as they hope to achieve same time distribution around the globe to reduce the risk of Gray Market purchases ruining a users BB experience.
I asked how they do their research to find out what us Africans and Nigerian need, and I was both impressed and amused at their answer. Mr. Spence told me BlackBerry has its researchers conduct surveys in our markets such as "Computer Village" in Ikeja. He then went on to mention that Nigeria would soon get her very own BlackBerry head office here in Lagos sometime in the near future. But for now they will keep working with the telecoms operators to give us users more options. For example, you may have noticed the new BBM and email option from service providers. Through these and similar features, BlackBerry hopes to give each user the capability to customize and utilize their BlackBerry device just how it suits them. We talked at length at how the love of BlackBerrys in Nigeria impressed them, we even had a good laugh when they told me they'd heard about "BlackBerry Babes" the Nollywood movie, and how it was this kind of interest (not to mention that Nigeria is one of their leading markets) that make them want to ensure our needs are catered to. They also told me they place utmost importance of Nigeria in developing new apps. In their opinion, Nigerians have so many ideas and their new system will cater to the needs of the developers, so they are sending over the tools and support to the communications companies (MTN, Glo, Etc) to enable the ease of transfer from OS6 to OS7. So I say BlackBerry and Nigeria may just become great friends sooner rather than later.
RIM's new array of smartphones is certified to make a big splash on the worldwide smartphone market. But the surprises don't stop there. With further digging we found out RIM is also talking about the future of their smartphones powered by QNX – the technology utilized in their petit yet powerful BlackBerry Playbook – an entirely different operating system faster than current PCs. This just means that your entire device needs will be met by RIM before you know it and the 5 new releases are just opening the door to all the amazing things yet to come.
Like their name states, Research really is in full Motion, and we are officially invited for the ride.