Meet Ngoli "NGO" Okafor: Two Time Golden Glove Winner and the Most Downloaded African American Black Male Model- Exclusive Pictures and Interview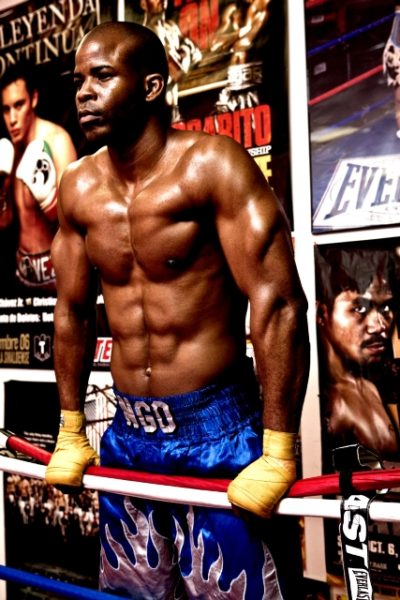 It's the first Friday of year 2012 and while the whole country is embroiled in fuel subsidy debate, we at BellaNaija.com have decided to spread some cheer to our readers! And what better cheer than to look at gorgeous, scrumptious, yummy pictures of the Most Downloaded African American Black Male Model.
Ngoli Okafor (AKA Ngo) was in Nigeria last month working for his charity organization – Champion Spirit Foundation, and I took advantage of the opportunity to get to know a bit about the phenomenon that has become NGO! Check on it
About Ngo
Ngoli Onyeka Okafor was born on the 30th of December in Framingham, Massachusetts. At the time his father was completing his PhD program at Harvard University. His family moved home to Nigeria shortly before his second birthday but Ngo moved back to the states in the summer of 1994. A graduate of Computer Science from the University of Connecticut, Ngo worked with the Connecticut Department of Transportation. He moved to New York where he lost his job and was forced to ponder his next move.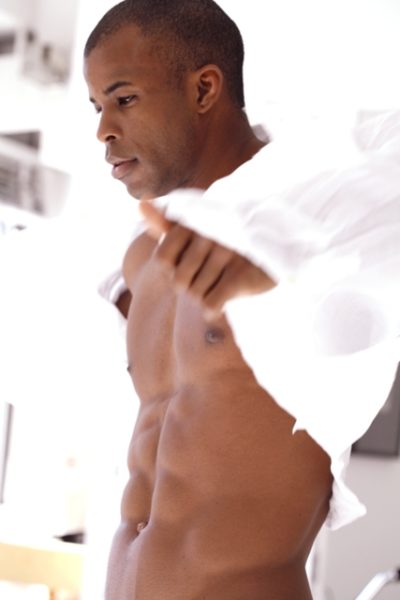 Despite this setback, today, Ngo is counted amongst the quickest studies the boxing world has ever seen. Despite discovering the boxing profession purely by accident and at an age when most boxers consider retiring from the profession (31), Ngo has gone on to become a two-time heavyweight champion, winning back-to-back Golden Gloves, amateur boxing's highest distinction. Aside from his boxing career, Ngo is also a model and an actor and has worked with various celebrities in the trade from top models including Gisele and RnB queen Mary J Blidge. He has also been featured in several magazines such as Vogue, Vibe, The source, ESPN magazine and Fortune Magazine.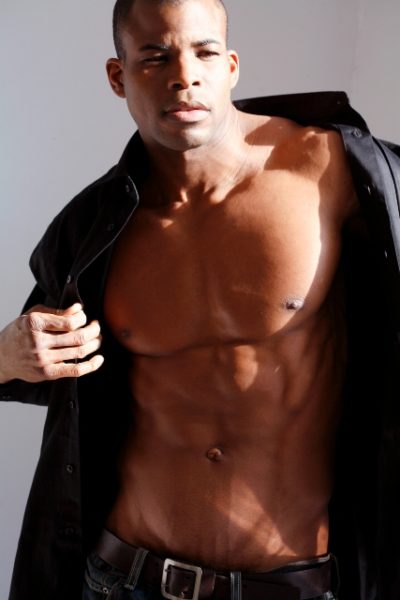 The Interview
GE: Of all the careers in the world, why boxing?
NGO: I always had a dream of playing sports as a kid, but was not able to because I was very sick as a child. I also grew up in a household where sports were not encouraged because both my parents are teachers and believed that sports served as a distraction from school work. When I discovered my love for boxing, I immediately knew that it was my chance to live my childhood dream.
GE: You've been quoted as saying that you wanted to be one of the best in boxing, that requires phenomenal personal strength and a lot of personal discipline, how do you keep it going?
NGO: I inherited great personal strength from my mother, who has endured so much in her life, including the loss of a son. I never want to be second best at anything that I do, so I use that strength to push forward. I also know that people are looking to me for inspiration and I do not want to let anyone down.
GE: You've been quite successful, but your road to stardom wasn't easy, what sort of challenges did you have to overcome and how did you manage to overcome them?
NGO: I had to overcome quite a few challenges to become successful. The first was my size. I'm more muscular and taller than most working models. Most working models are just about 6 feet tall and very skinny. I am 6'3". I don't believe in starving myself, so I will never be skinny. I believe that a Naija man should look strong and that is the image that I work hard to uphold.
GE: One of your first jobs was with Mary J Blige and you are constantly being photographed with notable celebrities, but have you ever been star struck? Tell us about that?
NGO: I've been photographed with some of the biggest stars in the business, even Gisele Bundchen. I have been respectful of the stars I have worked with, but I've never been star struck. This is because I believe that we are all on the same level. They just got to the top earlier than I did. I know that I will get there too.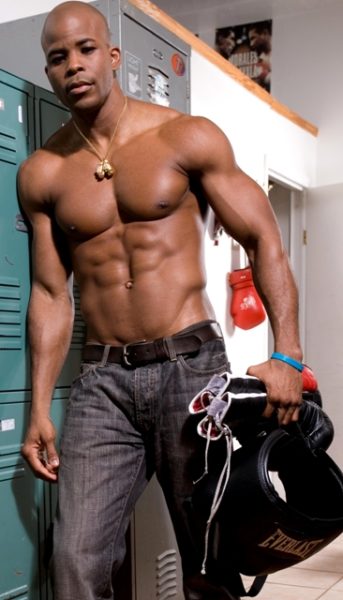 GE: Despite all of your success, you still have a big heart and you were doing wonderful work with disadvantaged youth in Nigeria, what inspired you to start this?
NGO: I was inspired because I was bullied as a kid, but was able to fight back. Many kids are not able to fight out of the tough situations they were born in, so someone has to fight for them. I want to inspire kids to become a big success just as I have, no matter their background.Nigeriais my home and I will always do my best to defend it and it's children.
GE: Tell us a bit about the initiative and how you see it growing?
NGO: My NGO (charity organization) is called Champion Spirit Foundation. I set up the foundation to help under-privileged children get off the streets and channel their energy in a positive direction. We aim to set up athletic facilities which will become FREE after-school programs for underprivileged kids. This will be a place where they can come and exercise and learn hard work, learn discipline and perseverance through boxing and through boxing training. They don't actually have to ever get in the ring and fight, but the training teaches all these qualities.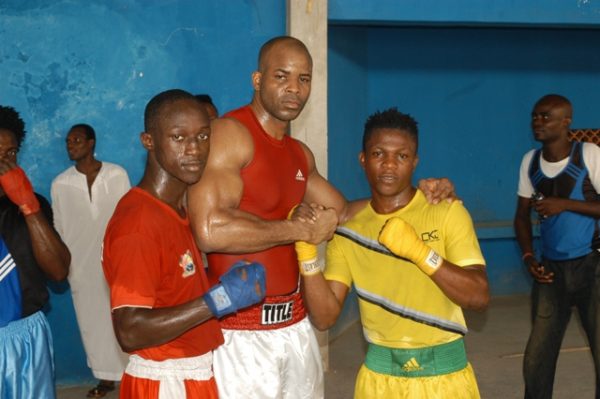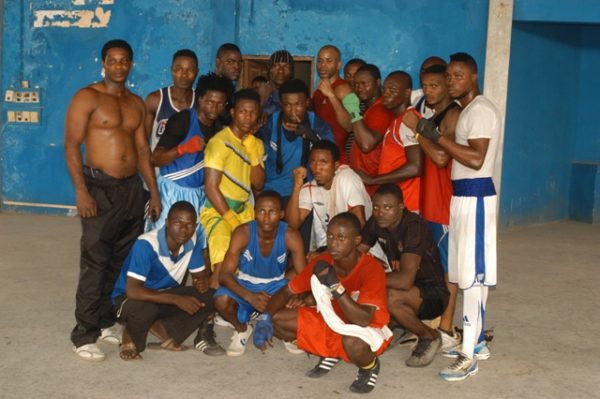 GE: Being a model and an actor with such a fabulous body, I'm sure you get a lot of female attention on a daily basis. How do you cope with that?
NGO: As a model and actor, keeping my looking is a part of my job. There are hundreds of guys going after the same jobs that I'm going for, so in order in to be the best I have to work hard. I like the attention that I get because of my body, but I don't let it go to my head.
GE: Are you in a relationship? How are you able to differentiate between someone who is with you because they like the type of attention you attract and someone who is genuine?
NGO: I'm so busy right work that it is difficult to manage to have a relationship right now. I'm getting to the point in my life that I would like to settle down and start a family soon.
GE: It's Valentines Day in a few weeks, are you a romantic kind of guy? Tell us about some of your previous romantic gestures?
NGO: I am a romantic guy, but unfortunately, this year, I don't have a loved one to spend it with, so I'm going on a trip with my friends
GE: In December 2010, you visited Lagos after several years away, how has Nigeria changed for you? What was it like being home after so long?
NGO: I felt so happy to come home. I can't believe that I waited so long to come home. Nigeria has changed a lot. The people have changed so much, especially their perception of the arts. There is so much more respect for actors, models and musicians now. I'm so happy because back when I was growing up, they were not as successful as they are now. They definitely didn't make the kind of money that they make now.
GE: What do you miss most about Nigeria?
NGO: I miss the food, the warm weather year round, but the thing I miss the most is the women!! I love Nigerian women. They are so beautiful and strong.
GE:  How do you mange to keep in such great shape?
NGO: As I mentioned before, in order to be the best you have to work extremely hard. I work out about 3 hours every day. I do cardio, which can include running, biking, boxing and then I lift weights afterwards. It's a commitment.
GE: Your calendar images definitely gather a lot of attention, but do you find the relatively more conservative nature of  Nigerian culture less embracing?
NGO: People in Nigeria love my calendar because even though the calendar can be seen as racy, most people understand that it is art. Nigeria has come a long in that regard and I love it!
GE: Reading your bio and press clips, you do come across as the perfect man, tell us something imperfect about you?
NGO: I'm the biggest  procrastinator ever!
GE: As a model, you get lots of freebies – clothes, shoes etc… but how would you describe your personal sense of style?
NGO: I would consider my style as cool, comfortable and sharp. I like wearing jackets and button down shirts with jeans. I like to mix things up. I don't follow trends. I believe that everybody's style should be their own creation.
GE: With such a hectic life, what do you do to relax?
NGO: With all the running around I do, I like to relax by going to the movies, going to dinner and hanging out with my friends and I like getting massages.
GE: What advice would you give to anyone trying to walk in your shoes?
NGO: The advice I will give to anyone looking to walk in my shoes is for them to be prepared to work very hard and develop a tough skin because there is a lot of rejection in this business. If they can work through all that, they can succeed.
GE: If you could do it all over again what would you do differently?
NGO: I wouldn't do it differently. I would not change anything. I made it exactly the way I wanted to make it. I didn't do anything I didn't want to do. I have always had full control of my career and that is important to me.
GE: Where do you see yourself in the next 5 years?
NGO: I see myself producing and starring in my own Hollywood films. I would like to produce some really good Nollywood films as well. I also see myself married with some kids.
GE: You are the most downloaded African American Black Male Model, that's a 'Huge' title for anyone….How do you keep grounded?
NGO: I worked very hard to achieve that title, but I realize that this is all business. It doesn't last forever and I know that. I stay grounded knowing that someday it will be all over and no one will care anymore. My legacy is my focus. What I do for the kids will live forever.