Can you think of a better way to start your day? An absolutely gorgeous BN Our Wedding Story feature!
Lara Odumosu and Alexander Adegboyega Adegbenro tied the knot in beautiful style. Their love story is super sweet and Alexander's proposal to Lara was absolutely endearing!
Keep reading…❤


How Lara & Alexander Met
by Lara
Our mothers have been friends since their days in secondary school. In 2005, I would come home for Christmas holidays as usual and my mother dragged my sister and I to her friends niece's wedding. My sister Dami, quickly spotted Alex and whispered to me that she knew the handsome young man. Then my mother called her friend, Alex's mother and said to her "Ah our kids know each other o"
Alex was called and in minutes he appeared at our table, inviting us over to his. I was too shy so I refused. Shortly after, we left the wedding and I was filled with regrets for not going over to his table. Thankfully, a day after, Alex found a way to get in touch through Hi5. lol!
We became good friends from then on. He visited England from America more often. We talked about a relationship every now and then, but we concluded that it wouldn't work because of the distance.
Finally, in 2008 after years of convincing from Alex, we made it official when he paid me a surprise visit shortly after I returned back to London from a Christmas break in Nigeria.
The Proposal
by Alex & Lara
Alex: I remember after buying her ring, my mother reminded me about receiving her father's permission. I've never been intimidated by anyone's parents. This was different.
I had heard so much about the renowned film director, Jimi Odumosu and how firm he was. I knew of actors and actresses who said he was a strict man. It's a different thing when you're just dating, but marriage, now that's a big one!
Regardless of my fear, I needed DadJim's (as his daughters call him) permission. I was in New York at the time and had gotten four (4) calling cards for this mission!
Whilst on the phone with him, he reminded me of how Lara was his delicate and sweet English rose. He gave me the go ahead after our lengthy talk. That boosted my already big ego 🙂 ,I mean, a man with his principles giving me the go ahead only meant I was the best man to take care of his delicate and sweet English rose. I wasted no time with booking my flight to propose to my love, Lara.
Lara: During one of Alex's frequent visits, or so I thought, I got the shock of my life. I did think it was odd because he was only going to be in for 3 days. I had no idea he flew in just to propose to me!
So on a random day, he took me out to a Thai restaurant. While at the table, his mother called and I noticed he was really brief with his conversation and all he said was "No. Not yet!" Again, I thought it was odd but proposal was the last thing I expected at that stage. After our meal, I ordered a dessert and quickly went to the ladies room.
When I got back to the table, picked up the lid to my dessert and there sat a jewellery box and everyone starred at it! Myself, the waitress and Alex as if it were a time bomb.
So Adegboyega mii, as I personally call him, came around to my table an got down on one knee and started to talk about his love for me an how he he would love for me to be his wife, at that point I couldn't hear him anymore. All I could think of was the attention from everyone in the restaurant.
I used the dessert menu to cover my face and kept saying "Ade get up. Ade get up." and he said "Ah ah Lara you haven't said yes or no."
With excitement I said "YES" multiple times and we kissed. That excitement remains with me till today like we just started dating yesterday.
***
In her stunning fairytale princess dress, Lara Odumosu said "I Do" to her dapper prince, Alexander Adegboyega Adegbenro at the Archbishop Vining Memorial Cathedral in Ikeja, Lagos. The couple's day was truly special as all their loved ones were present to celebrate their entry into a new life chapter as husband and wife.
Lara and Alex's wedding service was inspiring and uplifting, after the ceremony, it was time for the reception. Their reception rocked like no other! From the couple's exciting entry into the reception venue to the romantic first dance, the groom's entertaining dance performance with his groomsmen all decked out in suits designed by his label Vestito Bene to the endless loving glances and kisses the couple shared. Lara and Alex totally enjoyed their special day with friends, family and loved ones.
BN wishes Lara and Alexander all the very best in every aspect of their lives together. Love, Joy, Favour and God's Blessings as they grow together as one.
Traditional Engagement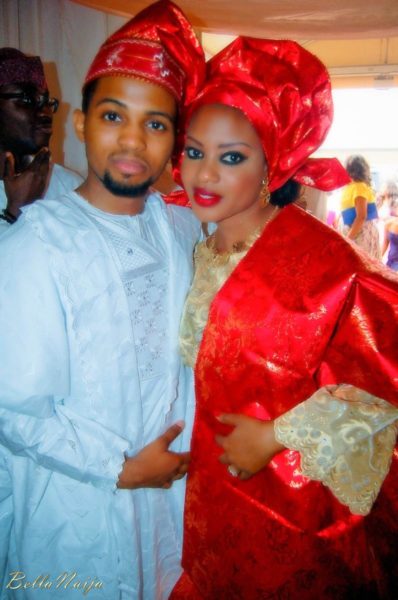 Photography by Yes! Photography – www.yes4tography.com
Bonus! – Lara & Alexander's Wedding on Metrofile

Details
Wedding Date: 17th December 2011
Wedding Colours:
Traditional Engagement – Pink & Grey
White Wedding – Peach & Gold
Wedding Theme: Traditional Fairytale
Venues –
Church: Archbishop Vining Memorial Cathedral, GRA, Ikeja
Reception: Time Square, Ikeja
Vendor List
Groom's Suit: Vestito Bene (Bespoke Men's Label owned by the Groom)
Groomsmen's Suits: Vestito Bene
Bride's Wedding Dress: Oriental Pearl UK
Bride's Makeup: Steve for House of Tara
Cake: Cakes & Cream
Food & Hors d'oeuvre: Mallas
Decor: Yvent Kouture
Security: Solution
Band: Salt of The Earth