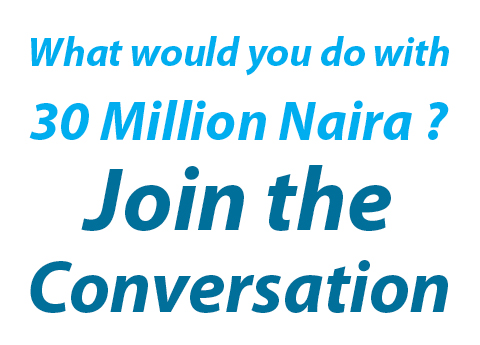 BellaNaija just got this from one of Nigeria's leading telecommunication companies and just had to share… We are really waiting in anticipation to see what exactly this is for, till then read what everyone on social networking site – Twitter has been talikng about.
Enjoy!
"So I heard recently that the Twitter bird has been going around asking this unexpected question – "What would you do if you had 30 Million Naira?"
If you are a frequent user of the social networking site – Twitter, you will probably know that tweeps usually look forward to the topic of the day almost like what do you have for us today Twitter bird?
So it happened that I logged into my account and was observing my usual everyday Twitter norm. I was typing good morning everyone when a follower joked and asked me what I would do if I had 30 Million Naira. Not one for wishful thinking, I simply "LOL-ed" and went about my business.
Then I noticed that most people on my time line were all talking about what they would do if they had 30 Million Naira and what do you do if you can't beat them? Join them right! That was exactly what I did. I read every tweet with keen interest and then forgot about it.
Sometime later, I saw something that stunned me. The 30 Million Naira bug had caught on quite quickly to the point that it was trending. I mean people really have time oooo!!! In that instant, I almost screamed, this story started from someone I follow on Twitter now the good news has spread. Good news? Not like I have it already but then whatever you say you shall have, remember? So there's no harm claiming this one.
And since the Twitter space was talking about it, I decided to eavesdrop even more and read more tweets from my computer. I noticed there were two categories of people; while one group analyzed the subject of discussion from an intellectual point of view, the other category decided to make their responses comical and make it fun for everyone reading including myself by looking at it from a playful angle. I couldn't hold back my laughter when @chubysaka tweeted: #ifihad30millionNaira "I will go for chieftaincy title straight away. 3 titles for dt matter"
This tweet at once amused, angered and finally made me wonder what I would do if I had 30 Million Naira too. At least, this dude had a plan in mind. And before you judge him remember there's no law that prohibits a citizen from spending his hard earned or lottery won money on whatever legal venture he chooses including chieftaincy titles."
So I thought, What would I really do if I had 30 Million Naira? For one, I know I will affect many lives positively. I will embark on some pending projects. And of course, I will be quick to remember this rule; "If you don't take care of yourself why should anyone else?"
So definitely, I will indulge myself a little and know what it feels like to be 30Million Naira richer. So now that you know what we Twitter peeps are talking about, what would you do with 30 Million Naira?
Join the conversation now, look for the #ifihad30millionNaira hashtag and drop your thoughts, who knows somebody might just grant you your wish?
____________________________________________________________________________________________
Advertorial - Sponsored Content