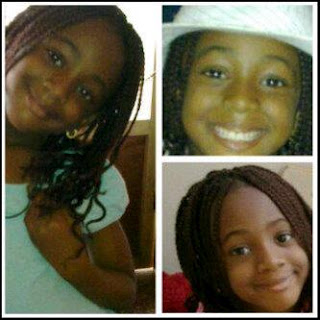 Ten days after 6-year-old Miss Kosisochukwu Akilo was kidnapped from her home in Enugu, the abductors are yet to contact the family. I can't begin to imagine what her family must be going through right now – their worries, their pain, their fear, their tears. The little girl was kidnapped two Sundays ago from her family house at No. 56, River Lane, GRA, Enugu and her family still remains in the dark about the whereabouts of the girl.
Why have they not called? What are they doing to the girl? What do they want from the family? Where is she? So many questions running through my mind…
The mother of the girl, Mrs. Ebele Akilo, narrated a very touching ordeal of how gunmen broke into their house in the early hours of Sunday and took her child.
She said the two armed men broke into the house around 2a.m on Sunday through the toilet window. They demanded money and her trinkets but she told them that she did not have any as her jewellery was stolen barely a month ago. Mrs Akilo said they later asked for her children and she showed them where the four of them were sleeping. She said they quickly grabbed her second daughter, collected her phone and left the house on a bike.
"I cried and begged them to leave my daughter but they refused. I am calling on everybody to please help me find my daughter," she said.
Recently, in Imo state, a man was killed even after N500,000 was paid as ransom to the kidnappers. Pastor Anslem Iwuala who was on his way to his country home, Egberede Nguru in Aboh Mbaise local council area of Imo State was abducted by gunmen along the ever busy Okpala-Mbaise road. But seven days later, his family members found him dead.
Narrating the family's ordeal to newsmen, the deceased's cousin, Mr. Odinakachi Iwuala, disclosed that the family made frantic efforts to reach their bread winner, adding that his abductors finally got in contact with the family at about midnight of the ill-fated day and demanded N100 million.
They said they were sent to kill the Pastor and promised that they would spare his life if we paid the ransom.
"The family, however, paid the sum of N500,000 to the kidnappers. We all thought that our prayers had been answered until we received a telephone call from his abductors to rush down to Okpala but what we saw was his corpse."
I sincerely pray from the depth of my heart that little Kosisochukwu would be found in good health and would return back to her family within a very short time. But I can't shrug off the worries over the trend of kidnappings in recent times.
During the era when Niger Delta militants carried out most of their activities, the wave of kidnappings was higher, but they were either politically or financially motivated. When the kidnappers got their desired ransom or actions from the government, they released their hostages.
However, what could be the cause of more recent kidnappings where the hostages are killed? Why would they kill the man even after collecting the ransom? What do they want from the little girl and her family that is taking ten days to come up with?
These questions even lead to more questions. Do we again point fingers at the poor level of security in the country as the cause or is this just an act of wickedness?
It is all too annoying and confusing. Kosisochukwu needs to be returned to her family and feel the warmth again from the people who love her. She is too young, too innocent to go through such an ordeal.
My heart goes out to her family at this trying time.
News Source: Vanguard
Kosisochukwu was abducted on Sunday morning May 13, 2012. Please call 08033475532 if you have any information on her whereabouts or go to the nearest police station.