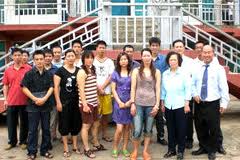 The large number of Chinese nationals working and living in Nigeria has come under criticism more than a few times with many arguing that they are taking away jobs from Nigerians. From the menial labourer jobs, factory and construction site workers to the more specialized jobs – foreigners, especially the Chinese, have been accused of taking away jobs from Nigerians.
This argument however has two sides: While some argue that the jobs are specialized and Nigerians do not possess the required skills to carry them out, others argue that it is the porous Nigerian immigration system that allows such a large number of Chinese nationals migrate into the country without proper documentation. For those that belong to the latter school of thought, they further argue that a good number of Chinese nationals living in Nigeria are turnouts of their prison system who come to Nigeria with their criminal tendencies.
In a recent development, a nationwide directive by the Controller General of the Nigerian Immigration Service, Mrs. Rose Uzoma has led to the arrest of 45 Chinese nationals, comprising 34 male and 11 female. They were arrested and detained by the Kano state command of the Nigerian Immigration Service for what it described as "economic scavenging" in the popular Kantin Kwari textile market in Kano.
Controller, Kano State command, Dr. Brasca Ifeadi who revealed this while briefing newsmen in his office yesterday said the mass arrest of the Chinese is not specifically targeted at expatiates of the Asian giants alone, but all foreigners into such activities that could be termed as menial.
He said that even though the directive was a general one, it is however basically to weed them off from big markets in places like Lagos, Kano and Ibadan where the Chinese nationals trading within the market.
"Chinese select basic areas in the country, but basically the exercise is beginning from three major areas of Kano, Lagos and Ibadan where their activities is worse. So we will fish them out and repatriate them."
He lamented that their involvement in lowly rated activities which should be reserved for Nigerians have been depriving them of job opportunities.
"Out of the arrested Chinese nationals, eleven of them are women and it is an exercise aimed at making the economy of the country healthier. Only quality expatriates would be allowed into the country, not those who are economic scavengers. They will be deported to their country."
Ifeadi stressed that, "the Chinese nationals seem to be mostly affected now, because they are selling textile in the market. But that of Kano is worrisome. So, the Controller General feels that enough is enough and it's going to be a continuous exercise until when the economy is revived.
"All those foreign nationals trading in the market who are causing economic havoc in our country will be arrested and deported to their country.
"For Chinese to come to our country and be selling textiles in our market will not be allowed. And we will continue checking them; arresting them and deporting them to their country."
His statement reminds me of the popular Chinese Market in Ojota, Lagos, where hundreds of Chinese nationals sell textiles, shoes, bags and other items in a shopping complex built by them. Will this exercise affect them also? Let's also not forget that thousands of Nigerians are also doing the same thing – taking up menial jobs in other countries around the world.
What is your take on this effort to rid the country of foreigners taking on 'menial' jobs in Nigeria? Are the Chinese denying Nigerians of their jobs? Should the exercise be extended to other states in the country?
Please share your thoughts.
News Source: PM News