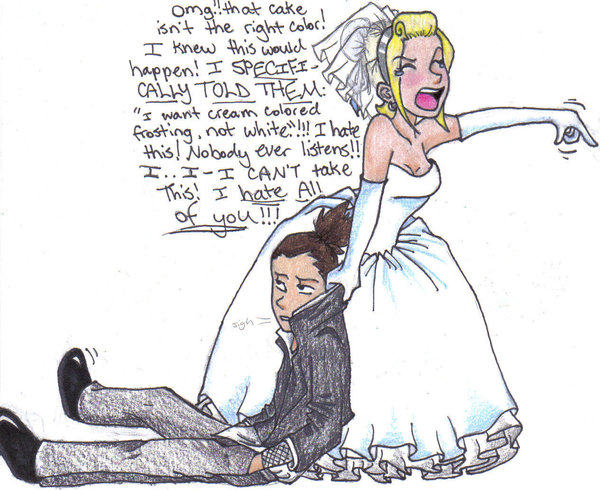 Before my friend J.D got married, she was ALWAYS online scouring wedding sites for pictures of cakes, colour schemes, wedding dresses, photographers (not your run on the mill photo shop experts oh!), flower arrangements, aso-ebi and so on. She had a million and one ideas of what she wanted for her wedding.
On the wedding day, she was a nervous wreck, she looked like her younger brother stole her car, crashed it into a tree and then a trailer crashed into that car and then lightning struck the car! (Okay, you get my point) – "the make up girl is late", "why is K laughing all over the place? Do you think he has been drinking?" "why are the engagement people wasting so much time?". Every time we look at the wedding pictures now I tease her about how she was going crazy because she wanted everything to be PERFECT.
Every bride knows that the stress that goes into planning a wedding can be nerve wrecking. From the minute the question is popped, till you check into your hotel room for your honeymoon, you're thrown into an uncontrollable roller coaster ride of frenzied apprehension, mood swings and almost psychotic tendencies.
The dress, the groom's suit, the bridal train… everything is pivotal… the cake, the caterer, aso-ebi, what the families would wear, how to control the crowd, decoration… Have I covered it all? Then again, if you're having a "destination wedding", take all the stress that comes with planning a simple wedding and multiply it by a hundred.
Sometimes sharing resources and ideas takes a great deal of the stress away and it gives you direction. So, if you've always wanted an outdoor wedding and there's someone who has walked that road before, it's always very great  idea to have someone tell you what pitfalls to avoid.
Sometimes it's NOT going to be as perfect as you want it to be, but at the end of the day, you should be a very happy bride. Everybody knows how much we at BN LOVE weddings, so we'd like to bring BN weddings to you. We're going to have a BN "Bridezilla" post .
The idea is this – We're going to do something different with this one and it would involve you, the readers. We've got a lot of feedback about how we don't get a wide enough range of subjects to showcase, so if you're interested in sharing the high points of your big day with BellaNaijarians, please send an email to [email protected]
It's going to be a tell-all about what went into the planning of your wedding.
What you'd be expected to share, along with pictures of you on that big day:
My wedding was on:
My wedding was at:
I would not have compromised on:
The high point of my wedding:
In retrospect maybe I shouldn't have made a fuss about:
I tore my hair out when:
I can't wait to hear from you guys.
Who knows you might even get to see the much awaited pictures y'all have been asking for 😉
Photo Credit: bridalboudoiraffair.blogspot.com