I love my hair and my love for hair generally is bordering on near obsession In fact, sometimes I go to the salon to just watch hair being done. One thing I've noticed is that a lot of hair stylists don't know how to treat our hair. On one occasion, I was at the salon and I smelled the all too familiar smell of 'fried hair'. My heart sunk as I saw the stylist pick up the smoking, not previously cleaned non-ceramic flat iron and repeatedly run it through this lady's lovely hair. Every fiber of my being wanted to knock it out of the stylist's hands and beg Ms. Lovely hair to run out but I managed to sit quietly and endure it.
This experience has inspired this article about hair and the entire process. By nature, our hair is kinky and generally difficult to manage but not impossible. In order for our hair to be silky smooth and easier to manage, we relax our hair.
Relaxing is the harshest process a hair strand will encounter in its lifetime and it is a challenge to keep up with BUT it can be done. As someone who has had relaxed hair for 8 years, it can be done if done right!
In the wrong hands, any form of relaxer is bad and can lead to extensive and sometimes irreversible damage. Baldness and hair breakage are the two most popular side effects of improper application or maintenance of relaxed hair.
Don't get scared, my job is to help you make sure these issues don't happen to your hair and with the right hair care regimen you'll be looking forward to longer, healthier and relaxed hair.
Lye vs. No-Lye Relaxers
A common myth among women is that a no-lye relaxer means that it is not as dangerous as that with lye. This is not the case. Lye and No-Lye products both contain ingredients that can be as damaging and are equally as dangerous if mishandled. No-Lye relaxers have an activator which is to be mixed into the main cream and Lye relaxers come in a tub and are ready for use, most times, for professional use.
Figure out what works best for your hair type and stick to it.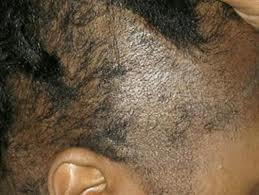 Applying your relaxer
-When relaxing previously relaxed hair, the relaxer should only be applied to the new growth. The line that separates the new growth from the previously relaxed hair (Line of Demarcation) happens to be the weakest points and must be treated with care.
-Basing your hair and scalp with a light coating of oil is an important stage in the application process. It prevents previously relaxed hair from being reprocessed during the rinsing stage
-Most stylists prefer to divide hair into three or four sections, there is no right or wrong way of doing this but it is easier to relax your hair in an organized manner, one section at a time.
-Smooth and work the cream into the new growth trying as much as possible not to overlap.
Let's rinse
-The hair should be thoroughly washed in warm water. This is the most critical part of the process, any leftover cream in hair can and will lead to permanent damage.
-Washing out the cream with a neutralizing shampoo is very important because it restores the PH level to pre-application which is very necessary for the hair. A color changing neutralizing shampoo can be used as it effectively indicated the presence of cream left while rinsing.
-Protein and moisture are two basic necessities for relaxed hair which is why a good conditioner should be used at this point. Most kits come with the appropriate conditioner but in the event that it is absent, make sure you condition your hair with a conditioner that is rich in protein. This restores the protein stripped during the relaxer process.
Now that your hair has been successfully relaxed, style as usual.
With styling comes the temptation to use flat irons.
Let me just say this, heat is not all bad. . For naturals, using a bit of heat to roller set or blow and stretch the hair can provide relief from knotting during styling. It helps our deep conditioner perform and speeds up the styling process. The overuse, however, of heated styling can take beautiful healthy hair and completely destroy it in one bad styling/straightening/pressing process. Yikes! Heat damage is not fun! So before you sit in the chair to get your hair styled, make sure your stylist knows exactly what he/she is doing.
If you insist on using a flat iron/curling iron, the temperature should always be controlled. Hair burns at 233C/ 451.4F which happens to be the same temperature that burns paper, it's not enough to say High or Low, you do NOT want to burn your hair.
Deep conditioning your hair before you use heat helps with reducing the amount of moisture your hair will lose when using heat and, moisture is very essential for black hair.
Alternatives to the Flat Iron
Hooded Drying – This is probably the safest form for heat and it also protects the ends of the hair from overwhelming heat because the ends are rolled and tucked under the other hair which is usually more durable than the ends. Styles done with the hooded dryer tend to be longer lasting than those created with other forms.
Air Drying – the simplest form of drying, quick, easy and perfect for days when you want to spend 15minutes in the salon. For those with textured hair, this can be a rather long process as it takes longer to completely dry rather than using heat, it does however help maintain the health of the hair. It is not enough to wash your hair and step out, the hair should be moisturized and sealed with an oil to help flatten it. Never allow textured hair to simply dry on its own without any products or shaping support. Air drying any type of hair can lead to excessive tangling and breakage.
The more infrequent the heat, the faster and greater length retention results will be.
If your hair is breaking or thinning out, you need to find out the source of the problem. Relaxers are never a solution to a problem. The hair problem should always be investigated, treated and corrected before proceeding with a relaxer. Never relax broken or damaged hair.
As a victim of improper relaxer application that resulted in me S-H-AV-I-N-G off all of my not-quite-healthy-but-at-least-we're-getting-there hair, I know the importance of handling relaxing with the utmost care. Relaxing textured or natural hair is serious business and should never be done by an amateur.
I love my hair and I care about it, so should you.
Photo credit: hairwegoproducts.net