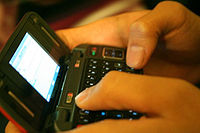 Yesterday I received a text message from a respected, elderly family friend asking me not to wear anything red today. Not even my shoes or underwear should be red or have any touch of red.
The message read:
"It was foreseen that we should not wear anything red tomorrow or that contains red. Dress, cap, glasses, shoe, shirt, inner or outer clothings. They will not use our blood or those of our relations to redeem Nigeria IJN."
I was really busy when I got the message so I didn't give it much thought. But I must confess, I sort of did a mental check on what I planned to wear today and when I remembered the black and purple gown I had ironed which was hanging in my wardrobe, I said to myself "OK Ma, I will not wear red."
Later on, when I had time to reflect on the message, I realized how ridiculous it sounded. What did wearing a particular colour have to do with anything? What of people whose official work clothes or school uniforms are red? What if the only underwear you had was red?!
Today, I have heard several versions of the text message. Some say its not just red, but purple too.
Some people attributed the message to Pastor Enoch Adeboye, General Overseer of the Redeemed Christian Church of God. The RCCG on behalf of Daddy G.O as he is popularly known have some out to discredit the story – "Please inform all your friends and family members that I, Pastor E.A. Adeboye, did not send any message out informing you not to wear a particular color and do not have any issues with whatever color. No message stating you should not wear a particular color was ever authorized by The Redemption Camp or my office. Please be mindful and careful of erroneous messages."
This got me wondering. Why do some people take delight in spreading such mischevious messages that only cause fear and confusion?
What is interesting about this is the speed at which such messages spread and the fact that people sometimes send these messages to as many people that matter to them as possible before verifying.
***
So did you hear about this hoax? Are you one of the guilty people who sent out this broadcast message and other similar ones on BB/Twitter/SMS and Facebook?
Photo Credit: www.en.wikipedia.org