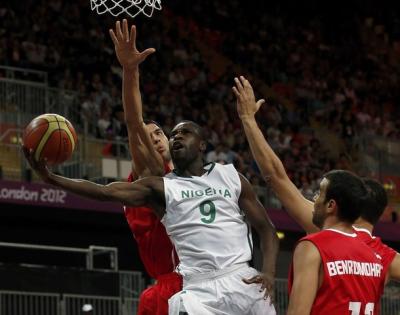 Team Nigeria has had a mix of victory and losses in the first few days at the London 2012 Olympics and has earned no medal yet.
In Table Tennis, the entire group of male and female players have crashed out.
Segun Toriola and Quadri Aruna representing the men, and Olufunke Oshonaike and Offiong Edem, the two female players lost to their opponents in the first round of games.
In spite of winning his first two games, Aruna, 23, lost 2-4 in his second round game to Turkey's Bora Vang while Segun Toriola lost 4-1 to Swedish Persson Jorgen in his second outing.
Oshoniake also won her preliminary round match, before losing in the first round later in the day while Edem lost 4-2 to Egypt's Dina Meshref.
Jonathan Akinyemi, Nigeria's first ever Olympic Games competitor in the canoeing event lost the bid to make it to the semifinals round of the men's kayak K1 event on Sunday.
Akinyemi finished 20th in his first run and 21st in the second run to be out of the Games, having missed a place among the 15 athletes who made it to the next round.
In Boxing, Nigeria's Muideen Akanji failed to make it to the last 16 of the men's boxing middleweight, following a 15-6 defeat at the hands of Ireland's captain, Darren O'Neil, on Saturday.
And on Monday, Team Nigeria had another poor performance when one of their boxers, Lukmon Lawal lost his round of 16 Light Heavyweight bout 19-7 points to Ihab Almatbouli of Jordan, crashing out of the Games.
However, the Nigerian Basketball team, D'Tigers managed to defeat Tunisia 60-56 points in the men's basketball opening match which brought some consolation to Nigeria. But sadly, they lost their second match against Lithuania yesterday.
Meanwhile, South Africa has secured Africa's first gold medal at the London 2012 Olympics. Cameron van der Burgh, on Sunday, secured the gold medal in the men's 100m breaststroke.
Despite the seemingly dull start, we are proud of our Nigerian athletes who have put in so much time, resources and training to compete at the games. We acknowledge the athletes who put in their personal financial resources to ensure that they get the necessary training; we acknowledge their zeal and passion for the game and we say we are proud of them.
Like the proverbial saying "All hope is not lost", Nigeria still has more chances to bring victory to Nigeria in the remaining games. We wish Team Nigeria the very best and we remain hopeful.
Photo Credit: Punch