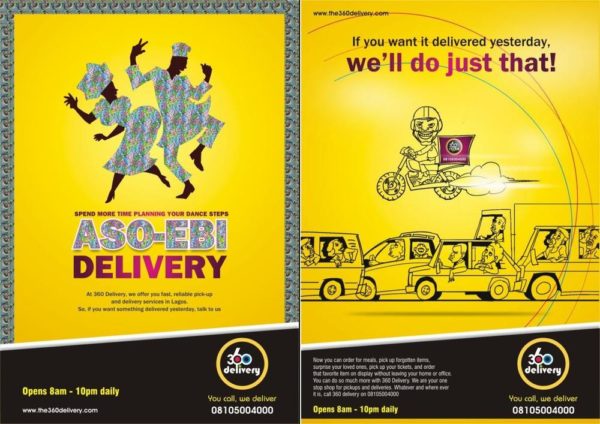 As always BN is excited to promote entrepreneurial ventures by young entrepreneurs. Here is a message from our friends at 360Delivery.
***
We are proud to introduce 360delivery Limited. We are a company that offers pick-up and delivery services within Lagos for now, with ongoing plans for expansion to other cities. We are set up to help small as well as large businesses that may need help with delivery of their products. We also cater to individuals and their delivery needs. We deliver event invitations, Aso-ebi for weddings/events, cakes for special events, breakfast, lunch or dinner wherever you may be. We are here to eliminate the stress of spending valuable time in traffic in regards to your business. We are very fast, reliable and cost efficient.
With 360delivery, you can order for meals, pickup forgotten items, surprise your loved ones, pick up your tickets, send your "material " to the tailor, order that favourite item on display without leaving your home or office. Think of us as your official errand service. You can do so much more with 360delivery. We also have a "payment on delivery" option available, which also serves to make your life easier.
According to the Operations manager, Jennifer Awoh. "360 Delivery takes into consideration the fact that your neighbourhood Ekpa & Bole seller does not have a website, 360Delivery will seek out these people, where they sell, buy and deliver to the comfort of your home or Office. That is what makes us special "
WIN from 360Delivery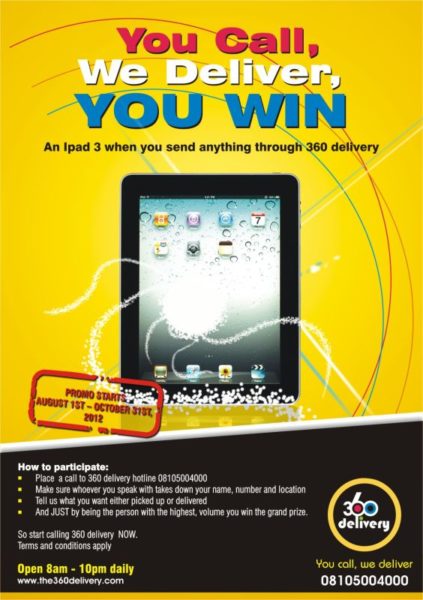 360Delivery is giving their dear customers an opportunity to win a brand new iPad3. The lucky winner will be an individual/corporate/private organization with the highest volume of deliveries from/by 360Delivery within the duration of this promo. The promo starts on Wednesday the 1st of August and ends on Friday the 31st of October 2012. So for a chance to win, call our hotline 08105004000 and start making your pick up / delivery orders.
360Delivery – Contact Information
Phone Number/Hotline: 08105004000
Office: No 3 Abiola Segun Ajayi Street, off Muri Okunola, Victoria island, Lagos
Email: [email protected]
Website: www.the360delivery.com