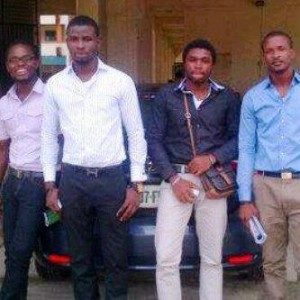 After all the anger directed towards the killers of the four undergraduate students of University of Port Harcourt  for taking the law into their own hands and not reporting the boys to the police for their alleged theft, it is sad to hear that some Policemen were actually present when they were brutally killed.
Speaking to  Channels TV during a telephone on Wednesday, Chinwe Biringa, mother of Chiadika who was one of the four victims killed in Aluu community has said that policemen were present during the killings.
Chinwe who spoke in a telephone interview during a public affairs programme on Channels Television on Wednesday said she was disappointed with the way and manner the policemen looked on and did nothing to stop the gruesome murder of the four boys.
Punch reports that she said the police told her they had insufficient bullets in their guns and could not confront the crowd:"Eyewitnesses accounts revealed that policemen were at the scene of the incident. Besides, policemen at the police station confirmed to one of the bereaved parents who visited them that policemen were there.
"And the explanation they gave was that they were overwhelmed by the crowd and that they had insufficient bullets in their guns and all that thrash to confront the crowd.
"But those people were only with sticks not with guns. If they really wanted to work they would have worked. If they had done what the Joint Task Force did by firing warning shots into the air when they wanted to collect the corpses, things wouldn't have gone awry."
She insisted that the four murdered boys were not robbers and decried the poor state of security in Nigeria. "We don't have security in this country. We don't just have and our children and wards are all over the country. We are only living by God's grace everyday, because this can happen to anybody any day.
"God knows best because nothing stops Him from doing something extraordinary to save them. But may God judge all those who had a hand in the killings."
If not having sufficient bullets is the excuse the Police men have for not stopping the murder of the boys, then it is such a shame. The killers were not even using guns! I was listening to a programme on radio this morning when the presenter called for the resgination of the Commissioner of Police in Rivers State. If some Policemen were there, then yes I think some of them should loose their jobs.