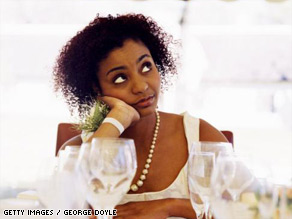 What did I get up to this weekend? I am a special Couch Potato. I live and thrive for the comfort of the couch and TV. Where NEPA fails me, I revert to my computer and I watch as many episodes of Modern Family as my heart can take till I fall asleep. So, knowing what my ideal state of bliss is, you can imagine how grumpy I'd get if there's something that tries to dislodge me from that uber-comfy position. Anyway, so on Saturday, my friend sends me a Blackberry message. He's at a church, his friend is getting married and he's a groomsman. I say, good for you! I'm in my Comfort Zone. Then he launches into a tirade of how they've been standing for 40 minutes because the Minister hasn't given them permission to sit down. My friend is a Muslim and he goes "Ah! O ma ga fun Church yii ke. Ese'n ro mi ke" (Na wa for this Church. My legs hurt) I commiserate with him and I console him that it's going to be over soon.
The True Champions – The Bridal Train
I think being a bridesmaid or a groomsman is a true test of love! Honestly, in this day and age when bridesmaids are being levied 25,000 Naira and above for dresses, excluding the cost of shoes, hair and make up….They're the underrated champions at weddings. They ACTUALLY have to sit through the entire service and try not to nod off or try not to get caught on camera while they're punching away at their blackberries.

I went for a wedding where the bridesmaids dresses were errr "rather indecent" in the words of the Minister and he decided that the indecent dressing of the girls should be the topic of the wedding sermon. As we sat there in agony, it was only going to get worse, the Minister called the girls to come inside to be prayed for (They hadn't been allowed inside the premises). I don't think any of those girls will agree to be on ANY bridal train ever again.
No Shoes? 
There was another time when we had to attend a wedding at one of the churches where you don't wear shoes. I guess we didn't factor in the fact that the rules applied to outsiders as well and we were rather perplexed when we were asked to take off our lovely shoes and had to walk with our bare feet into the church. My own fear was even that my shoes    should not be stolen.  It was the last time I went for a church wedding. However, some wedding receptions are not any better. Having to sit through long torturous speeches by the Chairman, or being served cold food or heaven help you if the bride is having some form of melt down and she refuses to come into the hall because the decorator didn't hang up lights on the stage.
These things happen when there's improper planning  and sometimes, it's really not the fault of the host/hostess.  But you have to give credit to people who leave their comfort zone to attend your events, because truly, they are the underrated champions of the day.
Have a fabulous week ahead, keep a smile on your face and remember to stay positive.
Oh! and don't forget to share your wedding horror stories with us.
Toodles!
Photo credit: bridalbuds.com