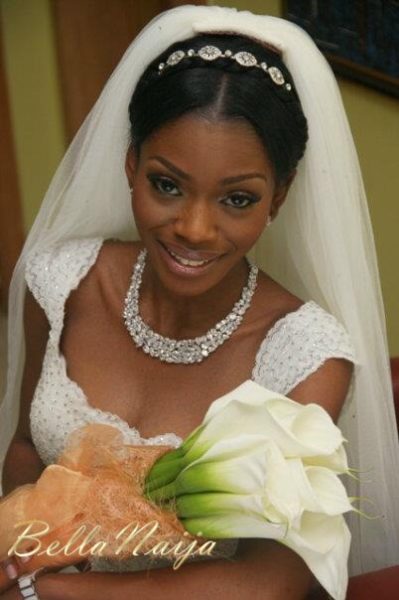 The lovely couple celebrated their traditional engagement just a few days ago (Click HERE for photos) and today, Saturday 3rd November 2012, Tolu Odukoya and Olumide Ijogun were joined together as husband and wife at the Fountain of Life Church in Lagos. The bride's father, Pastor Taiwo Odukoya is the senior pastor of the church while her mother is the late Pastor Bimbo Odukoya.
The couple, family and friends have now proceeded to the Haven Events Centre in GRA Ikeja, Lagos for their wedding reception.
In a recent interview with Lanre Odukoya of ThisDay Newspaper, the couple shared their love story. The highschool sweethearts met at the Greensprings secondary school in Lagos;
How Tolu & Olumide Met
"It was quite a magical moment because as I walked into the class I noticed her amongst the rest," Ijogun recalls.

"It was really a moment that I still cannot express in words. I knew it was a sign and this was a sign from God. I knew I might not have fully recognized it but I couldn't miss it. If I can express it in words it would be like recalling how the spotlight shines on someone among so many people. I have never felt that way again with someone else."

For Odukoya, it was an equally memorable occasion. "It all started for me when he came into Greensprings. Because Olumide is a fine boy, all the girls were all over him. I didn't want to follow the crowd so I kept my distance and did my own thing. We knew we liked each other but we were kids at that point in time. So, I travelled away to America and came back. Then we started the relationship and we have been together ever since."
The Proposal
Proposal was nothing dramatic because Ijogun "is a very simple guy," Odukoya said with a spark in her eyes. "I didn't really expect to see anything crazy because I would have said 'this is not you'. He had travelled back from his MBA graduation. I was asking to see his certificate and he brings out two boxes and he held on to them, and I was thinking it was a bracelet or chain. My husband is very prudent with money; he doesn't just spend money, so I thought he had gone all out this time to buy me something very expensive.

"But before he brought out the box, he was hugging me and telling me he loves me and he wants to spend the rest of his life with me. Then he turns it to me and there were two rings and he was really sweating and he tells me he loves me and he wants to spend the rest of his life with me and I said 'yes, put the ring on my finger'. It was very simple because that is who he is. It was a precious moment."
Pre-Marital Counselling from Pastor Bimbo
"The crazy thing is that my mum actually spoke to us in 2005," Odukoya said. "She knew we were in a serious relationship. She called us into the church office and we came into the office and we sat down and she said, 'This Tolu you say you like, do you want to marry her?' And he said yes. She said, 'Hmm, this girl, she has problems o. She gets angry. I hope you know the bad part of her?' He said 'Yes, ma, I know'. She spoke to us like we were about to get married in a couple of months."

And as if on cue, Ijogun adds: "She said marriage is not a contract but a lifetime commitment." Another laughter.

"It's amazing that she did that because people always ask me: 'did your mum meet him?' And I say 'yes, my mother knew him'. She was at first driving him away. She was like 'she is too young, don't come to the house' because then we were like 13." His excuse was always that he had come to give her some mathematics lesson.

"Yes, he used to come and teach me some math and my mum would be like 'you people are just joking'. But then by the time we got to SS3 and we started dating. My mother was like 'maybe my approach is wrong, maybe I should let her have a boyfriend but they must meet here in the house'. And then she started asking questions like 'this relationship you guys are having, what do you do and what do you say?' She wanted to be a part of it.
Chastity before Marriage
"It has been hard, it has been very difficult," she said.

Perhaps sensing some reluctance in his bride to deal with the subject, Ijogun said: "Hold on, I will handle this. It's not been easy. It's either you believe in something you have faith in or you don't, no one is perfect. We all try to do what we can do, to walk according to the will of God and His purpose so we can receive not just half of His blessings but His full blessings. So, it's been hard but we've pulled through."
You can click HERE to read the complete interview with the couple.
BN wishes Tolu and Olumide all the very best!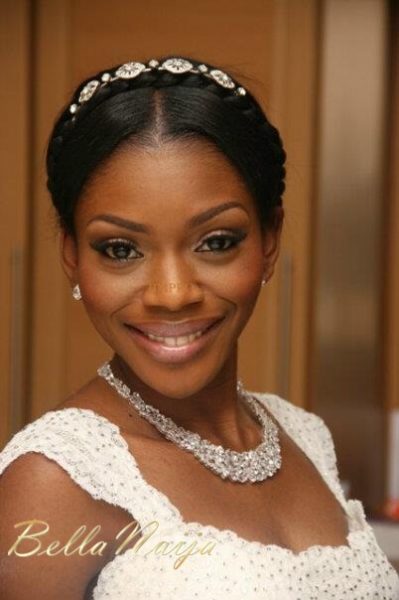 Lookout for more photos from the couple's wedding on BN.
Also check out BM|Pro blog for photos of the makeup session – HERE
Photo Credit: Banke Meshida-Lawal for BM|Pro | BellaNaija